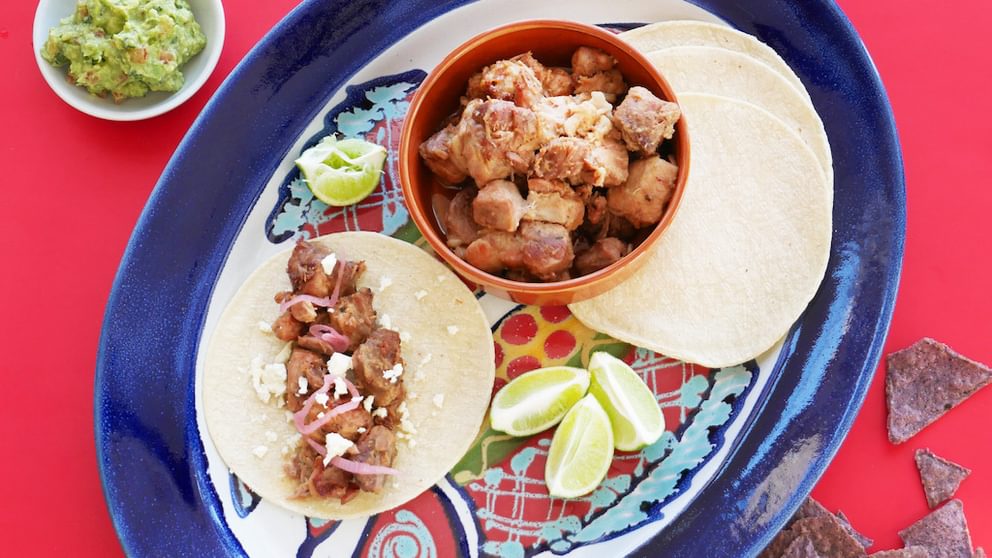 Growing Chefs! Ontario Pork Carnitas
Pork Carnitas
A taco night classic! This recipe combines deep, rich flavours with zesty citrus to create a truly amazing taste experience. By cooking the pork low and slow, the flavours get better as the meat gets more tender. It's worth the wait!
Ingredients
3 pounds
pork butt (fat cap intact) or shoulder, cut into 2-inch chunks
5
sprigs thyme
5
cloves garlic
2
bay leaves
1
stick cinnamon
1/2 cup
grapeseed oil
2
limes, juiced
1
orange, juiced
2 cups
stock, more as needed
Salt to taste
Warm corn tortillas for serving
Equipment
Chef's knife
Cutting board
Measuring cups
Measuring spoons
Bowls of various sizes
Large heavy-bottomed pot or Dutch oven with lid
Wooden spoons
Tasting spoons
Dish towel
Gather your mis en place; get together all of the equipment needed for the recipe and gather your ingredients.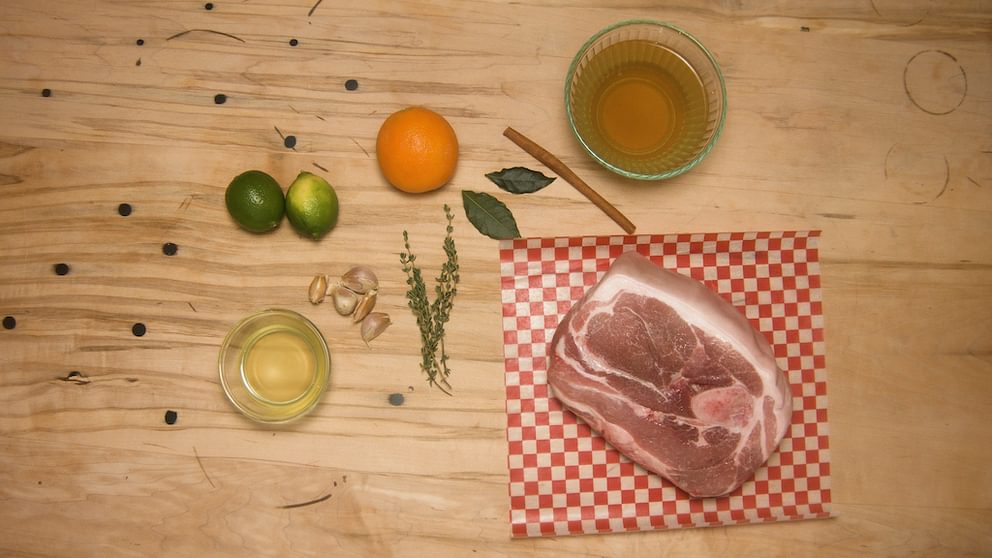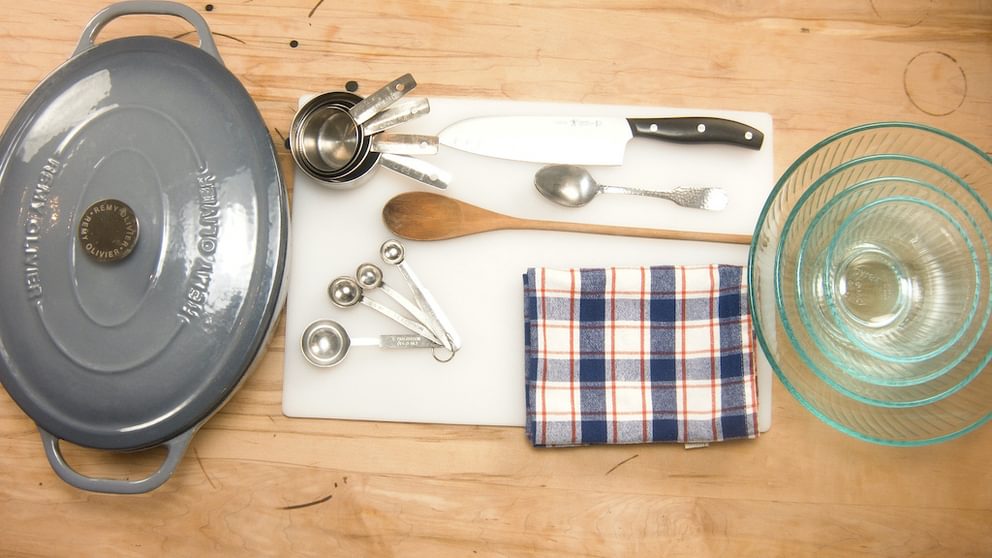 To juice the limes and orange, roll them on the counter to release their juices, then slice in half and squeeze the juice into a bowl, catching and discarding any seeds.
Crush the cloves of garlic and remove the paper.
Remove the thyme leaves from the stem, and chop by rocking a chef's knife back and forth across the leaves on a cutting board.
Cut up the pork; cut into approximately 2‑inch cubes with a chef's knife.
Add the pork, thyme, oil, water, orange and lime juice, garlic, and bay leaf in the pot or Dutch oven, and bring to a simmer over medium heat.
Reduce the heat to low, cover, and allow to simmer for one hour, stirring occasionally.

Uncover the pot and continue cooking simmering until the pork is tender, about another hour and fifteen minutes.
Increase the heat to medium, stirring occasionally, until the liquid is mostly evaporated. About 30 – 40 more minutes.

Remove and discard the bay leaves and cinnamon stick.

Increase the heat to medium high so that the pork begins to fry. Continue stirring and scraping the bottom of the pot until the pork is golden brown and crispy, another 15 minutes.
Serve with warmed tortillas.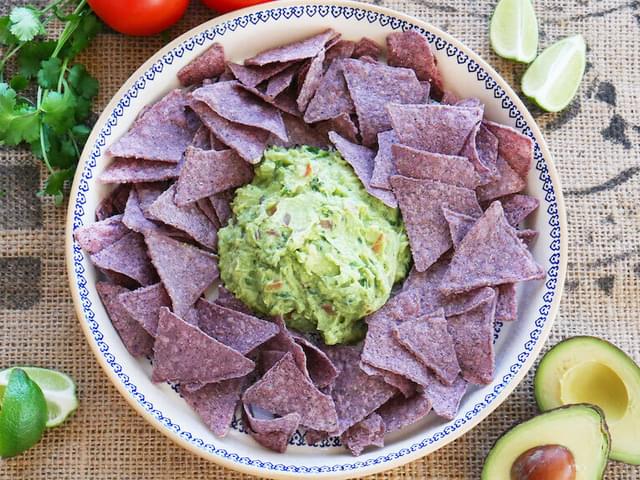 Guacamole
Holy moly, that's a lot of guacamole ! This guacamole is perfect for all occasions, we especially love it as a topping to accompany our pork carnitas recipe.
Cook now!
Read more about Guacamole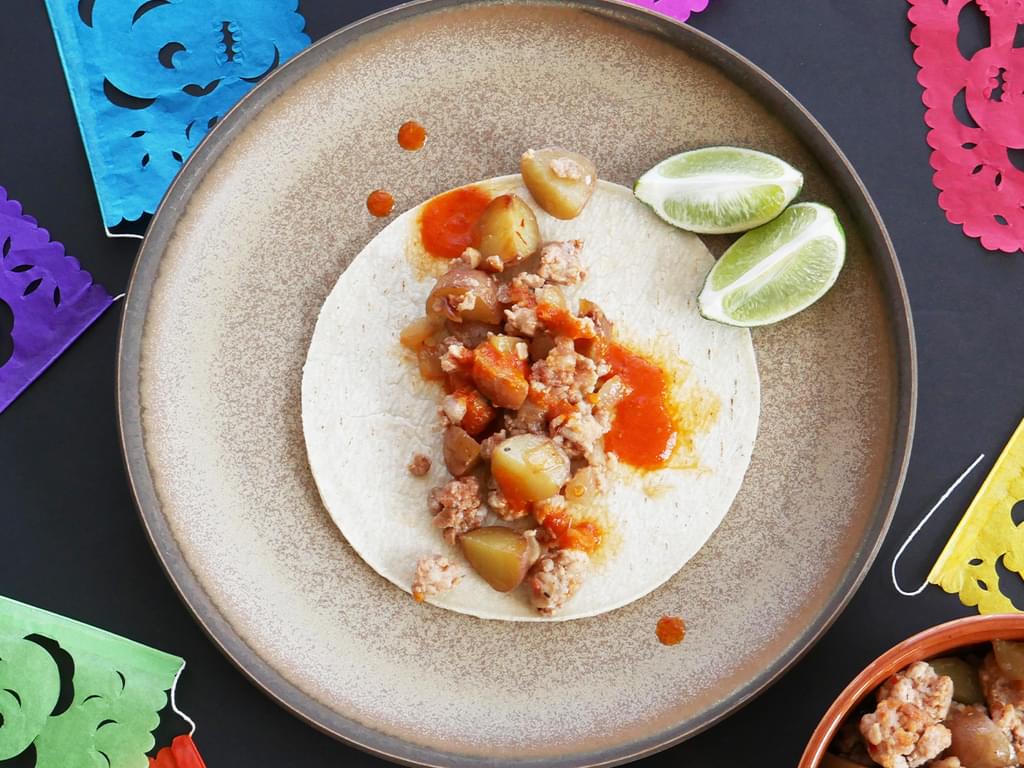 Chorizo con Papas
Chorizo is a spicy and smoky sausage! It pairs great with potatoes (papas in Spanish) and gives a great kick to this quick and easy taco filling!
Cook now!
Read more about Chorizo con Papas