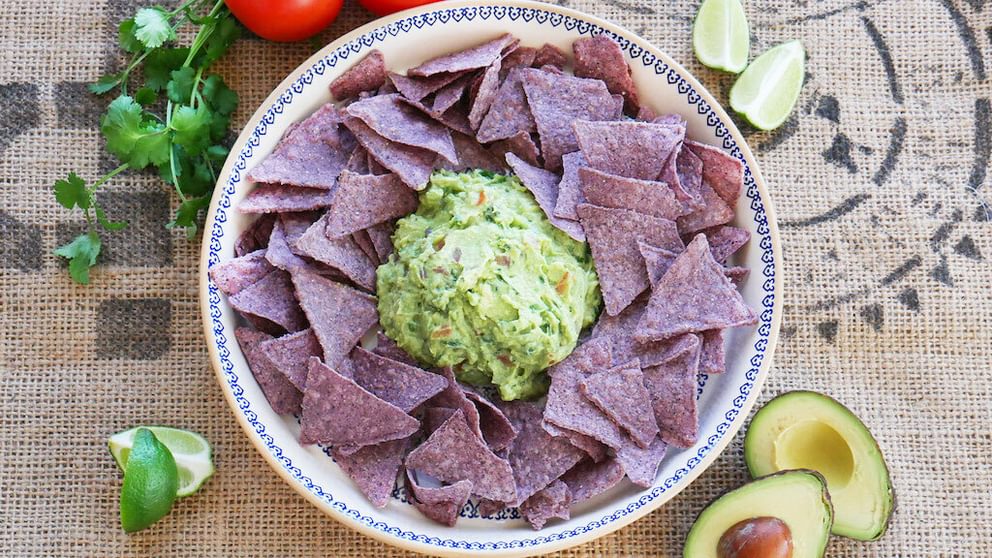 Growing Chefs! Ontario Guacamole
Guacamole
Holy moly, that's a lot of guacamole ! This guacamole is perfect for all occasions, we especially love it as a topping to accompany our pork carnitas recipe.
Ingredients
8
ripe avocados
2
ripe tomatoes, very finely diced
2
jalapeño peppers, very finely diced
4-5 limes, juiced
4
cloves garlic, finely minced
1/4 cup
white onion, very finely diced
1/2 cup
cilantro, finely chopped
Salt to taste
Equipment
Cutting board
Chef's knife
Paring knife
Rasp
Measuring cups
Bowls of various sizes
Tasting spoons
Fork
Dish towel
Gather your mis en place; get together all of the equipment needed for the recipe and gather your ingredients.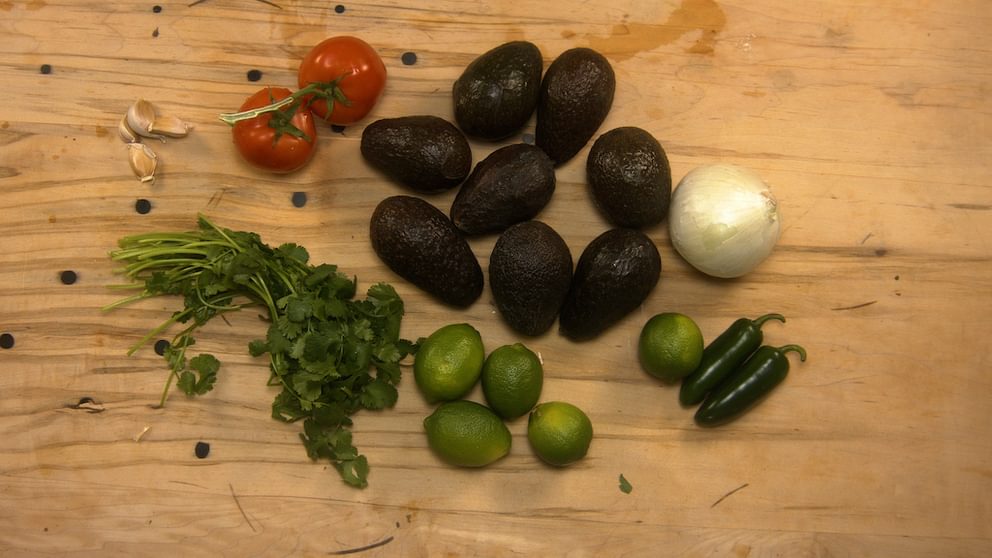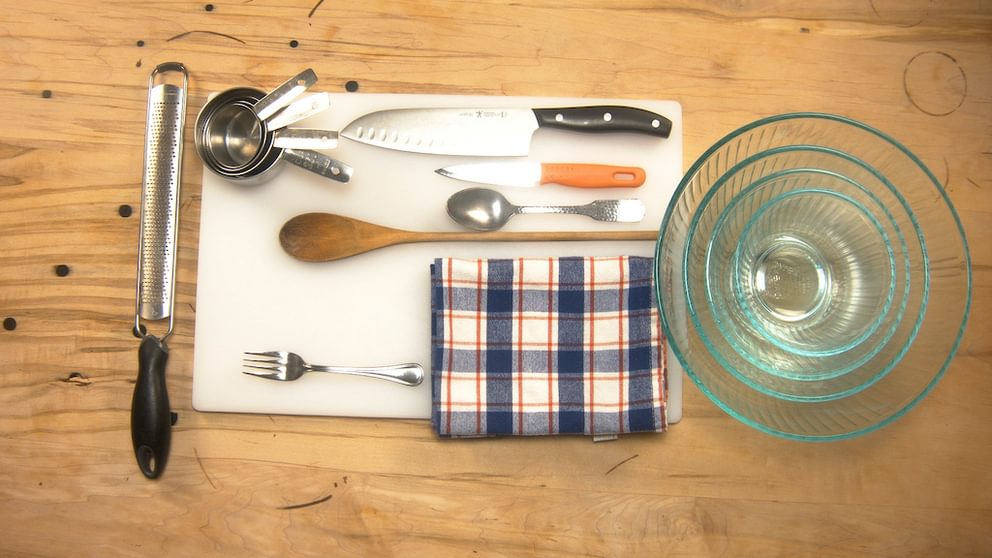 Cut the tomatoes in half, and then into quarters.
Use the knife to remove the core and seeds, and cut the tomato flesh into very fine strips, and then dice.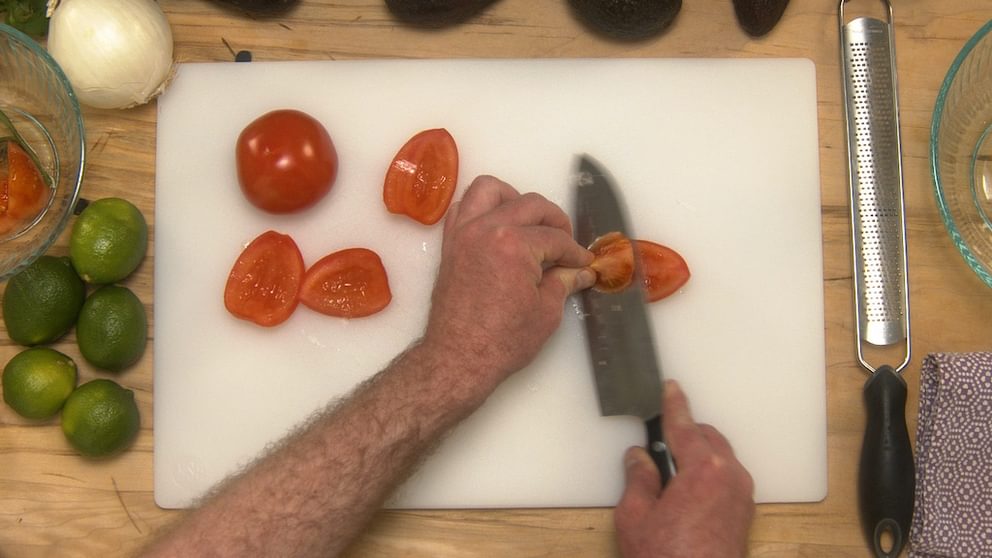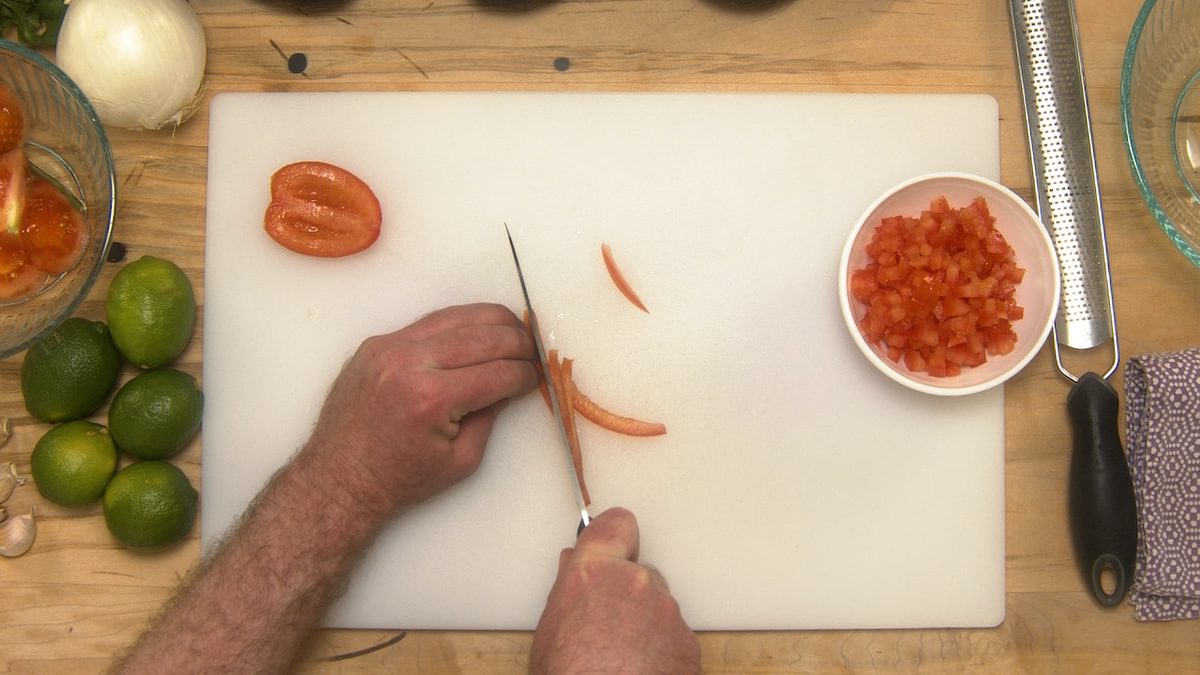 Cut the jalapeños in half lengthwise, and remove the stem and seeds. Cut each jalapeño into very fine strips, and then mince.
Be careful not to touch your face after handling the peppers before washing your hands!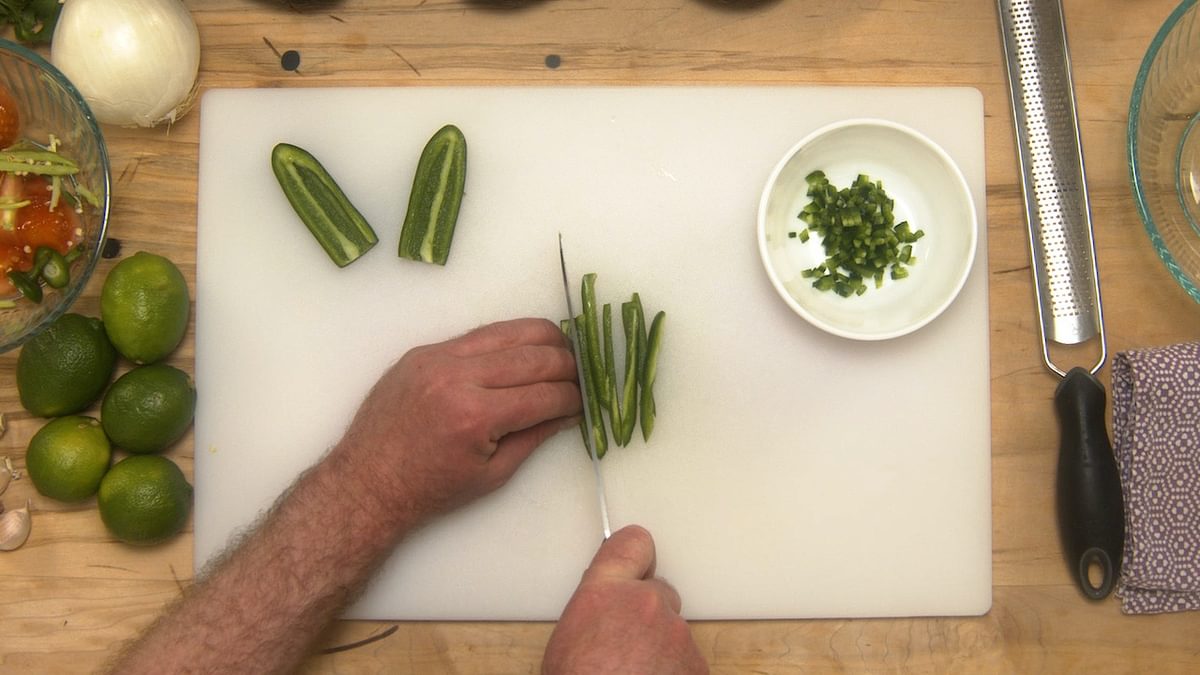 Cut an onion in half, and then remove the skin.
Cut the tip of the onion, and make incisions very close together from the tip almost to the root, leaving the root end intact.
Dice the onion very finely, you only need ¼ cup so put the rest of the onion away for another use.
Peel the garlic clove, and then grate very finely with a rasp.
Alternatively, mince garlic very finely with a Chef's knife.
Cut the limes in half, and squeeze out the juice.
Start with 4 limes as you can adjust seasoning with more lime juice later if needed.
Remove the cilantro leaves from the stems, and chop the leaves very finely, and discard the stems.
Cut the avocados in half lengthwise by carefully cutting through the skin and flesh of the avocado, and around the pit in the middle of the avocado.
Scoop out the pit with a spoon, and scoop out the avocado flesh with a spoon. Place flat side down on the cutting board, and dice.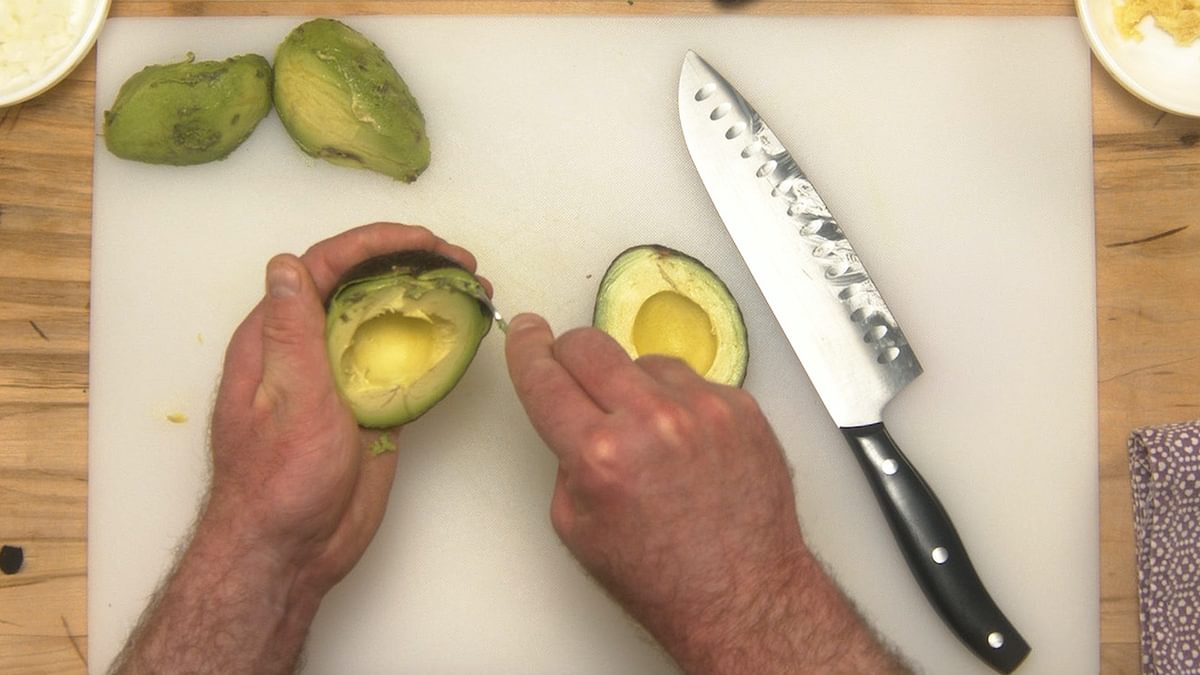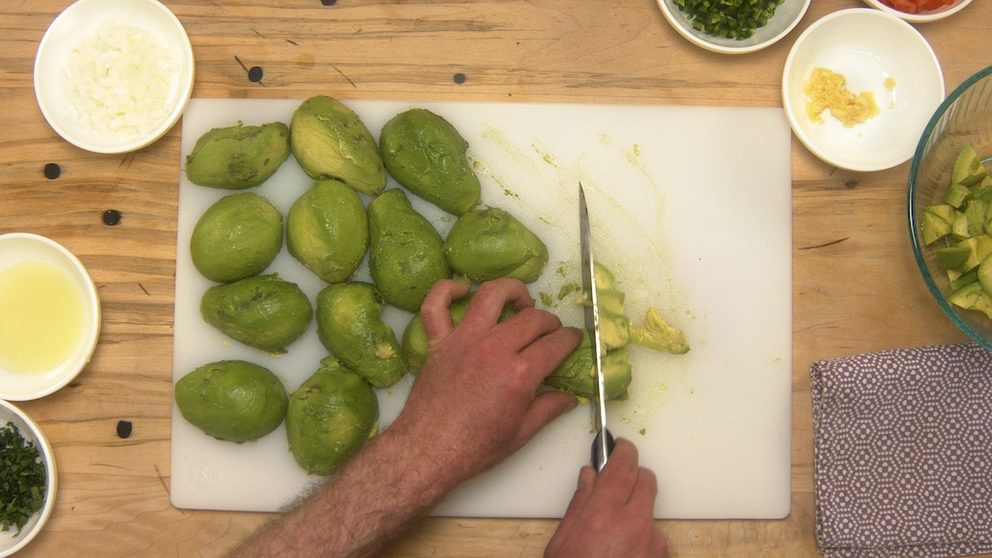 Place the avocado into a large bowl along with the garlic, onion, tomato, and jalapeño.
Begin to mash with a fork, you are looking for a mostly smooth consistency with a small amount of chunks.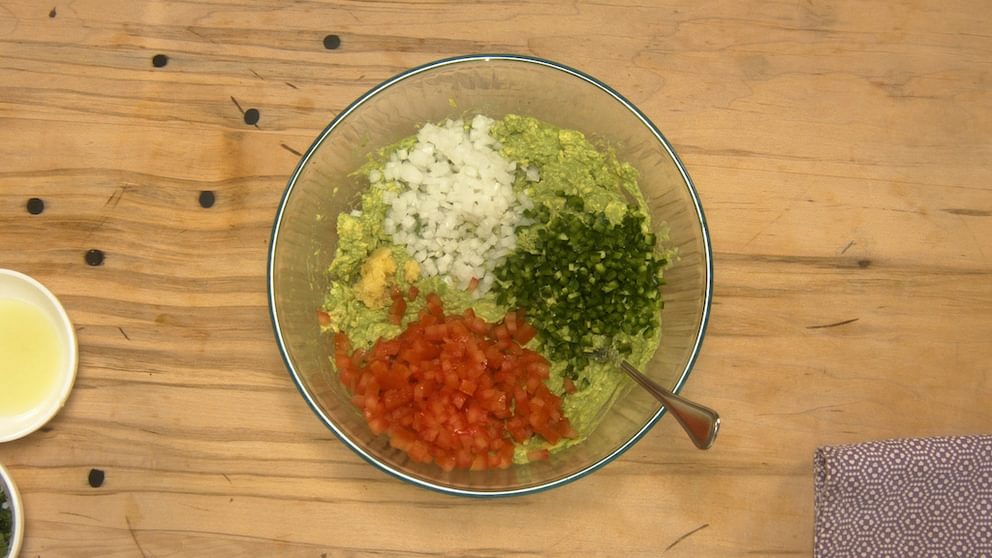 Add lime juice, cilantro, and salt and continue to stir together with a fork, mashing more if needed.
Taste the guacamole, and adjust seasoning with more lime juice and salt if needed.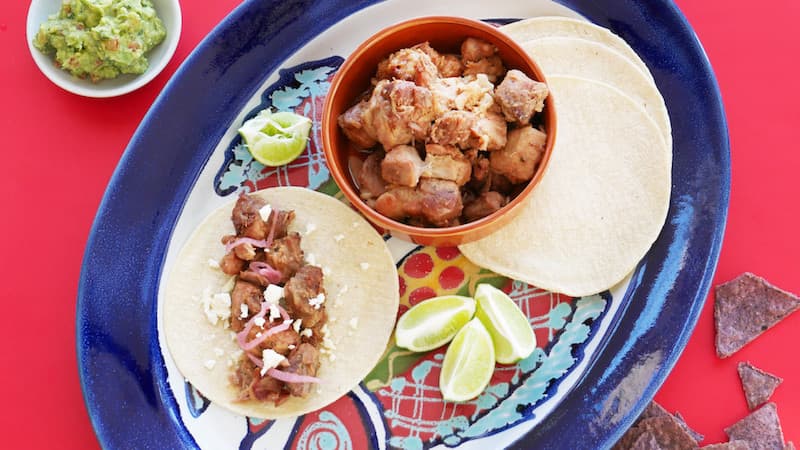 Pork Carnitas
A taco night classic! This recipe combines deep, rich flavours with zesty citrus to create a truly amazing taste experience. By cooking the pork low and slow, the flavours get better as the meat gets more tender. It's worth the wait!
Cook now!
Read more about Pork Carnitas