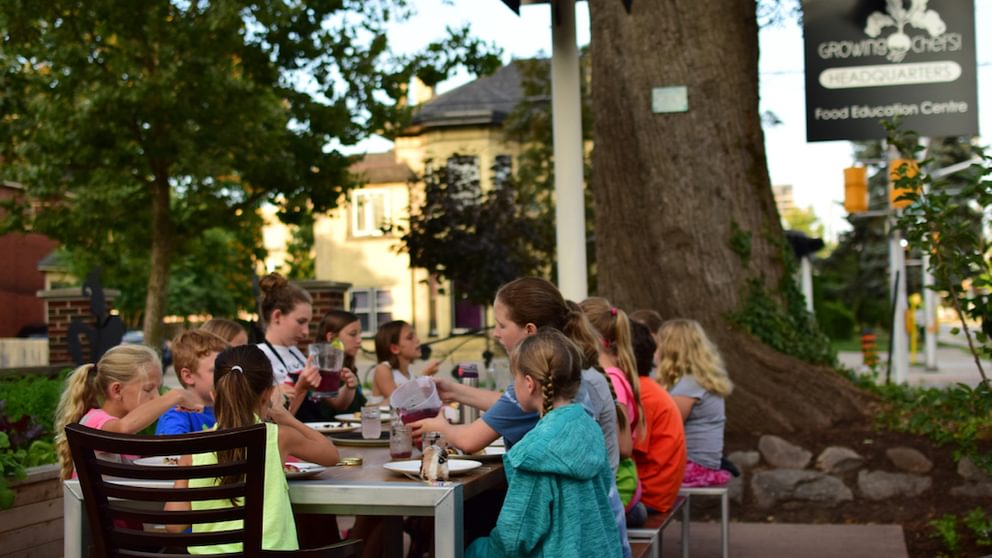 Advanced Culinary Program
This Fall, we are launching a
10

-week Advanced Culinary Program for youth aged

12

and up
Registration is now closed! Email [email protected]​growingchefsontario.​ca to be added to a waitlist.
We at Growing Chefs! are excited about good food, and even more excited to share it with London's youth! That's why we're launching a 10-week Advanced Culinary Program for youth aged 12+. This exciting new program will take an in-depth dive into some basics of French cooking techniques, knife skills, time management, multi-tasking and exploring lots of new recipes. Participants will learn to make a variety of dishes including basic stocks and sauces, techniques for cooking different proteins, vegetable preparation, breads, pastry and more!
Kid's Monthly Cooking Classes
In-person Kid's Monthly Cooking Classes are back!
For young Chefs ages 7 – 11, September class is full!

Join our Chefs each month as they explore seasonal flavours and exciting twists on much-loved recipes that are great for the whole family! Our Chefs will take participants step-by-step through the recipes, helping your young chefs develop confidence, enthusiasm and cooking skills.

Do your kids fall out of our age range? Do you prefer to cook along in your own kitchen? Recipes will be posted online in our Growing Chefs! At Home catalogue so you can recreate class favourites at home! More details below.
Growing Chefs! at Home Recipes
A virtual option for cooking at home! Great for those unable to attend our in-person classes
Not quite ready to join us in-person yet? Your kids fall out of the age range? Class registration was already full? Well, GREATNEWS! You can still join our Chefs each month online as they continue to explore much-loved recipes that are great for the whole family! The Chefs will virtually walk you step-by-step through the same Kid's Monthly Cooking Class recipes, listing all the ingredients and equipment needed, as well as tips for young chefs. By maintaining our virtual platform as well, it makes it even easier to get the whole family involved at home. Even adults can learn a lot from these classes! Either way you join us, we can't wait to cook with you!

Optional Recipe Kits: To make following along with our Free Virtual Cooking Class even easier for your growing chefs, we are offering a recipe kit with all of the ingredients you will need for the monthly themed recipes!

Summer Camp
Our ​
'

Know Your Roots' Summer Camp!
---
Know Your Roots Summer 2021 is now closed!
Ages 9 – 12

Programming for Know Your Roots Camp (KYR) is all in the name. It's a week of exploring where our food comes from, the journey it takes from plough to plate – as well as the role we play as individuals in our food system. Each week, campers will have opportunities to explore our Learning Garden, cook alongside the Growing Chefs! team of professional Chefs, engage in food focused activities and, of course, try some new, delicious foods!