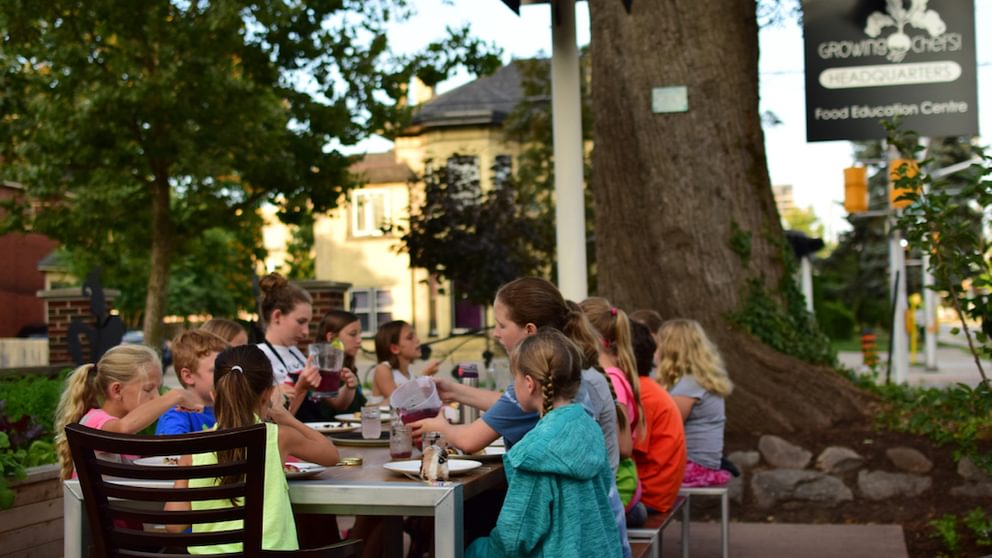 Summer Camp
Our ​
'

Know Your Roots' Summer Camp!
Know Your Roots
3 Weeks Available for Ages 9 – 12
Programming for Know Your Roots (KYR) is all in the name. It's a week of exploring where our food comes from, the journey it takes from plough to plate – as well as the role we play as individuals in our food system. Each week, campers will have opportunities to explore our Learning Garden, cook alongside the Growing Chefs! team of professional Chefs, engage in food focused activities and, of course, try some new, delicious foods!

Something brand new for 2021 is that Know Your Roots camp will be run out of our new location at The Grove at the Western Fair District, which we share with many other food-focused organizations and businesses. The Grove will give us much more space in which to run our camp activities, still ensuring all social distancing and safety guidelines can be strictly followed.
Advanced Culinary Program
1 week for Ages 12 – 16
The Growing Chefs! Ontario Advanced Culinary Program is a 4 day culinary boot camp that will give participants an opportunity to elevate their food skills, technique and confidence in the kitchen. Each day, participants will spend the entire 4 hours cooking directly with senior members of the Growing Chefs! Culinary team, working through several themed recipes each day – with a quick break for lunch – which will also be made by participants.

Attendance is limited to 8 young Chefs. This gives our chef team the opportunity to work closely with participants to deliver personalized feedback while the young chefs grow their confidence and skills in the kitchen. It also allows participants to directly interact with our professional chefs so they can ask questions and pick their brains about all things food related.
Kid's Monthly Cooking Classes
Kid's Monthly Cooking Classes have gone virtual!
Monthly Kid's Cooking Classes have gone virtual! Due to COVID-19 regulations, Growing Chefs! Ontario HQ remains closed to the public, but our kids classes are accessible online.
Do you already love cooking — or want to build your cooking skills to impress friends and family? Then check out our monthly cooking classes! These classes are designed for kids, but are a great way to get the whole family together in the kitchen!
What to Expect: Join our Chefs each month as they explore seasonal flavours and exciting twists on much-loved recipes that are great for the whole family! The Chefs will take you step-by-step through the recipes, listing all the ingredients and equipment needed, as well as tips for young chefs. The virtual platform makes it even easier to get the whole family involved at home. Even adults can learn a lot from these classes!
Ages: 8 – 13 is recommended, but virtual classes mean you can get the whole family involved!
Chef: Our Education Chef Team: Chef Katherine, Chef Anna, and Chef Ryan. Special Guest Chefs join us for certain classes.
Menu: Our menu will incorporate all the best the season has to offer, using local produce whenever possible!
Optional Recipe Kits: To make following along with our Free Virtual Cooking Class even easier for your growing chefs, we are offering a recipe kit with all of the ingredients you will need for the monthly themed recipes!
Order yours for pick-up through our online store:
https://growingchefsontario.square.site/
Orders open the 1st of the month, pick-up is the day before the class.
Chef's Club
Follow us on social media or signup to our newsletter for updates on this new and exciting program!