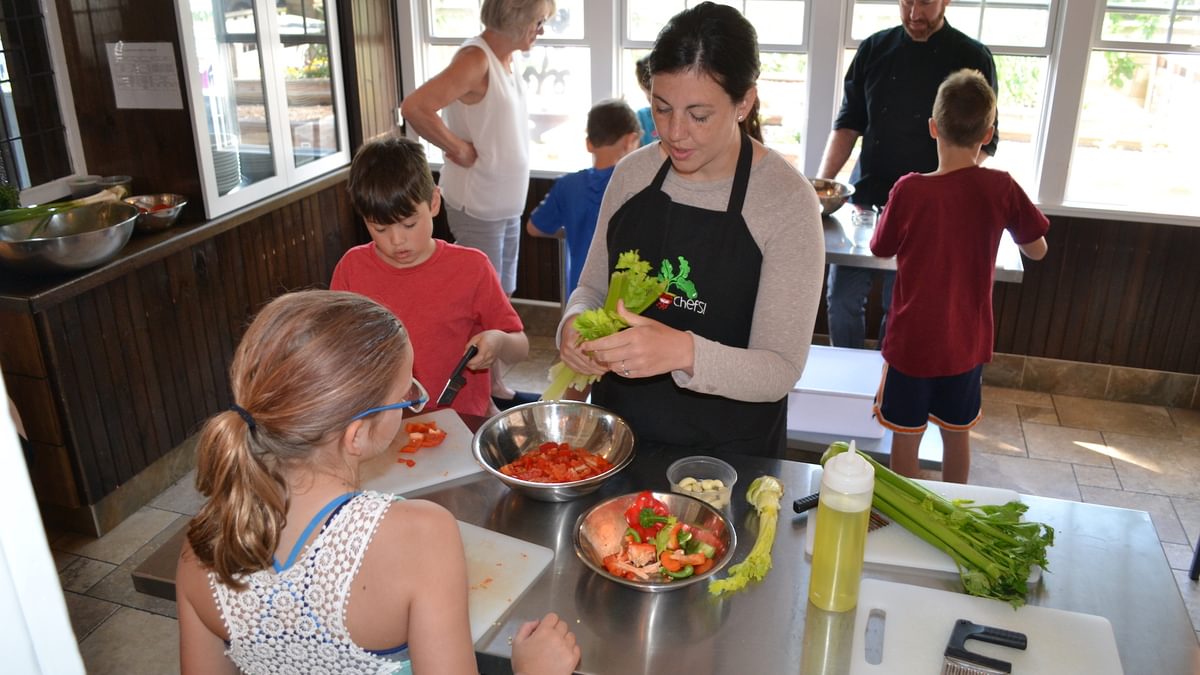 Growing Chefs! Ontario is a grassroots organization that could not function without the commitment of our volunteers to our community.

As a Growing Chefs! Volunteer you will support us to change the way children, youth, families and the greater community learn about and develop healthy relationships with food!

Available Volunteer Positions:

Food Educator

Volunteer Food Educators support the Growing Chefs! staff team in delivering food literacy programs in schools, at our food education centres and around the community. Food educators may supervise and assist in cooking activities, lead group discussions, and participate in all other aspects of program delivery from set-up to clean-up. Volunteer food educators are also welcome to contribute to program planning to ensure our curriculum links to the Ontario Elementary Curriculum, contains exciting activities, and promotes food system sustainability.

Chef

Growing Chefs! is all about GOOD food, so we depend on the culinary skills of London area chefs to help make sure all our food programs are as delicious as possible. Volunteer Chefs may support cooking classes, feature at a dinner event, or support event food.
Garden Support
Support with educational programs in our garden and greenhouse projects. Or on non-programming days, help with ongoing garden and greenhouse needs.
Event Support

Growing Chefs! host both public and private special events including receptions and seated dinners. Event Support volunteers will assist with event preparation including cleaning the facility, decorating, setting tables/​moving furniture, and promoting (if applicable). Skilled Event Support volunteers may also assist at an event to either host, serve tables, do dishes, or tend bar – depending on volunteer training and event requirements.

Fundraising Committee Member

Committee members take ownership of fundraising and contribute significantly to Growing Chefs! corporate sponsorship, personal giving, fundraising events and other campaigns. They leverage personal or professional networks, practice event planning skills, and help get people excited about healthy wholesome food! The committee convenes once every 4 to 6 weeks, and members are expected to attend at least 75% of those meetings.
Junior Camp Counsellor – Applications for 2023 are now closed, see you in 2024!

For ages 14 – 18. Junior Camp Counsellors have the chance to enhance their leadership skills while providing support to the Know Your Roots summer camp program for ages 9 – 12.
What Will You Gain as a Junior Camp Counsellor?
New learning opportunities: Gain valuable experience working with children, including communication skills, patience, leadership, and problem solving skills.
Relationship building: Build connections with Lead Camp Counsellors, chefs, and campers!
Fun and adventure: Try out unique and fun summer activities and create lasting memories!
Personal growth/​resume building: Gain confidence and comfort with leadership roles and tasks.
Community service hours: Bring your form for any Camp Supervisor to sign!