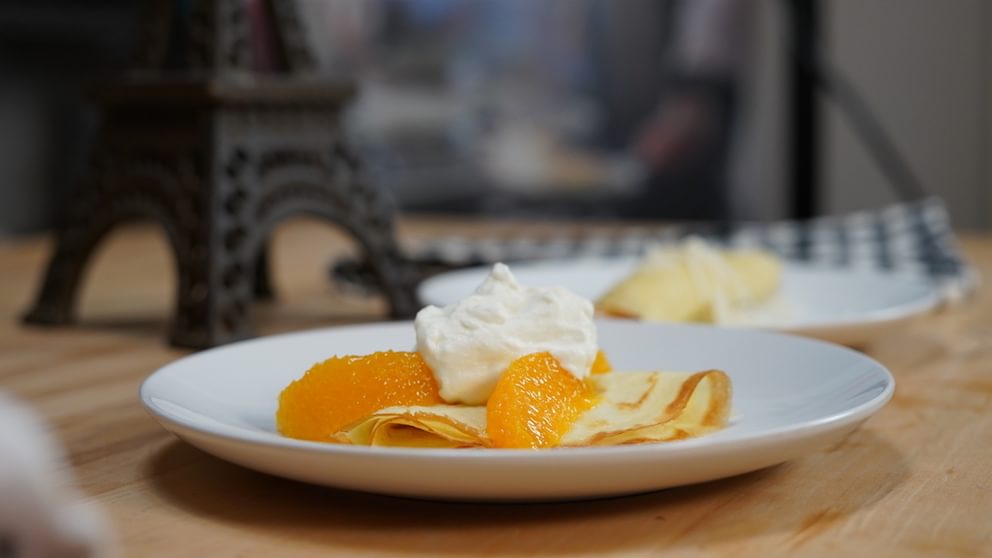 Growing Chefs! Ontario Sweet or Savoury Crepes
Sweet or Savoury Crepes
Crepes are a very versatile thing to make. Sweet or savoury, breakfast lunch or dinner; this is a fantastic base and you can choose to stuff or top them with anything delicious that comes to mind!
Ingredients
4
eggs
1 cup
milk
1/2 cup
flour
1 teaspoon
salt
1 tablespoon
butter, melted, plus additional butter for greasing the pan
Equipment
Small non-stick frying pan
Whisk
Bowls
Measuring cups
Measuring spoons
Fine sieve
Ladle
Spatula
Dish towel
Gather your mis en place; get together all of the equipment needed for the recipe and gather your ingredients.
Melt the one tablespoon of butter in the small frying pan.

Measure out flour, milk, and salt.

Crack eggs, making sure there are no shells in the bowl. Whisk together well.

Add butter, salt, and milk to the eggs and whisk well.

Sift in the flour by passing it through a sieve and whisk until crepe batter is well combined.

Cover and refrigerate crepe batter for 20 minutes.
Lightly butter frying pan over medium heat. Ladle a small amount of batter into the pan and begin to swirl the batter to form an even layer.

When the batter is just set and the edges have begun to pull away from the edge of the pan, carefully flip the crepe and continue to cook about 30 – 40 seconds. Slide the crepe out of the pan and continue with the remaining batter, stacking the crepes as they finish cooking.

Garnish crepes with desired filling – sweet or savoury, it's up to you!