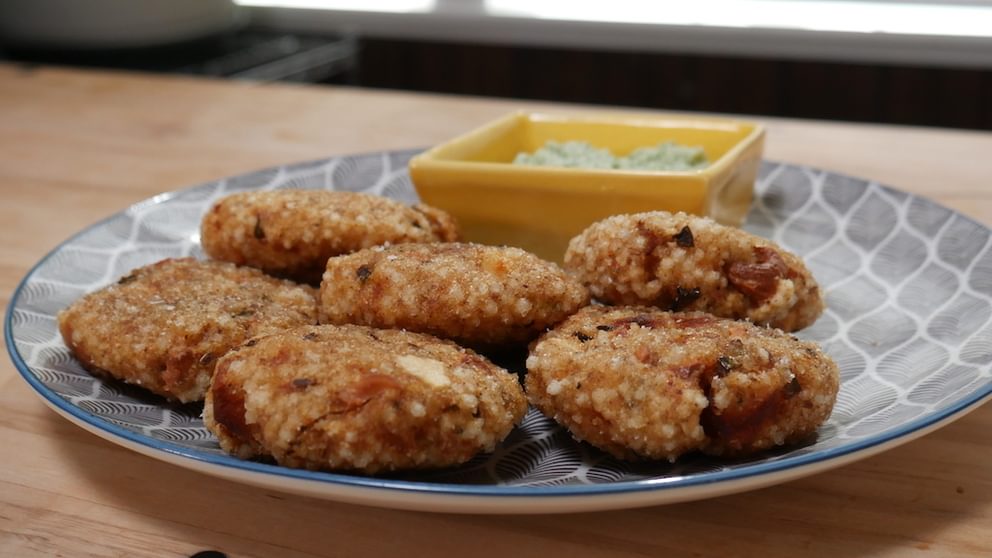 Growing Chefs! Ontario Sabudana Vada (Tapioca Pearl Patties) With Coconut Chutney
Sabudana Vada (Tapioca Pearl Patties) With Coconut Chutney
We are so excited for special Guest Chef Susmit ​
"
Sus" Bhagat to share his recipe for Sabudana Vada with Coconut Chutney that he enjoys for Holi, the Festival of Spring and Colours! This is a gluten free, dairy free and vegan recipe.
Ingredients
1 cup
tapioca pearls
1
large potato
1
green chilli, deseeded and chopped
1/4 cup
peanuts or cashews, toasted and chopped
1 tablespoon
whole cumin seeds, toasted
1 1/2 tablespoons
garam masala
1/2 tablespoon
chilli powder (optional)
Salt to taste
Canola oil for frying
Ingredients
1/2 cup
unsweetened shredded coconut
1
clove garlic, minced
1 tablespoon
ginger, peeled and minced
1/2
bunch mint, chopped
1
green chilli, chopped (optional)
2 tablespoons
yogurt
1 teaspoon
sugar
Salt to taste
Equipment
Cutting board
Chef's knife
Bowls various sizes
Measuring cups
Measuring spoons
Strainer
Small frying pan
Deep frying or candy thermometer
Peeler
Spatula
Small pot
Large pot
Paper towel
Slotted spoon
Baking sheet
Blender
Tasting spoons
Dish Towel
Gather your mis en place; get together all of the equipment needed for the recipe and gather your ingredients.
For Sabudana Vada:

Soak the tapioca pearls in 2 cups of water for 2 hours

Peel the potato and cut into small dice, about ½ centimetre. Place in a small pot with cold water and 1 tablespoon of salt.

Remove stem from chilli and cut in half lengthwise. Remove seeds, and chop finely. If possible wear gloves during this process or wash hands well afterwards to prevent skin from being burned.

If peanuts or cashews are raw, toast them in a small frying pan over medium heat until nuts are fragrant and slightly darker in colour, about 2 – 3 minutes. Do not burn the nuts as this will impart bitter flavours. Place in a bowl immediately after toasting to cool, and then chop nuts.

In frying pan over medium heat, toast cumin seeds until fragrant, about 1 minute.

Measure out garam masala and chilli powder.
For Coconut Chutney:

Soak the shredded coconut in 1⁄4 cup of water for 10 – 15 minutes, strain the excess water and save it for later use.

Remove skin of garlic and root end, and mince garlic with a chef's knife.

Peel ginger with a peeler or spoon. Mince ginger with a chef's knife.

Remove mint leaves from stem, and chop leaves.

If using, chop green chilli.

Measure yogurt and sugar.
For the Sabudana Vada:

Bring water and potatoes to a boil, and cook potatoes until cooked though, about 15 – 20 minutes. Strain the potatoes and set them aside.

Once the tapioca pearls are ready (when pressed between your fingers, they should break apart easily), strain the tapioca and discard any excess water.

In a large bowl mix together the pearls, potatoes, nuts, cumin, garam masala, chillies, chili pepper, and about 1 tablespoon of salt, or salt to taste.

With wet hands work with the mixture to form patties about the size of golf ball flattened, and place them on an oiled sheet tray until ready for frying.

In a large pot, heat canola oil over medium-high heat. Begin frying when temperature reaches 350F on a deep fry thermometer.

Carefully fry the patties until they are golden brown (approximately 6 – 8 minutes). Flip them once after 3 – 4 minutes. Remove patties and place on a tray lined with paper towel.

For the Coconut Chutney:

In a blender add the coconut, yogurt, ginger, garlic, mint, green chillies (optional), sugar, and salt to taste. Blend until all the ingredients are mixed together, adding additional coconut soaking water if needed to adjust the consistency of the chutney. Taste and Adding flavour to a food to enhance its taste. It can be as simple as salt and pepper or herbs, spices vinegars and condimentsseason as needed.