Growing Chefs! Ontario: We're Hiring
We're Hiring
We're looking for a Chef/​Delivery Driver to join our Beet team!
Posted on: May 12, 2023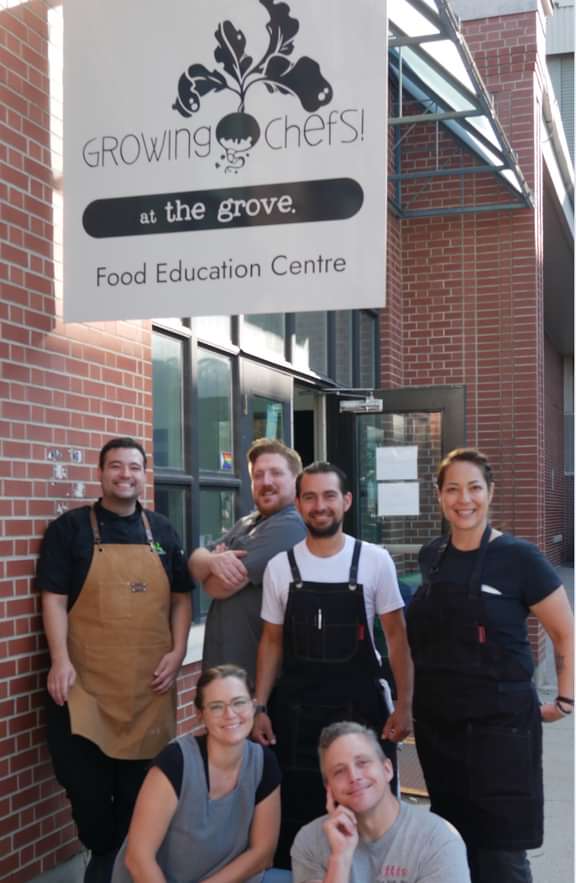 Growing Chefs! Ontario is Hiring a Chef and Delivery Driver for the Beet!

The Growing Chefs! Ontario (GCO) mission is to change the way children and families learn about and develop healthy relationships with food. Our belief is that engaging food education programs for children and families can catalyze the evolution of a healthier, empowered community that is engaged with its food system.

We are looking for the right individual to join our Beet team, start date in May 2023, to partner in this mission.

This position will support our hot lunch program, the Beet, with prep and delivery as needed. This will include daily execution and prep of a scratch-made lunch and snack menu that feeds between 300 – 500 children daily. Attention to detail is imperative, as well as working with speed and consistency. The job requires regular lifting of heavy objects, as well as driving our delivery vehicles. Delivery is part of the job of Beet kitchen staff, and all staff hired must have a G drivers license, and clean driving record. This position will also support the prep and execution of fundraising initiatives for GCO, including catering, events at our Headquarters including outdoor pizza nights, takeout events and more.

The hours of this position are Monday through Friday 6am – 2pm, so candidates for this position must have reliable transportation. There will be times that you will work outside of these hours to support events and programming as needed.

Candidates for this position should share GCO's curiosity about food systems and food literacy, as well as a desire to share their learning with others. Check out our website and Facebook page for a taste of the programs we've got cooking:

http://growingchefsontario.ca/projects

https://www.facebook.com/growingchefsontario/

https://www.instagram.com/growingchefsontario/

https://www.youtube.com/GrowingChefsOntario

Available Position:

-Full-time hours (40 hrs/​week)

Required Qualifications, Knowledge and Experience:

-Culinary training and 3 – 5 years industry experience
-G class drivers license and clean driving record; no exceptions
-Attention to detail
-Excellent verbal communication skills
-Strong organizational, planning and time management skills
-Able to work independently with minimal supervision or with a team in a fast paced work environment
-Flexible and adaptable to working on new and changing projects
-Reliable and available to work weekdays, evenings and weekends as needed
-Must be able to pass a Vulnerable Sector Police Check
-Ability to lift 50+lbs and stand for long periods of time
-Food Handlers Safety Certificate

Additional Assets:

-Experience working with wood-fired pizza preparation
-Experience and/​or interest in gardening or farming
-Experience in recipe and menu development
-First Aid CPR C+ AED
-Smart Serve Certificate

What We Offer You:

-Starting Salary range: $40,000 plus benefits
-Work with significant, meaningful impact on our organization and community
-Opportunities to grow your own understanding of hands-on food education
-Opportunity to work in a growing, fast paced non-profit environment
-Health and dental benefits
-Retirement Savings Plan after one year
-Good food! Good people!

How to Apply:

If you are interested in applying for this position, please submit a resume and cover letter to Katherine Jones at chef@​growingchefsontario.​ca as soon as possible. Please contact us if there are any questions regarding your eligibility or the job details. Those chosen for an interview will be contacted via email. Interviews will be scheduled throughout the hiring process, so please submit your email before May 24th, 2023.

Please note: Growing Chefs Ontario is an equal opportunity employer committed to diversity and inclusion. We are pleased to consider all qualified applicants for employment without regard to race, colour, religion, sex, sexual orientation, gender, national origin, age, disability, protected veterans status or any other legally-protected factors.

Accommodations will be provided upon request. Please let us know if there are any accessibility needs throughout the hiring process.