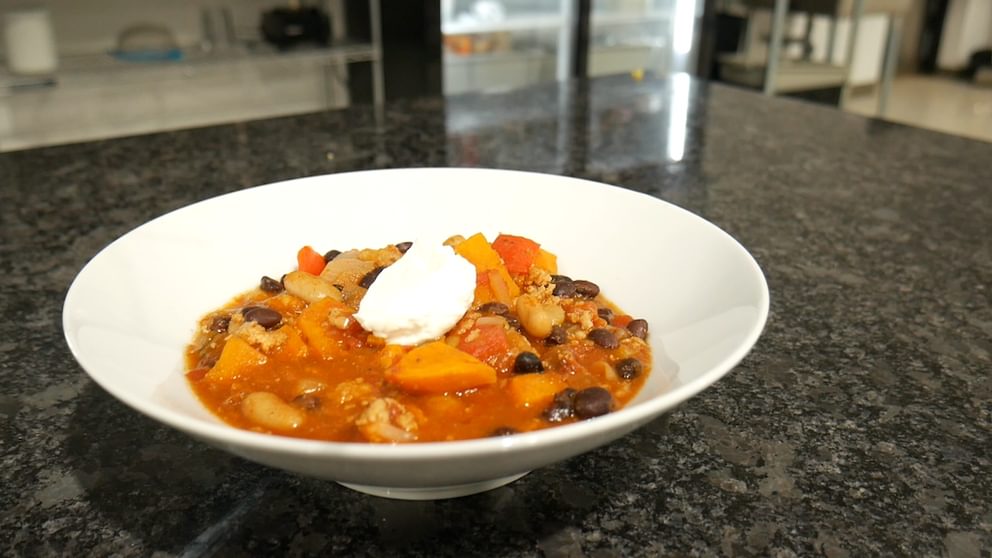 Growing Chefs! Ontario Turkey and Sweet Potato Chili
Turkey and Sweet Potato Chili
Ground turkey makes a lighter alternative to beef and the vitamin rich sweet potato makes this a delicious
AND
nutritious chili!
Ingredients
1 pound
lean ground turkey
1
medium onion, diced
1/4 cup
olive oil
2
bell peppers, chopped
1
jalapeño, chopped
2
cloves garlic, minced
2 1/2 tablespoons
chili powder
2 teaspoons
ground cumin
1 teaspoon
dried oregano
Ground black pepper to taste
Salt to taste
1
can diced tomatoes (28 ounces)
1 cup
tomato paste
1
can black beans, drained and rinsed
1
can kidney or white beans, grained and rinsed
1
large sweet potato, cubed
Equipment
Large pot
Wooden spoon
Measuring cups
Measuring spoons
Cutting board
Paring knife
Can opener
Strainer
Tasting spoons
Dish towel
Bowls
Gather your mis en place; get together all of the equipment needed for the recipe and gather your ingredients.
Dice the onion, peppers and sweet potato. Mince the garlic and jalapeño.

Measure out all of the spices. Open the cans of beans, tomatoes and tomato paste.
Heat olive oil in a large pot over medium-high heat. Add ground turkey and cook until browned (About 3 – 4 mins).

Add in onions and cook for 3 more minutes.

Add in peppers, jalapeño and garlic and cook for another 2 mins.

Add spices, diced tomatoes, tomato paste, beans and sweet potato and bring mix to a boil.

Once boiling, lower heat to a simmer and cook for about 30 – 40 minutes, uncovered or until desired consistency is reached.