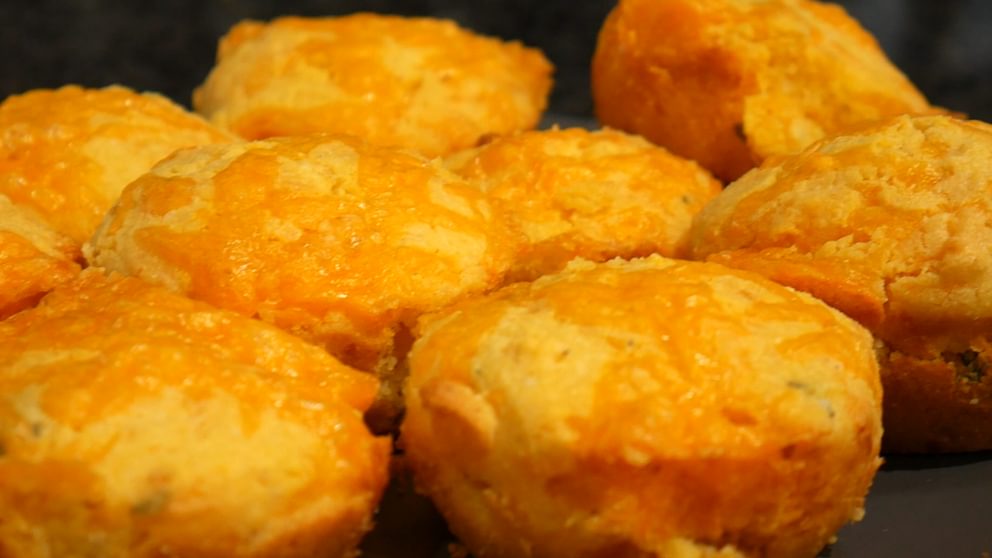 Growing Chefs! Ontario Cheddar Cornbread Muffins
Cheddar Cornbread Muffins
Cheddar cornbread muffins make the perfect side to any soup or chili. Try switching things up by subbing in your favourite herb for the sage!
Ingredients
1 cup
milk
1/4 cup
butter, melted
1
egg
1 cup
cheddar cheese, grated
1 cup
cornmeal
1 cup
flour
1 tablespoon
sugar
1 tablespoon
chopped fresh sage (optional
2 teaspoons
baking powder
1 teaspoon
salt
Equipment
Measuring cups
Measuring spoons
Whisk
Wooden spoon
Small pan
Grater
Muffin tin
Cooking spray (optional)
Gather your mis en place; get together all of the equipment needed for the recipe and gather your ingredients.
Preheat oven to 375 F. Spray a muffin tin with cooking spray.

Grate the cheese using a grater. Reserve about 1⁄2 cup for topping the muffins.

In a small saucepan over medium heat, melt the butter and allow it to cool slightly.

Measure the milk and crack an egg into a bowl.

Remove the green leaves from the sage and chop finely.

Measure out the flour, cornmeal, baking powder, salt and sugar. Whisk together until combined. Add the milk, egg, and butter. Stir just until all the flour is incorporated.

Fold in the sage and grated cheese, except for the ½ cup.
Divide batter into the muffin tin and top with the remaining cheese.

Bake 20-­25 minutes or until golden brown and toothpick inserted in the centre comes out clean.