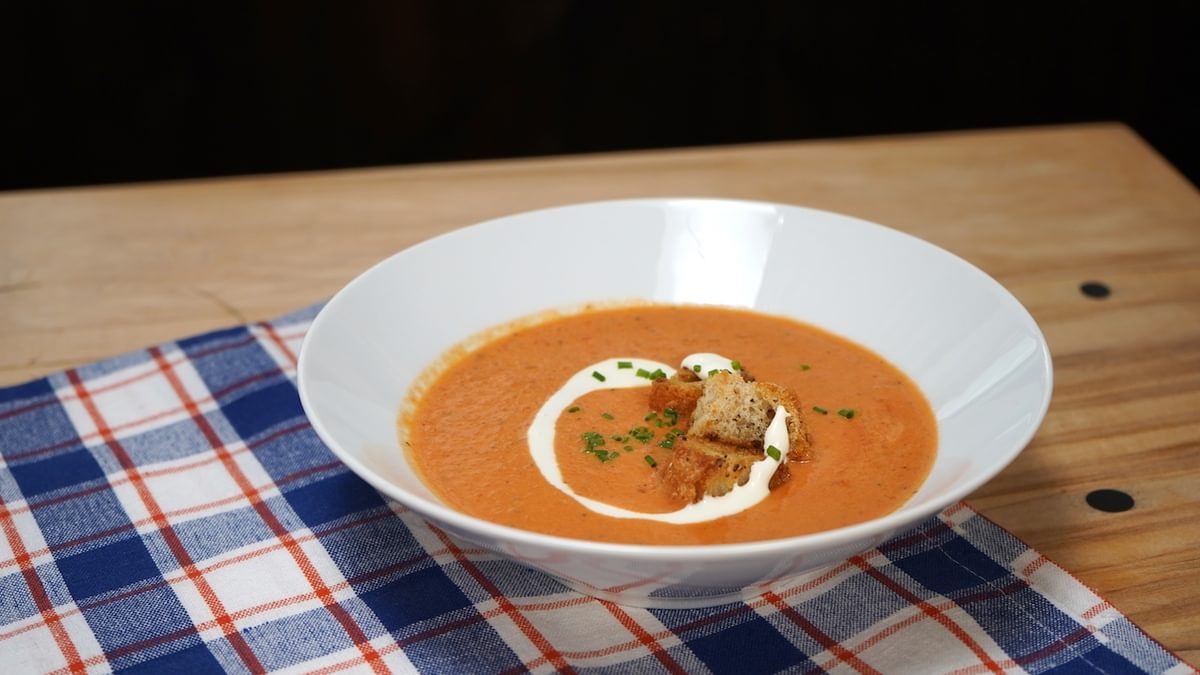 Growing Chefs! Ontario Tomato Soup
Tomato Soup
A satisfying classic comfort food- Tomato soup! Ditch the canned stuff, it's a lot more delicious when made from scratch!
Ingredients
1 tablespoon
unsalted butter
1 tablespoon
extra-virgin olive oil
1
medium onion
4
cloves garlic
4 cups
canned whole tomatoes in their juice
1 cup
chicken or vegetable stock
1 cup
heavy cream
1 tablespoon
sugar
1 tablespoon
balsamic vinegar
1/4 teaspoon
celery seed (optional)
1/4 teaspoon
dried oregano
Red pepper flakes to taste
Salt to taste
Freshly ground black pepper
Equipment
Large pot
Wooden spoon
Cutting board
Paring knife
Measuring cups
Measuring spoons
Can opener
Blender
Ladle
Gather your mise en place; get together all of the equipment needed for the recipe and gather all of the ingredients.
Dice onion and smash garlic.
Open cans of tomatoes and do not drain.
Measure out other ingredients.
In a large pot, melt together the butter and olive oil. Add the sliced onion and smashed garlic and cook for about 5 minutes or until softened.

Next, add the tomatoes and their juice, the stock, sugar, crushed red pepper, celery seed (if using) and oregano. Season with salt and pepper.
Bring the soup to a boil over high heat, breaking up the tomatoes with the back of a spoon. Reduce the heat to medium and simmer for 10 – 12 minutes.

Let the soup cool down and then, working in batches, carefully transfer the tomato soup to a blender and To blend, grind or mash food until it is a thick, smooth, lump-free consistency.puree until smooth. Next add the cream and vinegar and heat through.
Serve hot with garnishes of your choice, we recommend a swirl of sour cream and some crunchy croutons!