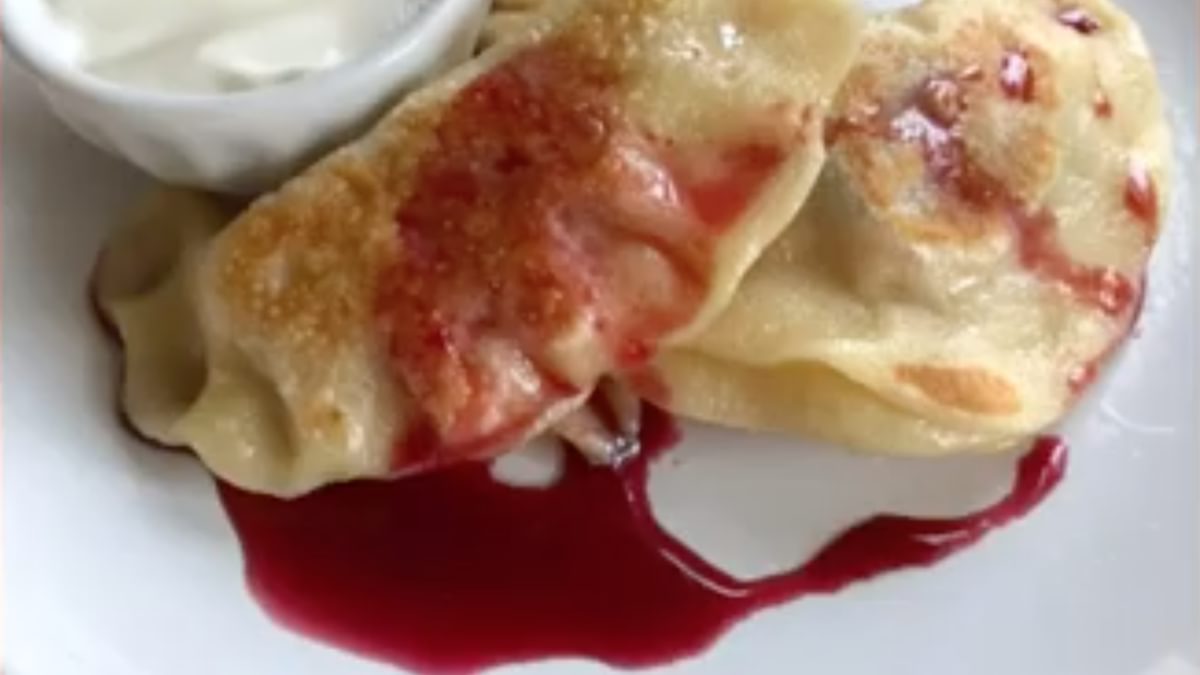 Growing Chefs! Ontario Sour Cherry Vareniki
Sour Cherry Vareniki
This Russian dumpling is the perfect combination of sweet and savoury. Try it with any other seasonal fruits!
Ingredients
1
egg
1 tablespoon
sourcream
1/2 cup
milk
1 1/2 tablespoons
sugar
1/2 teaspoon
salt
2 cups
flour
Ingredients
1 cup
cherries, pitted
1/4 cup
sugar
1 cup
cottage cheese
Pinch of salt
Ingredients
Fresh cracked pepper
Sourcream
Equipment
Cutting board
Paring knife
Measuring spoons
Measuring cups
Small pot
Wooden spoon
A large glass, or round cookie cutter
Mixing bowls
Spatula
Tasting spoons
Large pot
Tongs
Large pan
Rolling pin
Baking sheet
Slotted spoon
Dish towel
Gather your mis en place; get together all of the equipment needed for the recipe and gather your ingredients.
Measure out the sour cream, milk, sugar, salt and flour for the dough.

Whisk your egg together with sour cream and milk until you get an even texture.

Add the sugar and salt and then switch to a This word has been an eternal struggle amongst Growing Chefs staff. Is it a flipper? Is it a mixer? Is it offset? All I can tell you is that it is a cooking utensil with a wide, flat blade that is not sharp.spatula and mix in the flour. Once the dough starts to get tricky to mix, switch to using your hands and Time for a dough a massage. Kneading is as simple as pushing the dough away from you with the heel of your palm, folding it over itself with your fingers, and pulling it back. This process helps develop gluten & gives a nice chewy texture.knead the dough until it is no longer sticky. Place in an oiled bowl and cover with plastic wrap and allow dough to rest for at least 30 minutes.

Measure out the cherries, sugar, cottage cheese and salt for the filling.
To make the filling place your cherries in a small pot with the sugar and a tablespoon of water. Place on medium heat and simmer until cherries begin to break down but not turn to mush. Strain the cherries saving the liquid and set aside. Once cherries are cooled completely, roughly chop them and mix with the cottage cheese and a pinch of salt.

Once the dough has rested and your filling is cooled and together it's time to assemble! Cut your dough in half and recover the half you are not using with plastic wrap again. On a floured surface roll out your ball of dough so that it is fairly thin. Using a cup or a cookie cutter stamp out circles. Flour the cup to make it easier to cut circles.

One by one fill your circles with filling, placing the filling in the centre.

Fold over the edges and pinch them with your fingers, making sure it's firmly closed enough for your filling not to fall out.

Bring a pot of water up to boil. Add 5 – 7 dumplings at a time and cook until they float up to the top. Drain with a slotted spoon and transfer to a baking sheet.

Once all the vareniki has been boiled it's time to lightly fry them in oil just until light gold in colour. Serve with sour cream, a sprinkle of black pepper and drizzle the leftover juices from cooking the cherries on top. Enjoy!