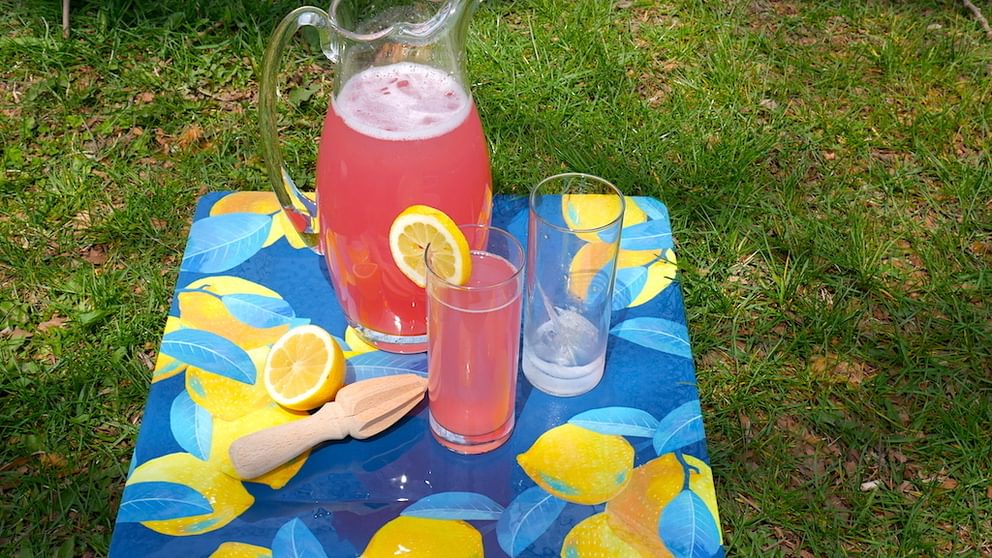 Growing Chefs! Ontario Rhubarb Ginger Lemonade
Rhubarb Ginger Lemonade
This refreshing sweet and sour drink is the perfect shade of pink
Ingredients
6
thick stalks rhubarb, chopped
8 cups
water
1
lemon, juiced
1/4 cup
sugar
1/4 cup
honey
1
small slice ginger
Optional:
Strawberries to garnish
Edible flowers to garnish
Mint to garnish
Lemon wedges to garnish
Equipment
Measuring cups
Cutting board
Paring knife
Medium pot
Wooden spoon
Strainer
Dish towel
Gather your mis en place; get together all of the equipment needed for the recipe and gather your ingredients.
Measure out the water, sugar and honey

Wash and chop the rhubarb into chunks

Cut the lemon in half and squeeze out the juice, discard the seeds.

Cut the ginger, no need to peel!
Place the rhubarb, lemon juice, ginger, honey and sugar into a pot. Pour in half the water and turn onto medium heat. Once the water has boiled, turn down heat to a simmer.

Simmer the rhubarb for about 5 – 7 minutes and it is very soft.

Carefully strain out the liquid and chill for at least 1 hour.

Pour over the other four cups of cold water and stir. Taste for sugar level.

Serve with Add a little flare to your food with a decorative final touch that is edible, like chopped herbs or a sprinkle of parmesan cheese.garnish of choice over ice!