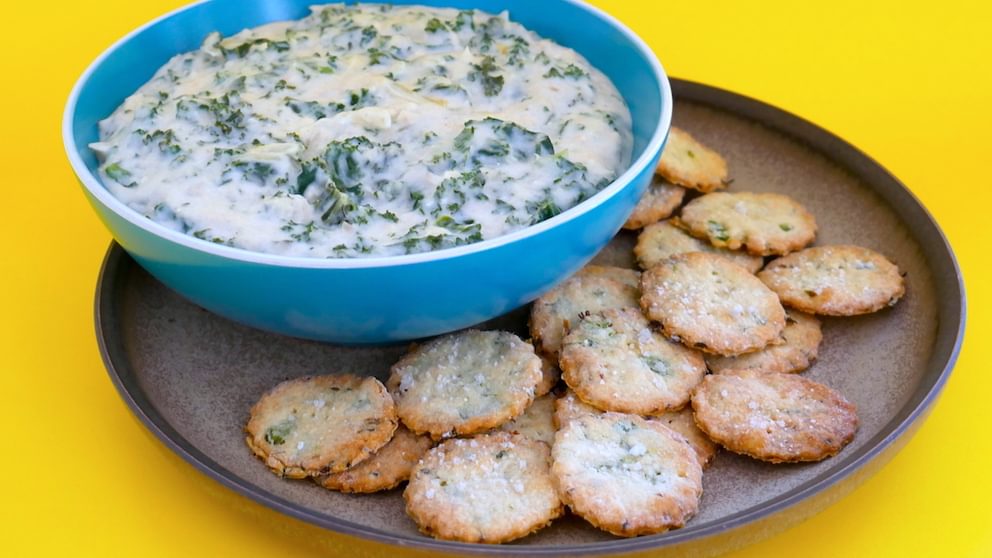 Growing Chefs! Ontario Kale Stem Crackers
Kale Stem Crackers
Chef Ryan prepares Kale Stem Crackers for our April Kid's Cooking Class, utilizing the kale stems from his Warm Kale and White Bean Dip, check out that recipe next!
Ingredients
1 cup
kale stems, thinly sliced
1 tablespoon
butter
1 teaspoon
salt
1 cup
all purpose flour
1/4 cup
buttermilk, you can substitute whole milk with a ½ teaspoon of lemon juice or vinegar mixed into it.
1 tablespoon
olive oil plus more for brushing the tops
Coarse salt, to taste
Equipment
Cutting board
Paring knife
Measuring cups
Measuring spoons
Frying pan
Bowls of various sizes
Wooden spoon
Baking sheet
Parchment paper
Rolling pin
Blender
Cookie cutter or pizza cutter
Dish towel
Fork
Gather your mis en place; get together all of the equipment needed for the recipe and gather your ingredients.
Measure out the flour, salt, buttermilk, butter, and olive oil

Thinly slice the kale stems

Preheat the oven to 350 degrees.
Cook the kale stems in a large skillet over medium heat with the butter and salt. The stems should be tender and bright green . Place the cooked stems and oil in a food processor or blender and pulse until a rough chunky paste is formed. Spread out mixture to cool.

Place the flour and the kale stems into a bowl and mix.

Add the buttermilk and mix until a dough has formed.

Flatten dough into a disk shape, wrap in plastic wrap and chill for 30 minutes.

Once the dough is chilled roll out into about ¼ inch thickness. Cut into circles or squares, brush with olive oil and sprinkle with coarse salt.

Bake on a parchment lined baking sheet for 12 – 15 minutes or until golden brown.