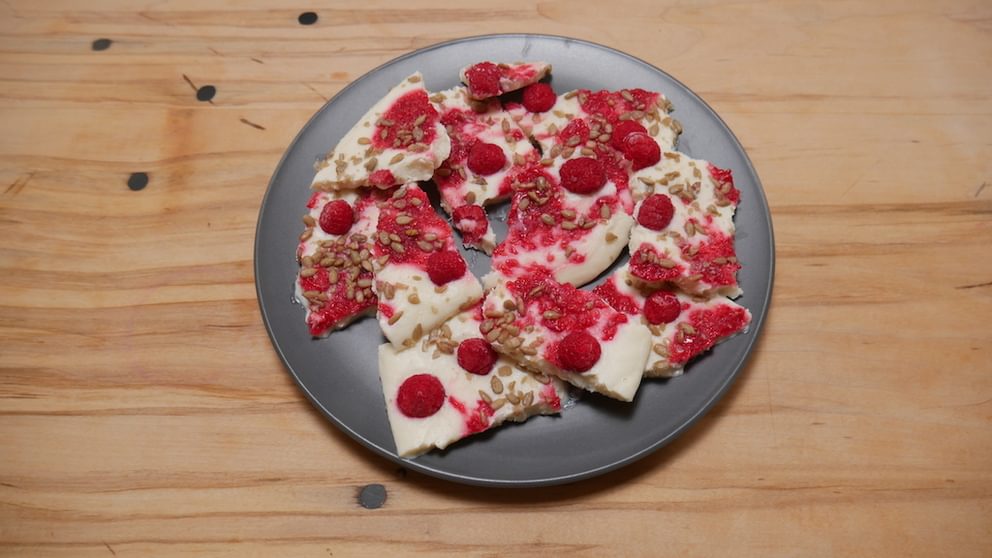 Growing Chefs! Ontario Raspberry Frozen Yogurt Bark
Raspberry Frozen Yogurt Bark
Cool, creamy, tart and sweet, this raspberry bark is the perfect summer treat!
Ingredients
2 cups
plain greek yogurt
4 tablespoons
maple syrup, honey or other sweetener of choice
1/2 teaspoon
vanilla extract
1 cup
raspberries
1 tablespoon
sugar
2 tablespoons
roasted sunflower seeds, roughly chopped
Equipment
Cutting board
Paring knife
Measuring cups
Measuring spoons
Two large mixing bowls
Bowls of various sizes for ingredients
Spatula
Spoon
Fork
Baking sheet lined with parchment paper
Dish towel
Gather your mis en place; get together all of the equipment needed for the recipe and gather your ingredients.
Measure out the yogurt, sweetener, vanilla, raspberries, sugar and sunflower seeds.

Roughly chop the sunflower seeds.
In a large bowl stir together the yogurt, sweetener and vanilla until well combined.

In a separate bowl mix half of the raspberries and the sugar and mash together with a fork. The raspberries should have a jammy consistency.

Pour the yogurt mixture onto the parchment paper lined baking sheet and spread out evenly so that it is about 0.5 centimeter thick.

Using a spoon, dot the jammy raspberries all over the yogurt and swirl it in.

Press the remaining raspberries into the yogurt all over the surface.

Sprinkle over the sunflower seeds and place into the freezer to chill and set for at least 3 hours.

Break the bark into shards and serve.