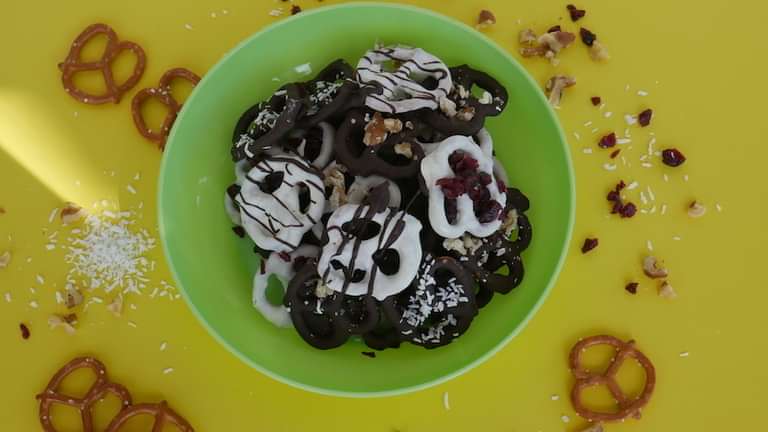 Growing Chefs! Ontario Chocolate Covered Pretzels
Chocolate Covered Pretzels
This fun and easy snack is a perfect salty/​sweet combo that can be decorated however you please!
Ingredients
6 ozs
milk chocolate
6 ozs
white chocolate
24
pretzel twists
Optional add ons:
Chopped nuts
Shredded coconut
Chopped dried cranberries
Equipment
Chef knife or paring knife
Cutting board
Medium pot x2
Glass or metal bowl to fit on pot x2
Spatula x 2
Forks x 4
Dish towel
Gather your mis en place; get together all of the equipment needed for the recipe and gather your ingredients.
Place a tightly fitting bowl onto a pot with about 3 centimetres of water. Turn onto low heat. Do this with two separate pots for the two different types of chocolate.

Don't let the water boil, just gently steam.

Roughly chop the chocolate and keep the two types separate.
Place the chocolate into the bowls and let it melt.

Once the chocolate has melted, using two forks, carefully dip one pretzel at a time into the chocolate and shake off any excess.

Transfer the dipped pretzel to a parchment lined baking sheet and decorate with whatever Add a little flare to your food with a decorative final touch that is edible, like chopped herbs or a sprinkle of parmesan cheese.garnish you like. Allow to cool and harden before serving.