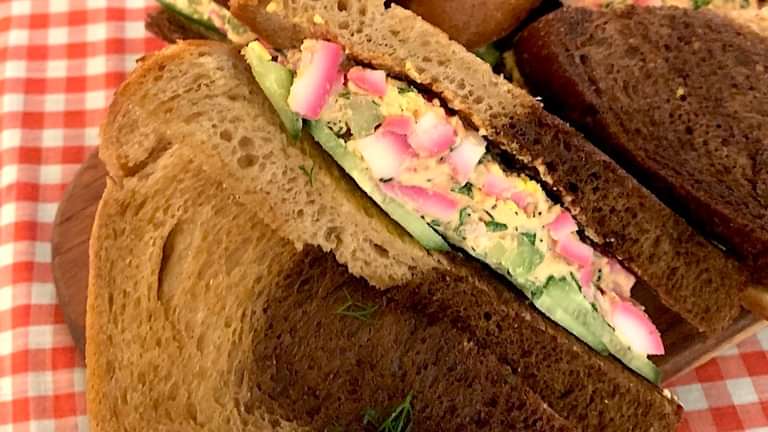 Growing Chefs! Ontario Pickled Egg Salad on Rye
Pickled Egg Salad on Rye
Using pickled eggs really spices things up for this fun twist on a classic sandwich
Ingredients
1/2 cup
apple cider vinegar
1/2 cup
white vinegar
1 tablespoon
sugar
1 tablespoon
salt
2
cloves garlic, crushed
1
red beet, peeled and sliced
2
bay leaves
1 tablespoon
chili flakes
8
hard boiled large eggs, peeled
1/3 cup
mayonniase
1/4 cup
chives
3 tablespoons
parsley
2 tablespoons
dill
1/4 cup
celery, minced
2 tablespoons
shallot, minced
Salt to taste
Pepper to taste
Rye bread
Softened butter
1
cucumber
1/4 cup
dill, chopped
Equipment
Measuring spoons
Measuring cups
Mixing bowls of various sizes
Medium pot
Spatula
Slotted spoon
Cutting board
Chef's knife
Tasting spoons
Dish towel
Gather your mise en place; get together all of the equipment needed for the recipe and gather your ingredients.
To hard boil the eggs, place in a pot with enough cold water to cover by a few inches. Bring this pot to a boil over high heat, and let boil for 2 minutes before covering and turning off the heat. Let sit for 12 minutes.

After 12 minutes, drain the eggs and rinse with cold water. Peel right away.

To pickle the eggs, in a pot combine vinegars, sugar, salt, spices, beet and garlic. Bring to a boil until salt and sugar are dissolved, then pour the hot mixture over the peeled eggs. Once cooled, cover and place into the fridge. This is best done the day before, and these eggs will last up to a few weeks in the fridge.
Drain the eggs from the pickling liquid and roughly chop. Combine in a large bowl with mayonnaise, chives, parsley, dill, celery and shallot and Adding flavour to a food to enhance its taste. It can be as simple as salt and pepper or herbs, spices vinegars and condimentsseason with salt and pepper.

Spread the softened butter on the rye bread and toast until golden brown. Assemble sandwiches with a few slices of cucumber, fresh chopped dill and the pickled egg salad. These can be wrapped and stored in the fridge ahead of time.