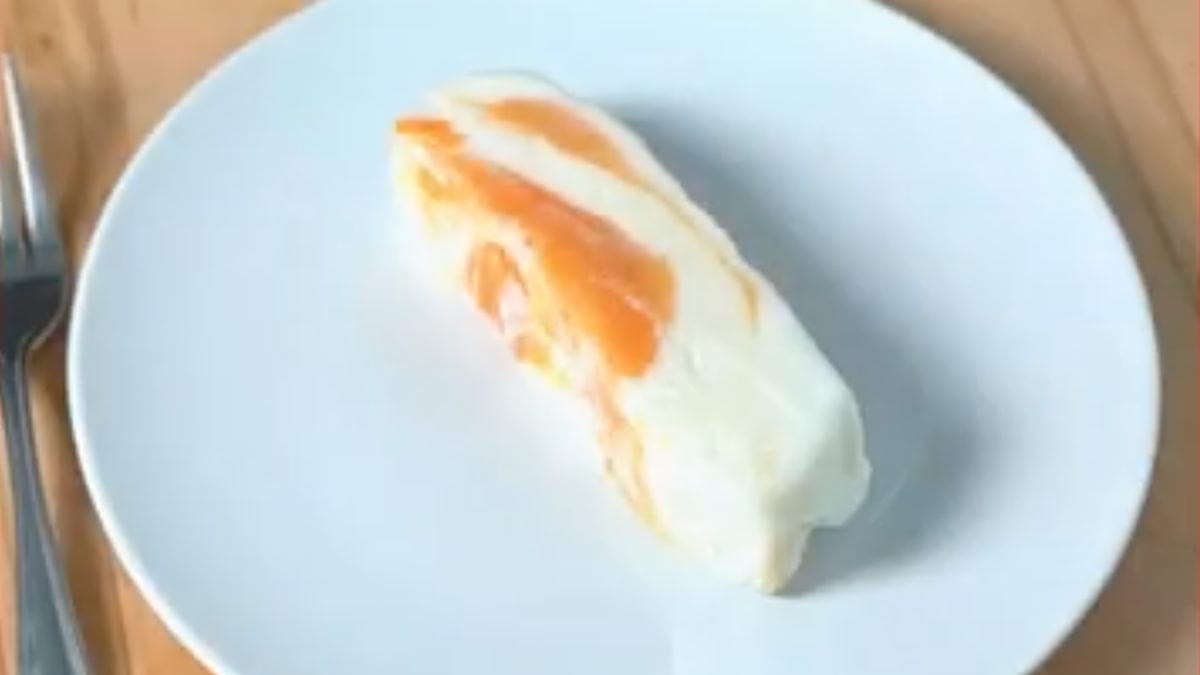 Growing Chefs! Ontario Peach and Honey Yogurt Semifreddo
Peach and Honey Yogurt Semifreddo
Ice Cream's chic Italian cousin, semifreddo makes the perfect summer treat! Use peaches to savour the best of the flavours of summer.
Ingredients
2
ripe peaches, unpeeled, pitted and sliced
1/4 cup
honey
3
large egg whites
1 cup
sugar
1/8 teaspoon
salt
1 cup
plain Greek yogurt
3 tablespoons
fresh lemon juice
Equipment
Loaf pan
Plastic wrap
Paring knife
Cutting board
Large pan
Measuring spoons
Measuring cups
Medium pot
Heat proof bowl
Whisk
Spatula
Mixing bowls
Soup spoon
Clean tea towels
Electric mixer (optional)
Gather your mis en place; get together all of the equipment needed for the recipe and gather your ingredients.
Line an 8 ½ x 4 ½ inch loaf pan with plastic wrap leaving a generous overhang on all sides.

Remove the stone or pit from the peaches but leave the skin on. Slice the peaches into wedges.

Measure out the sugar, honey, yogurt, lemon juice and salt.

Dived the egg whites from the yolks.

Prepare a double boiler by taking a pot with a few centimetres of water in it and place a snug fitting heatproof bowl over top. You can use a clean, damp dish towel in between to prevent the bowl from slipping around.
Cook the peaches and honey in a large pan over medium heat, stirring occasionally until peaches are softened and the honey has dissolved, about 5 minutes.

Transfer the peaches to a blender or using an immersion blender, To blend, grind or mash food until it is a thick, smooth, lump-free consistency.puree the peaches until smooth. Set aside and let cool

Whisk the egg whites, salt and sugar in the double boiler over medium-low heat (make sure the bowl is not touching the water) Cook, whisking constantly until the sugar has dissolved and mixture is warm to the touch (about 2 – 4 minutes)

Remove the bowl from the double boiler. Using an electric mixer on high speed, beat egg mixture until it has tripled in volume, glossy, and completely cool, about 10 minutes.

Whisk yogurt and lemon juice in a large bowl. Gently A technique used to gently mix two ingredients together to create a light fluffy consistency. Start by scooping around the outside of the bowl and cutting through the centre. Turn the bowl and repeat the process.fold in egg white mixture until combined.

Transfer half of the yogurt mixture to prepared pan; smooth surface. Swirl half of the peach mixture into a yogurt layer with a spoon, then repeat with remaining yogurt and peach mixtures. Fold plastic wrap overhang over top to seal and freeze until firm, at least 8 hours.

Unwrap semifreddo and, using plastic overhang, gently lift from pan. Invert semifreddo onto a cutting board, remove plastic wrap, and let sit at least 10 minutes to soften. Slice into 6 even slices, about 1 1⁄2″ thick; transfer to plates and serve.