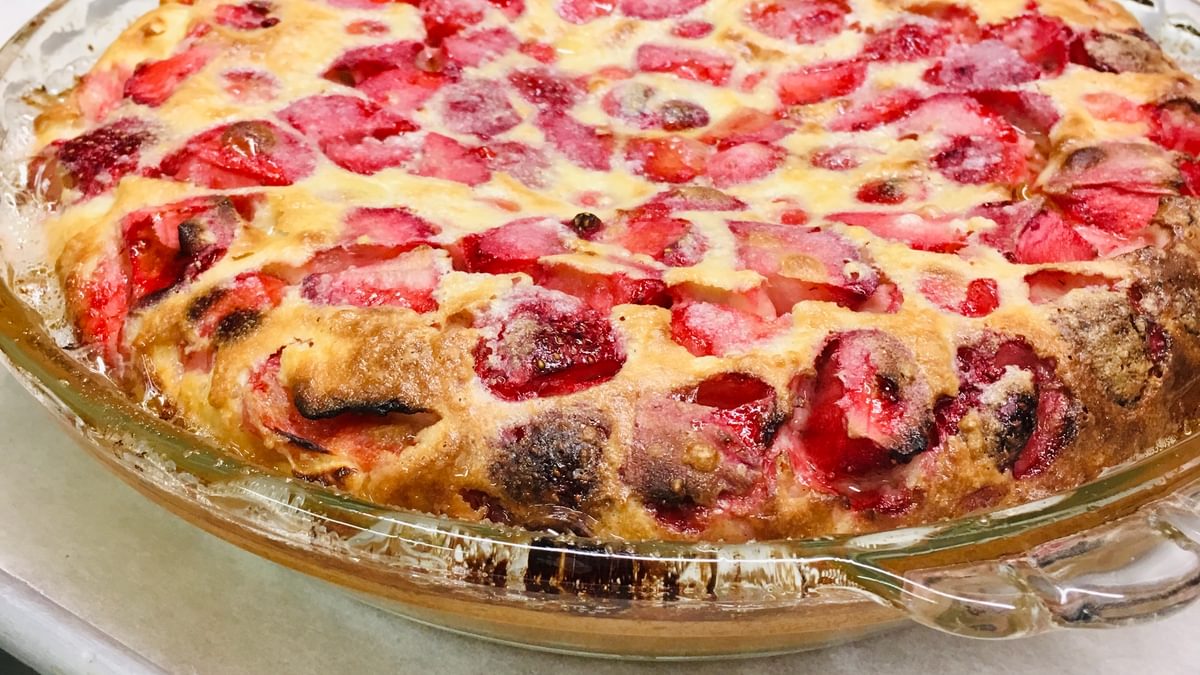 Growing Chefs! Ontario Sour Cherry and Strawberry Clafoutis
Sour Cherry and Strawberry Clafoutis
Clafoutis is a baked French dessert, traditionally using black cherries – but most fruits work well!
Ingredients
2 tablespoons
butter, room temperature
1 1/2 cups
milk (can substitute with plant-based milk)
1/4 cup
sugar
4
eggs
1 tablespoon
vanilla extract
Pinch of salt
3/4 cup
flour
1 1/2 cups
sour cherries, halved and pitted
1 1/2 cups
strawberries, hulled and quartered
1/4 cup
sugar to top
Equipment
Mixing bowls of various sizes
Whisk
Spatula
Pie plate or baking dish
Measuring cups
Measuring spoons
Paring knife
Cutting board
Dish towel
Gather your mis en place; get together all of the equipment needed for the recipe and gather your ingredients.
Measure out the butter, milk, flour, sugar and vanilla extract.

Half and pit the cherries. Hull and quarter the strawberries.
Preheat the oven to 350F. Grease a large 12 inch pie plate or baking dish with butter across the bottom and sides.

In a large bowl, whisk together milk, ¼ cup sugar, eggs, vanilla, and salt.

Whisk is the flour in batches so it doesn't clump.

Scoop a third of the mixture into the bottom of the dish, and then scatter the fruit all over the dish. Top with remaining batter. Sprinkle with ¼ cup of sugar.

Bake 45 – 60 minutes, until the clafoutis is golden and bubbling.

Remove from the oven and allow to cool slightly. Serve warm with whipped cream or your favourite ice cream!