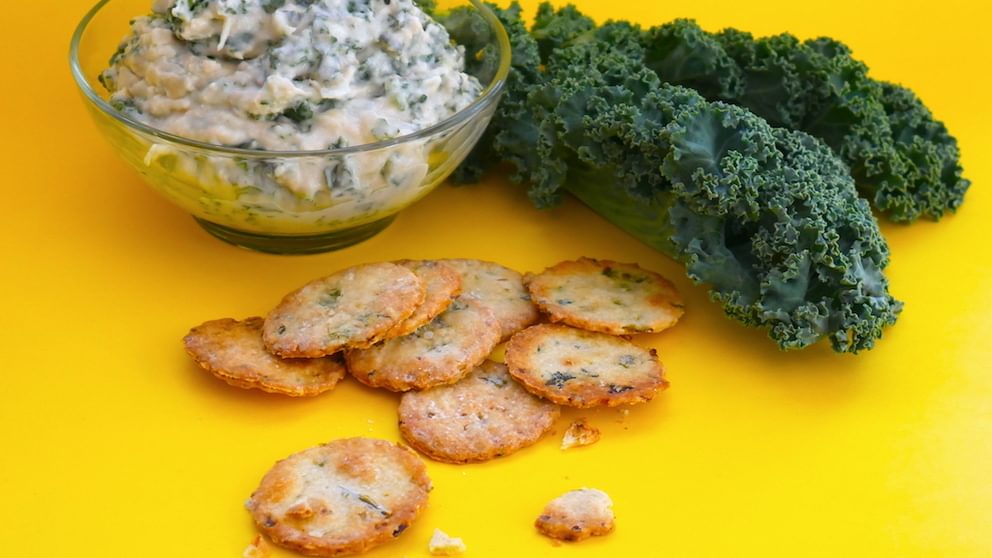 Growing Chefs! Ontario Warm Kale and White Bean Dip
Warm Kale and White Bean Dip
A delicious twist on the classic spinach dip! Instead of throwing out the leftover kale stems he will be transforming them into crackers to serve with the dip, check out that recipe next!
Ingredients
1
bunch of kale, ribs removed and set aside for other uses
1 tablespoon
olive oil
1
small onion, sliced
2
cloves garlic, minced
540 millilitres
can white beans, drained but not rinsed
1/2
brick of cream cheese, softened
1/3 cup
greek yogurt
1/2 cup
parmesan cheese, grated
Salt to taste
Equipment
Grater
Cutting board
Paring knife
Measuring cups
Measuring spoons
Medium pot
Strainer
Immersion blender or blender
Spatula
Frying pan
Can opener
Tongs
Wooden spoon
Dish towel
Tasting spoons
Gather your mis en place; get together all of the equipment needed for the recipe and gather your ingredients.
Measure out the olive oil, yogurt and cream cheese.

Remove the softer parts of the kale from the tough ribs and set aside.

Grate the parmesan cheese.

Cut the onion in half and remove the paper from the outside. Lay the onion cut side down on the cutting board and slice thinly.

Mince the garlic very finely or use a An extra fine grater typically used on citrus, ginger, garlic or hard cheeses. Watch those fingertips!rasp to grate it.

Open the can of beans and pour out the canning liquid, saving a little. Blend the beans until smooth. You may need to add in a bit of canning liquid to help the blending process.
Bring a pot of water to a boil with a bit of salt. Place the kale into the water and cook for about 1 – 2 minutes until the kale has softened and turned bright green. Carefully strain the kale and using your tongs squish out as much water as possible and set aside to cool

While the kale is cooling, add the olive oil to the frying pan and turn onto a medium heat. Add the onions and begin to cook. You want to soften the onions but not brown. Once the onions have softened add the garlic and cook for another minute. Turn the heat down to low.

Stir in the cream cheese and parmesan. Once the cream cheese has melted, stir in the white bean To blend, grind or mash food until it is a thick, smooth, lump-free consistency.puree and yogurt.

Chop the cooled kale roughly and add to the bean mixture. Season with salt and taste adjusting as necessary. Serve warm with crackers.