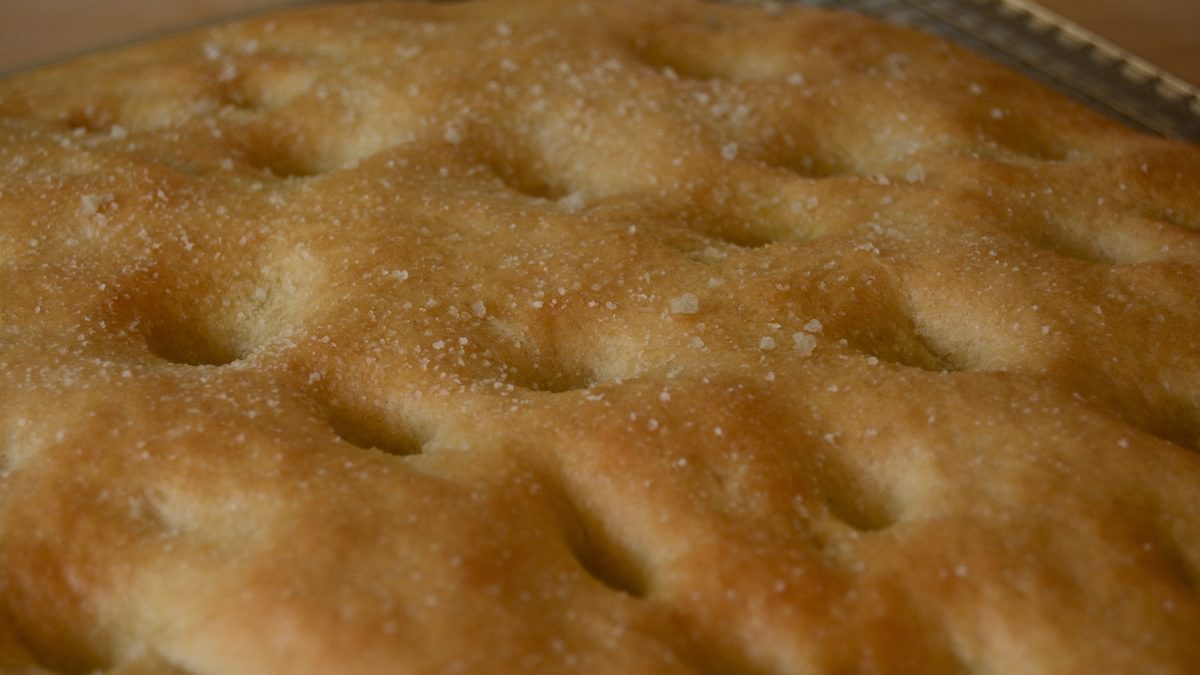 Growing Chefs! Ontario Focaccia
Focaccia
This delicious Italian bread comes together in less than two hours, from prep to bake! Get creative with your focaccia toppings to make it extra special.
Ingredients
3 cups
warm water
1 teaspoon
sugar
2 tablespoons
active dry yeast
1/4 cup
olive oil, plus more for brushing on top and greasing the proofing bowl
8 cups
all purpose flour
4 teaspoons
salt
Flaky salt to finish
Equipment
Bowls
Wooden spoon
Measuring spoons
Measuring cups
Pastry brush
Baking sheet
Parchment paper
Rolling pin
Dish towel
Wire rack
Stand mixer (optional)
Gather your mis en place; get together all of the equipment needed for the recipe and gather your ingredients.
Measure out all ingredients, and combine warm water, sugar, and yeast. Let sit about 5 minutes for yeast to bloom.

If using a stand mixer, transfer the contents of the water bowl into the mixer, and add olive oil, flour, and salt. Mix on low speed for 8 – 10 minutes with a dough hook until dough is smooth and elastic.

If mixing by hand, add the olive oil, flour, and salt and stir together to form a shaggy dough with a wooden spoon. Knead by hand about 10 minutes until dough is smooth and elastic, adding more flour if necessary to keep from sticking to the work surface.

Place dough in a large bowl wiped down with oil, and cover with a clean dish towel. Let rise in a warm place for about 1 hour, until doubled in size.
Punch down the dough to deflate.

Preheat the oven to 350F. Line baking sheet with parchment paper.

Place dough onto parchment lined baking sheet. Using a rolling pin or your hands, flatten your dough so that it is about an inch thick. Use your fingers to create dimples all over the top of the focaccia, and brush with extra olive oil.

Leave the dough in a warm spot to proof for another 30 minutes. Sprinkle it with flaky salt and put it into the oven for about 25 minutes or until the top of the focaccia is a nice golden brown. Let cool preferably on a wire rack.