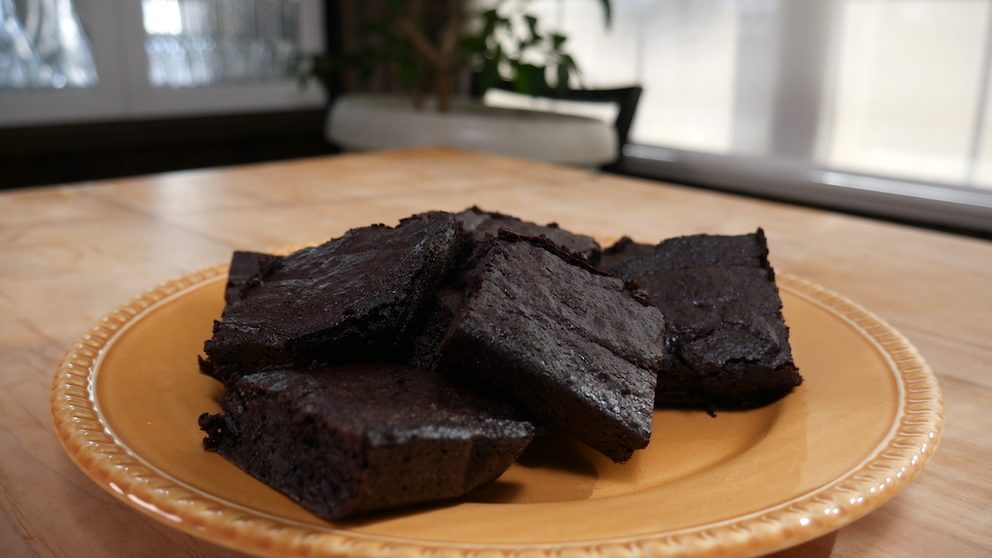 Growing Chefs! Ontario Cocoa Brownies
Cocoa Brownies
Made with ingredients you may have in your kitchen already! There is very little flour in this recipe so if you have anyone in your life that eats gluten free, it is very easy to substitute the flour!
Ingredients
3/4 cup
unsalted butter
1 1/4 cups
sugar
1 cup
cocoa powder
1/4 teaspoon
vanilla
2
eggs
1/2 cup
all-purpose flour (or gluten free/whole grain flour of choice)
Equipment
9x9 baking dish
Parchment paper
Nonstick cooking spray
Medium pot
Medium metal or heatproof bowl
Measuring cups
Measuring spoons
Cutting board
Spatula
Knife
Toothpick
Gather your mis en place; get together all of the equipment needed for the recipe and gather your ingredients.
Preheat the oven to 350°F.

Line a 9×9 baking dish or similar sized dish with parchment paper and spray with nonstick cooking spray.

Measure out all of your ingredients.
Fill a medium pot with water and bring it to a boil over medium high heat, and put the bowl with your butter, cocoa powder, and sugar overtop to create a double boiler. Melt the butter and stir frequently until the mixture is warm to the touch.

Stir in your vanilla and one by one, add in the eggs, making sure that each egg is fully incorporated before adding the next one.

Carefully A technique used to gently mix two ingredients together to create a light fluffy consistency. Start by scooping around the outside of the bowl and cutting through the centre. Turn the bowl and repeat the process.fold in the flour into the mixture with a spatula.

Scrape the mixture into your prepared baking dish, and cook for approximately 20 minutes until a toothpick inserted into the brownies comes out clean.

Let cool for a few minutes, and then use parchment paper to help lift the brownies out of the pan. Cut and enjoy!