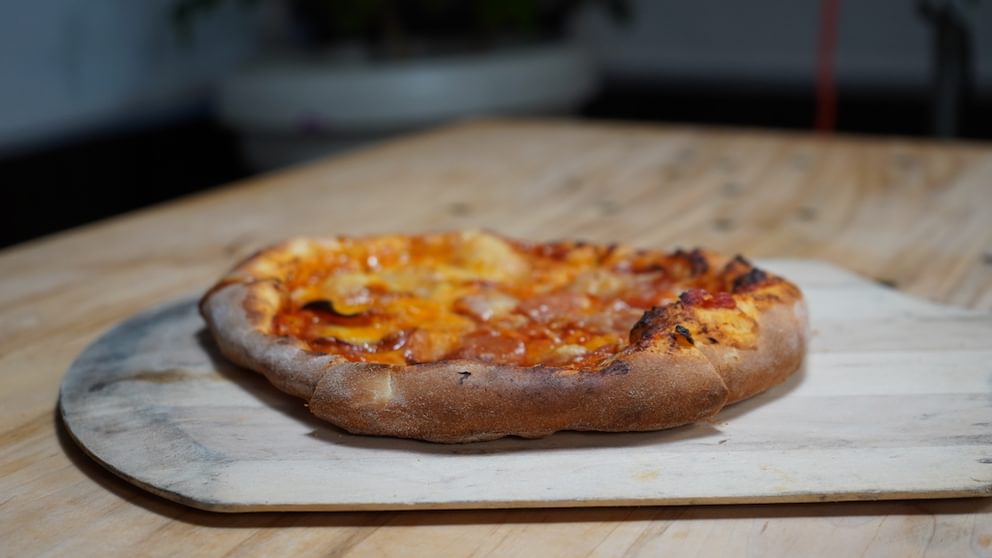 Growing Chefs! Ontario Pizza Dough
Pizza Dough
This pizza dough recipe uses mostly ingredients that you may have in your home already, and makes a delicious dough that is ready to cook with in less than two hours!
Ingredients
1 pound
(454 g/3 ¾ cups) "00" flour (or hard flour)
10 ozs
(1 ¼ cups) warm water
1 tablespoon
yeast
1 tablespoon
honey or sugar
2 tablespoons
olive oil
1 tablespoon
salt
Equipment
Large bowl
Scale
Measuring cup
Measuring spoons
Wooden spoon
Plastic Wrap
Clean dish towel
To cook pizza: parchment paper and baking sheet, pizza stone or cast iron pan
Gather your mis en place; get together all of the equipment needed for the recipe and gather your ingredients.
In a large bowl, combine water (slightly above room temperature) with yeast, honey, and olive oil.

Let water sit approximately 10 minutes for the yeast to bloom.

Stir in the salt and flour.

Knead pizza dough for approximately 8 – 10 minutes, until you have a smooth dough.

Coat a large clean bowl with a splash of olive oil, and place your dough in the bowl.

Cover the dough well with saran or a tea towel, and let rise on the counter in a warm place until doubled in volume, approximately 1 hour.
Punch down the dough to deflate it, and scale your dough into 3 pieces (approximately 300g each).

Round your doughs by tucking all of the sides into the bottom of the dough, and then slowly dragging it across a clean surface in a circular motion, this will pull all of the edges together tightly.

Dust the bottom and the top of the dough ball with flour and cover with a clean cloth loosely until you are ready to use.

When ready to bake the pizza, preheat oven to 450°F.

If you are using a pizza stone, or a cast iron pan to cook the pizza, place it in the oven to preheat as well, for at least 30 minutes.

If you are baking the pizza on a baking sheet, line the baking sheet with parchment paper, and then stretch your dough to the size of the baking sheet. Sprinkle a small amount of cornmeal onto the parchment, and place your pizza right onto the baking sheet.

If you are using a pizza stone, stretch your pizza dough and place it on a wooden paddle sprinkled with cornmeal.

Dress your pizza how you would like, and place it in the oven for 10 – 15 minutes, until the bottom of the pizza is golden brown, the ingredients have cooked and your cheese is melted and delicious!