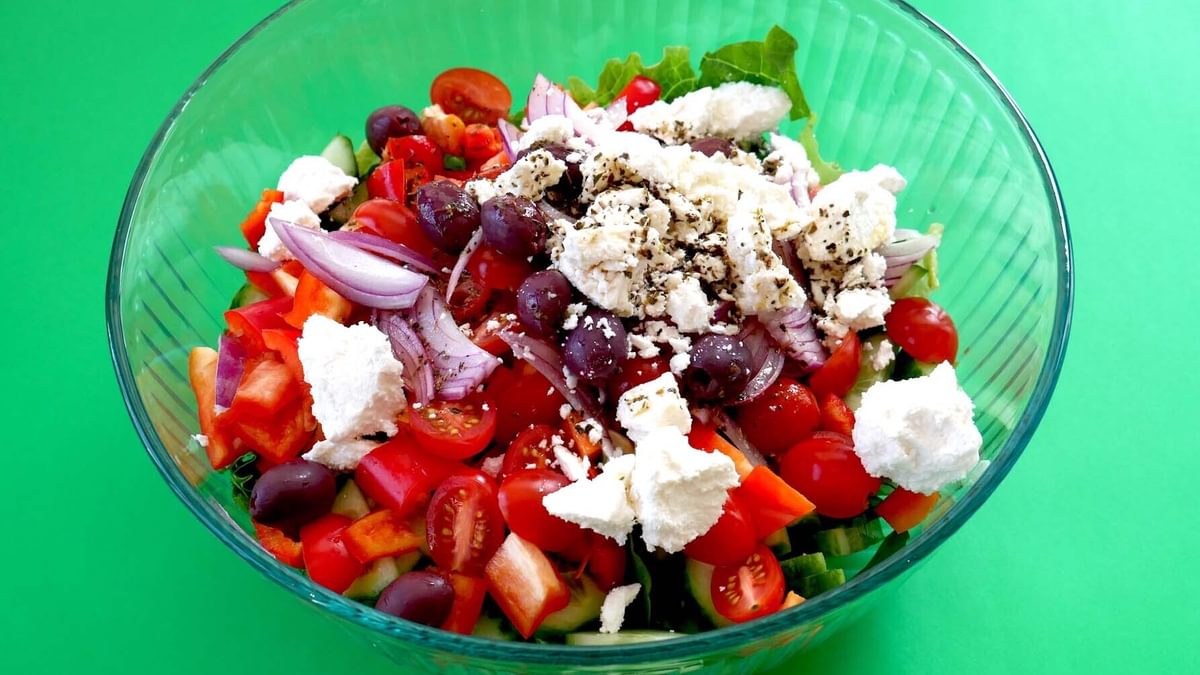 Growing Chefs! Ontario Chopped Greek Salad
Chopped Greek Salad
Tomatoes! Cucumber! Olives! And chef Ryan's favourite, feta cheese! A classic salad to add to your repertoire.
Ingredients
1/2
head Romaine lettuce, washed, dried and chopped
1/2 pint
cherry tomatoes
1
cucumber
1/4
small red onion, thinly sliced
1
red bell pepper, diced
1/4 cup
olive oil
1 tablespoon
lemon juice
1 tablespoon
red wine vinegar
1 teaspoon
oregano, dried or fresh
1 tablespoon
basil, dried or fresh
Salt to taste
Pepper to taste
1/2 cup
feta cheese, crumbled
10
Kalamata olives, pitted and sliced
Equipment
Cutting board
Parking knife or chefs knife
Measuring cups
Measuring spoons
Bowls, various sizes
Salad spinner
Tongs
Tasting spoons
Dish towel
Gather your mise en place; get together all of the equipment needed for the recipe and gather your ingredients.
Wash, dry and chop the romaine lettuce.

Chop the cucumber and pepper. Half the tomatoes, and slice the onion.

Whisk together oil, lemon juice, red wine vinegar, and spices. Season and adjust to taste.
Toss together the lettuce and vegetables with the dressing.

Gently stir in feta cheese and olives.