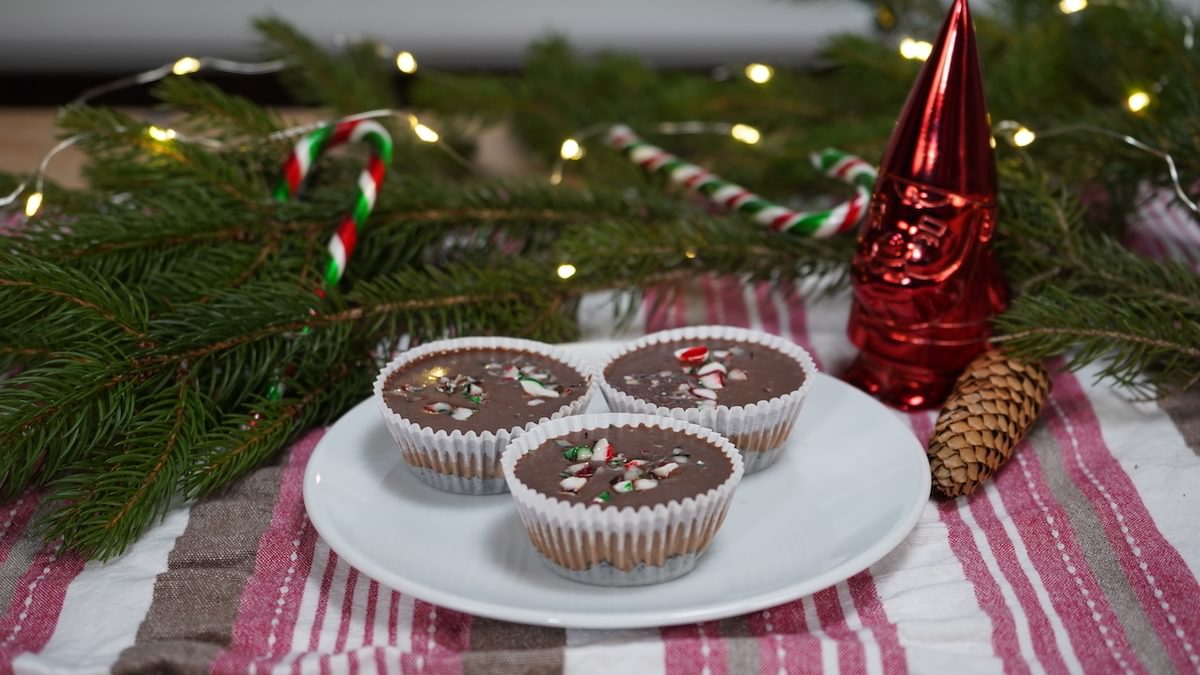 Growing Chefs! Ontario Chocolate Candy Cane Cheesecake
Chocolate Candy Cane Cheesecake
The classic combination of chocolate and mint – in mini cheesecake form!
Ingredients
1/2 cup
chocolate cookie crumbs
1 tablespoon
butter, melted
1 cup
cream cheese, room temperature
1/4 cup
white sugar
1 tablespoon
unsweetened cocoa powder
2 tablespoons
greek yogurt
1/2 teaspoon
peppermint extract
1
egg
Ingredients
1/4 cup
35% cream
3 ozs
semi sweet chocolate
Crushed candy cane for garnish
Equipment
Muffin tin and liners
Hand mixer
Spatula
Measuring spoons
Measuring cups
Small pot
Mixing bowls
Spoons
Whisk
Dish towel
Gather your mis en place; get together all of the equipment needed for the recipe and gather your ingredients.
Measure out the cookie crumbs and melt the butter.

Preheat oven to 325°F (162°C) and add cupcake liners to a cupcake pan.

Measure out the cream cheese, sugar, cocoa powder, yogurt, vanilla and peppermint.

Measure out the cream and chocolate and crush the candy canes.
Combine the cookie crumbs and melted butter. Add 1 teaspoon of the cookie crumb mixture to each cupcake liner. Evenly divide any extra crumb mixture. Using the back of the teaspoon, press the cookie crumbs into the bottom of each tin.

Bake crusts for 5 minutes and then remove from the oven to cool. Reduce oven to 300°F (148°C).

For the batter: In a large bowl, mix the cream cheese until fluffy. Slowly mix in the sugar, yogurt, and cocoa until combined. Use a low speed to keep less air from getting into the batter, which can cause cracks. Scrape down the sides of the bowl after adding each ingredient. Add the peppermint and vanilla extract. Beat on low speed until well combined.

Add the egg, scrape down the sides of the bowl, and blend until just combined. Use a tablespoon to divide the batter into each cup, spreading it evenly over the cookie crust as you go.

Bake cheesecakes for 10 – 12 minutes, then turn off the oven and crack open the oven door for another 10 minutes. Set aside cheesecakes to cool completely.

For the ganache: Add the chocolate chips to a small bowl. In a small pot, heat the whipping cream until it begins to steam. Pour the hot cream over the chocolate chips and then whisk until melted and smooth. Allow to cool slightly before topping cheesecakes.