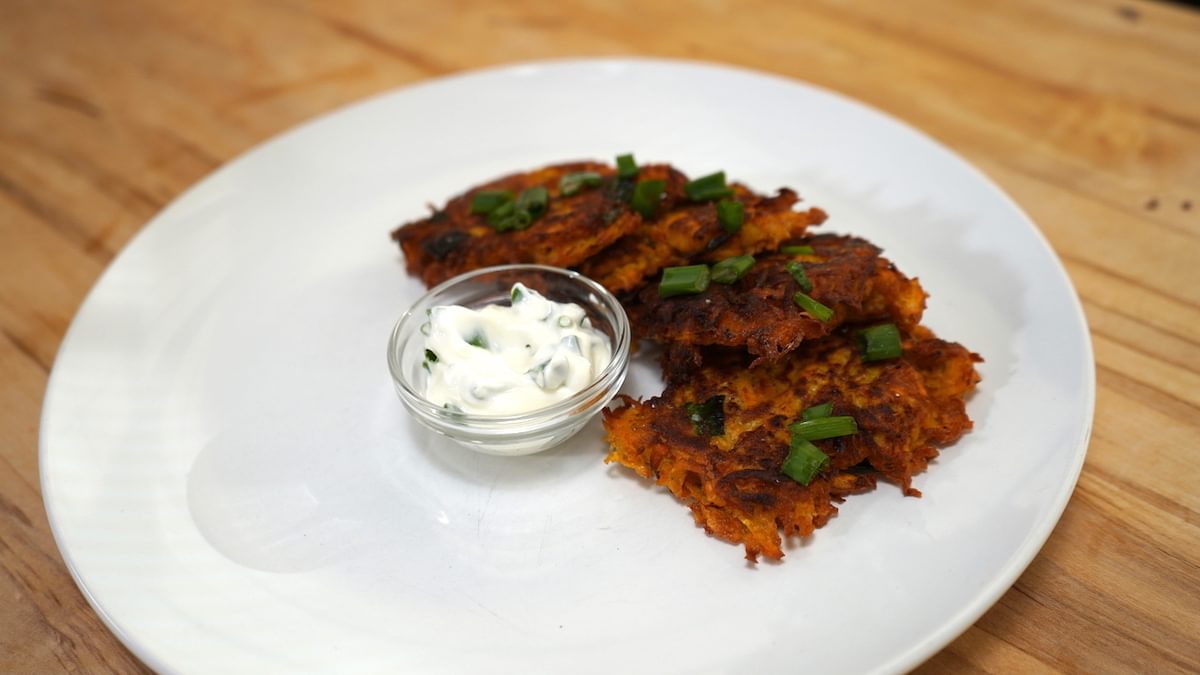 Growing Chefs! Ontario Sweet Potato Latkes
Sweet Potato Latkes
These crispy potato pancakes can be eaten any day of the year but are an extra special treat during Hanukkah!
Ingredients
3 cups
(1 large) sweet potato, peeled and grated
1/2 cup
onion, grated
2
eggs, beaten
2 tablespoons
flour or potato starch for gluten free
Salt to taste
1/2 cup
grapeseed oil or other high heat oil, plus more if needed for frying
1
bunch scallions or chives, finely chopped (optional)
Ground black pepper to taste
Sour cream to serve
Equipment
Box grater
Peeler
Mixing bowls
Wooden spoon
Clean dry dish towel
Cutting board
Chefs knife or paring knife
Measuring cups
Measuring spoons
Large frying pan
Flipper spatula
Fork and spoon
Paper Towel
Scissors (optional)
Safe Chopper (optional)
Gather your mis en place; get together all of the equipment needed for the recipe and gather your ingredients.
Wash and peel the sweet potatoes and onion and coarsely grate, using the largest holes on the box grater.

Slice or grate the onions

Place the shredded potatoes and onion in a cheesecloth or towel-lined bowl. Collect the edges of the cloth and squeeze as much moisture out of the potatoes as possible, tie the cloth around the handle of a wooden spoon to help squeeze the most moisture out.

Finely chop your scallions or chives, scissors can be used, set half aside for garnish.

Measure out the flour and beat the eggs.
In a medium bowl combine the potatoes, onion, flour or potato starch, scallions or chives, salt and pepper together. Add to the rest of the ingredients and mix well.

In a large frying pan, cast iron if possible, over medium-high heat, heat ½ inch of oil until hot. Gently place two heaping tablespoons of the potato mixture into the hot oil, pressing them down with a fork into 1⁄4 to 1⁄2 inch thick patties. Brown on one side, watching for the edges to crisp, turn and brown on the other.
Once finished, arrange on a plate covered with paper towels to absorb excess oil and sprinkle with salt to taste. You may need to adjust the heat, scoop out any crispy bits with a slotted spoon, and replenish the oil between batches. Serve with sour cream and/​or apple sauce.