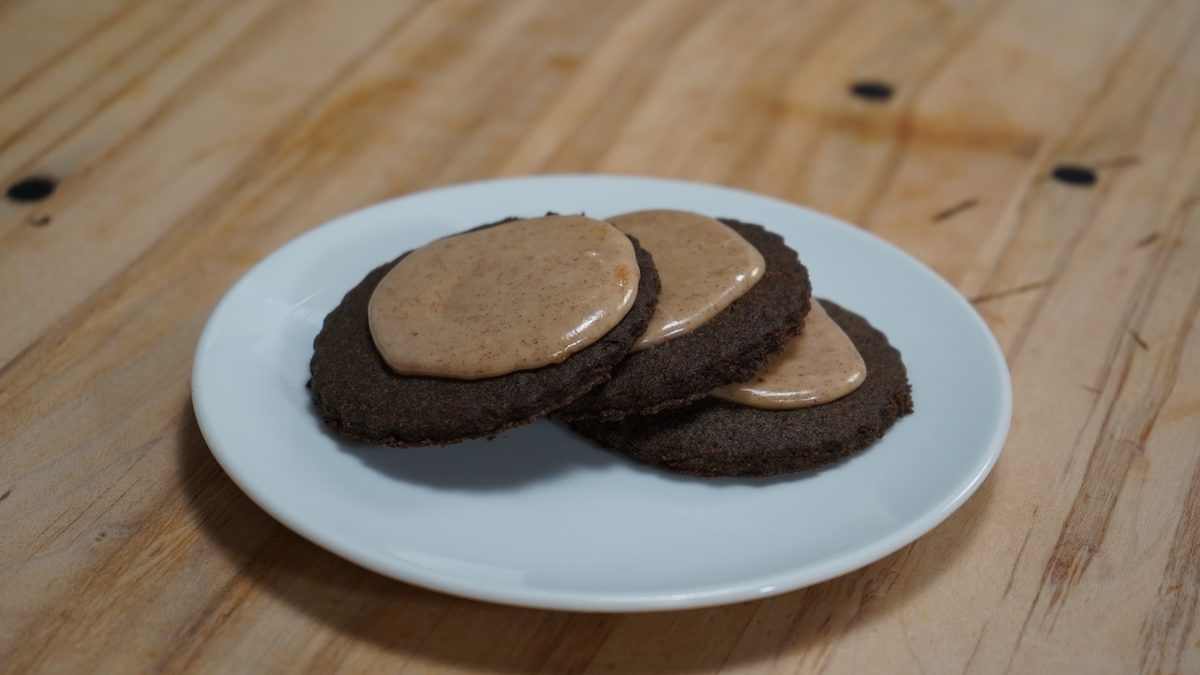 Growing Chefs! Ontario Buckwheat Ginger Cookies
Buckwheat Ginger Cookies
These vegan and gluten free cookies are perfect for the holidays!
Ingredients
6 tablespoons
refined coconut oil, room temperature
1/4 cup
granulated sugar
1/4 cup
brown sugar
1/2
flax egg (1/2 tablespoon ground flax: 1 1/2 tablespoons water)
1 tablespoon
clementine juice
2 tablespoons
molasses
1 cup
buckwheat flour
2 tablespoons
potato or tapioca starch
1 teaspoon
ginger
1/2 teaspoon
baking soda
1/2 teaspoon
cinnamon
1/4 teaspoon
cloves
1/8 teaspoon
salt
Extra flour for rolling or parchment paper
Ingredients
1 cup
(240 grams) icing sugar
2 tablespoons
clementine juice
Zest of clementine
1 teaspoon
cinnamon
1/2 teaspoon
ginger, ground
Water as needed
Pinch of salt
Equipment
Wooden spoon
Stand mixer or hand mixer
2 medium bowls
1 small bowl
Measuring cups
Measuring spoons
Spatula
Rasp
Baking sheet
Parchment paper
Cutting board
Paring knife
Rolling pin
Cookie cutters or a glass
Flipper spatula
Cooling rack
Spoons
Dish towel
Gather your mis en place; get together all of the equipment needed for the recipe and gather your ingredients.
Make your flax egg by mixing 1⁄2 tablespoon ground flax: 1 1⁄2 tablespoons water and leave to thicken for 5 – 10 minutes.

Measure out oil, sugars, molasses citrus juice, buckwheat, potato starch, spices baking soda and salt.
Using a stand mixer with a paddle attachment or hand blender, beat the coconut oil with the sugars and the molasses until fluffy. Stir in the flax egg and citrus juice.

In a second bowl, whisk together buckwheat flour, potato starch, spices, baking soda, and salt.

Slowly mix in the dry ingredients with the wet and blend until combined. When mixture is well mixed and no longer dry, use your hands to mash it into a ball and wrap in plastic. Press it flat and refrigerate for 30 minutes to overnight.

Preheat oven to 350F. Take your dough from the fridge and place it on some parchment paper. The parchment paper will help you roll it out without sticking. Dust the top of the dough with a bit of flour if necessary and roll out to ¼" thick. Don't worry if it crumbles – just mash it back together. As it is worked, the dough will warm up and become more manageable. Cut out shapes with a cookie cutter and place on a baking sheet.

Bake cookies for about 5 – 7 minutes. They should just start to brown on the edges. Using a flipper, immediately transfer to a cooling rack.

While cookies are cooling, make the icing. Combine spices, icing sugar, and salt. Add citrus zest and juice, 1 tablespoon at a time until desired consistency is reached. If more liquid is needed, add water. It should be a little stiff, but loose enough that it will gently spread on the cookie.

To ice the cookies, scoop a small amount (about ½‑1 teaspoon) of the icing on to the middle of the cookie. Use a spoon to gently guide it in a larger circle. Wrap any leftover icing well. Allow icing to set before storing.