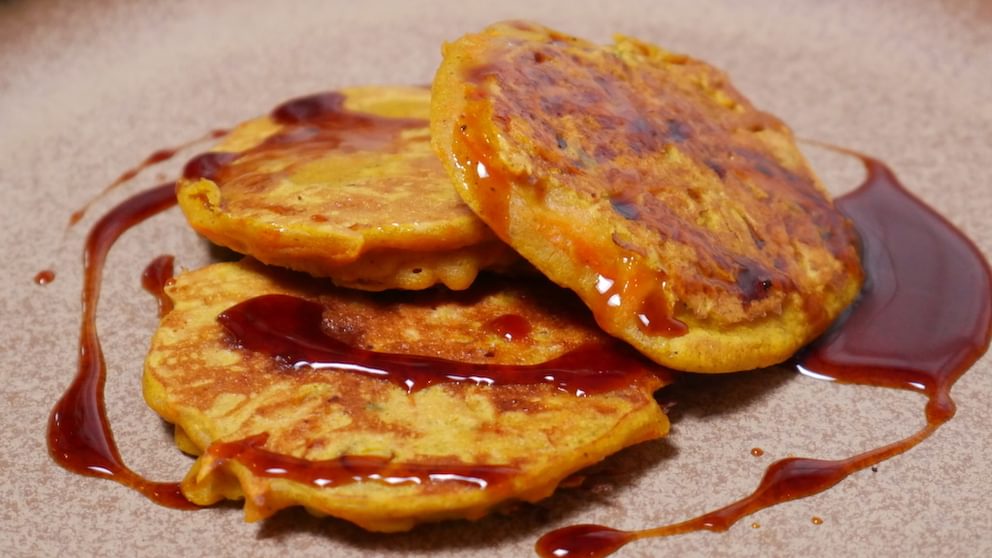 Growing Chefs! Ontario Carrot Pancakes
Carrot Pancakes
Savoury Carrot Pancakes for our April Kids' Cooking Class! For our Earth Day theme, Chef Tim shows you how to save your veggie scraps from the garbage by making a delicious sauce with them to accompany your carrot pancakes.
Ingredients
2
green onions
1
medium carrot
3
garlic cloves
1 cup
chickpea flour
1 tablespoon
curry powder
1 teaspoon
salt
Pinch ground black pepper
1 1/2 cups
water, divided
1 cup
peels and ends of carrots, garlic, and onions
2 tablespoons
soy sauce
2 tablespoons
maple syrup
1/2 teaspoon
cornstarch
1 tablespoon
neutral cooking oil
Equipment
2 Medium pots
Frying Pan
Strainer
2 Whisks
Peeler
Bowls for mixing
Paring knife or safe chopper
Flipper spatula
Measuring cups
Measuring spoons
Gather your mis en place; get together all of the equipment needed for the recipe and gather your ingredients.
Peel the carrots, place the peels in one of the medium pots.

Grate the carrots, and set in a bowl.

Cut the green onions as thinly as possible and place in the carrot bowl. Place the ends, and any scraps in the scrap pot.

Chop up one clove of garlic as fine as you can then place in the carrot bowl. Chop up the other two cloves roughly, and place in the scrap pot.

Combine the Chickpea Flour, Curry Powder, Salt & Pepper, into a bowl. Break up any clumps with the whisk.
Pour 1⁄2 cup cold water into the bowl with the chickpea flour, curry powder, salt & pepper. Whisk to combine. Add the grated carrots, green onion, and garlic.

Set aside.

Pour in one cup of cold water over the scraps, and turn on to high heat and bring to a boil. Boil the scraps for 8 minutes. You've just made a vegetable stock!

Place the strainer over top of the unused pot. Pour the vegetable stock over the strainer and into the new pot.

In a small bowl, combine the soy sauce, maple syrup, and cornstarch together with a whisk. Add to the pot with the vegetable stock and bring up to a boil, whisking constantly. Once thickened, turn off the heat and adjust seasoning. Set aside.

Heat up the frying pan over medium high heat. Add in the cooking oil.

Spoon in some batter ¼ cup at a time and cook until the bottom is golden brown, and bubbles have started to form around the edges. Flip over the pancakes and fry on the second side until golden. Transfer to a plate and cook the remaining pancakes. Serve with the sauce on the side.