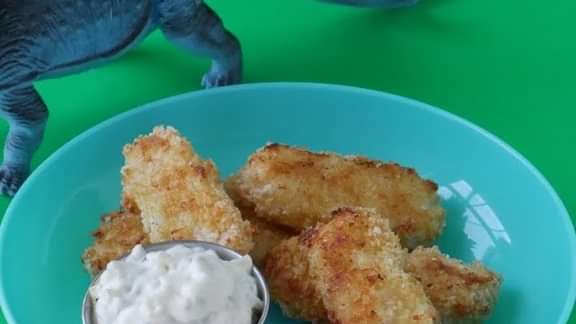 Growing Chefs! Ontario "Dinosaur" Fish Fingers
"Dinosaur" Fish Fingers
These baked ​
"
dinosaur" (fish) fingers are crunchy on the outside and tender on the inside, perfect for dipping and a sure hit with the whole family!
Ingredients
1 pound
firm white fish, sustainably sourced and skinless
2
eggs, beaten
1 cup
flour
2 cups
bread crumbs
1 teaspoon
paprika
1 teaspoon
garlic powder
Olive oil for drizzling
Salt to taste
Freshly ground black pepper
Equipment
Cutting board
Chef knife
Baking sheet lined with parchment paper
Tongs
Measuring cups
Measuring spoons
Bowls of various sizes
Fork or whisk
Dish towel
Gather your mis en place; get together all of the equipment needed for the recipe and gather your ingredients.
Line the baking sheet with parchment paper and set aside.

Preheat the oven to 350F

Measure out the flour, paprika, and garlic powder together in a bowl and mix together, Adding flavour to a food to enhance its taste. It can be as simple as salt and pepper or herbs, spices vinegars and condimentsseason with salt and pepper.

Measure out the bread crumbs.

Crack the eggs into a small bowl and whisk with a fork or whisk. Set up your breading ingredients in order of flour, egg, and breadcrumbs.

Cut the fish into strips about the width of a large thumb.
Lightly roll a piece of fish in flour. Dip it into the egg mixture and then roll it in the breadcrumbs. Place the breaded fish onto the baking sheet and repeat the process with the rest of the fish.

Once all of the fish has been breaded, lightly drizzle the pieces with olive oil and place into the oven. Bake for about 20 minutes, or until the fingers are deeply golden brown and fully cooked. Flip after 10 minutes. The internal temperature should reach at least 145F.