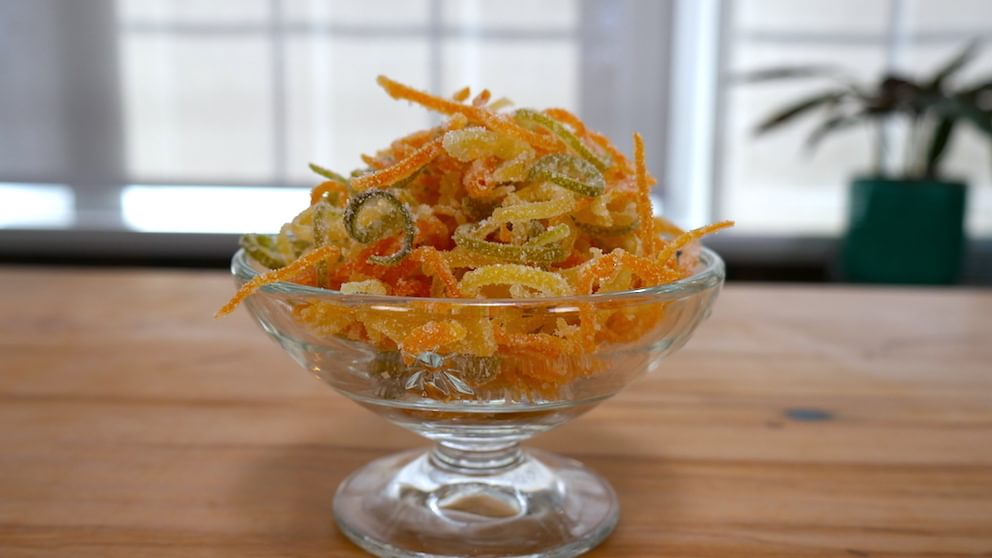 Growing Chefs! Ontario Candied Citrus
Candied Citrus
Candied citrus makes a beautiful garnish for any dessert. Try this recipe with any sort of citrus peel, and make a colourful handful of sweet and sour candy!
You can use any combination of citrus fruit you like, we suggest the following:
Ingredients
4
lemons
3
limes
2
oranges
3
cups sugar, divided
Equipment
Peeler
Cutting board
Chef's knife
Measuring cups
Fine mesh strainer
Medium pot
Wire cooling rack
Bowls various sizes
Baking sheet
Dish towel
Gather your mis en place; get together all of the equipment needed for the recipe and gather your ingredients.
Wash citrus fruit well in hot water. Dry with a clean dish towel.

Peel citrus fruit, making sure to only remove the top layer and none of the white pith. If you peel off some pith, you can remove it carefully with a knife.

Julienne the citrus peels into small pieces, about 3 mm wide.

Set citrus fruit aside for another use.
Fill medium pot with water and place over high heat, bring to a boil. Add the citrus peel to the pot, To cook quickly in hot water for a small amount of time and then immediately stop the cooking process by shocking in ice water.blanch for about 30 seconds.

Strain citrus peel and discard blanching water. Add more water to the pot, and bring to a boil. Blanch the citrus peel again for 30 seconds, strain and discard water. Taste citrus peel, and if it tastes bitter repeat this process one more time, otherwise continue on to the next step.

Bring 2 cups of water and 2 cups of sugar to a boil over medium high heat. Add citrus peel and By applying heat and evaporating the water content you are decreasing in volume and concentrating flavour.reduce heat to a very low, barely bubbling simmer.

Cook citrus peel for about 30 – 40 minutes, until sugar has reduced significantly, and peel is more translucent. Be sure to keep a close eye on the peel as it boils down, to make sure it does not By applying heat and evaporating the water content you are decreasing in volume and concentrating flavour.reduce too quickly.

Strain citrus peel through mesh strainer, and reserve the syrup for later. (You can add one cup of water to this syrup, bring it back to a low boil and then cool and store for later use as a citrus syrup!)

Leave citrus peel in the mesh strainer, and set up a large bowl with one cup of sugar in it. Also set up a baking sheet with a wire cooling rack set on top.

Toss the citrus peel into the sugar, trying to coat all of the pieces of peel with sugar, and separating them as much as possible so they do not clump together. It may be easier to do this in two to three batches.. Work quickly as it is easier to do this before the peel cools completely. Place the sugar coated citrus peel on the wire rack.

Let citrus peel dry and cool, about 4 hours before using. When dry, package in an air tight container and use to Add a little flare to your food with a decorative final touch that is edible, like chopped herbs or a sprinkle of parmesan cheese.garnish desserts, or for a tasty snack!