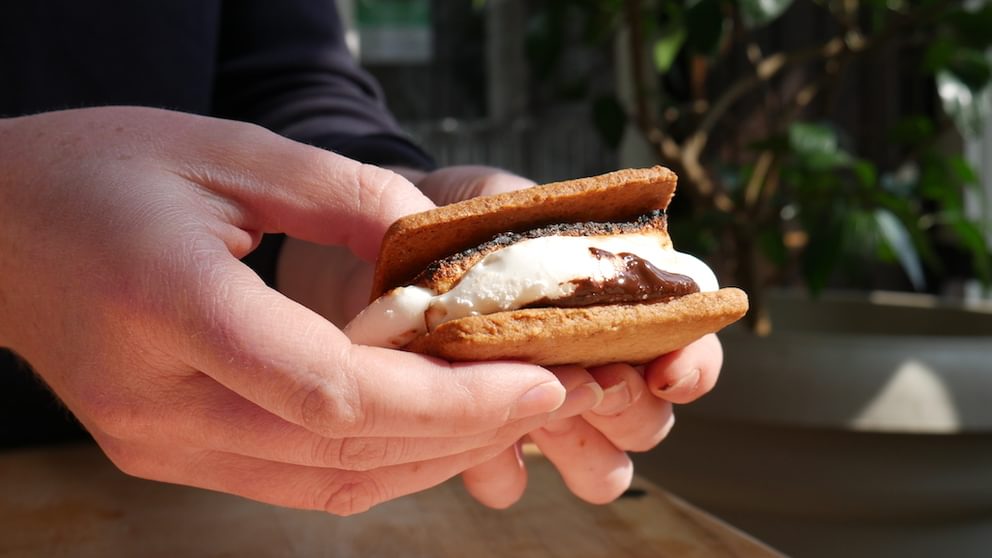 Growing Chefs! Ontario Honey Graham Crackers
Honey Graham Crackers
Homemade honey graham crackers make the best s'mores! They also make a great snack for anytime.
Ingredients
1 1/2 cups
whole wheat flour
1/2 cup
oat flour
1/4 cup
sugar
1 teaspoon
salt
1/2 teaspoon
baking powder
1/4 teaspoon
baking soda
3/4 cup
cold butter
1/4 cup
honey
1/4 cup
water
1/2 teaspoon
vanilla
Equipment
Measuring cups
Measuring spoons
Bowls various sizes
Spatula
Food processor
Rolling pin
Baking sheet
Parchment paper
Paring knife
Fork
Dish towel
Gather your mis en place; get together all of the equipment needed for the recipe and gather your ingredients.
In the bowl of the food processor, combine whole wheat flour, oat flour, sugar, salt, baking powder, baking soda, and butter.

In another bowl combine honey, water, and vanilla and stir together.
Preheat oven to 300°F.

Pulse the dry ingredients in the food processor until the mixture resembles coarse sand.

Add the wet ingredients, and pulse together until a smooth dough forms.

Remove the dough from the food processor and flatten the dough into a round disk. Wrap well with plastic wrap and refrigerate for 2 hours.

Roll the dough to about ½ cm thickness, dusting with more whole wheat flour to prevent the dough from sticking as needed.

Cut the dough into squares and dock with a fork, place on parchment paper and bake in oven for 15 – 20 minutes, until edges are golden brown.