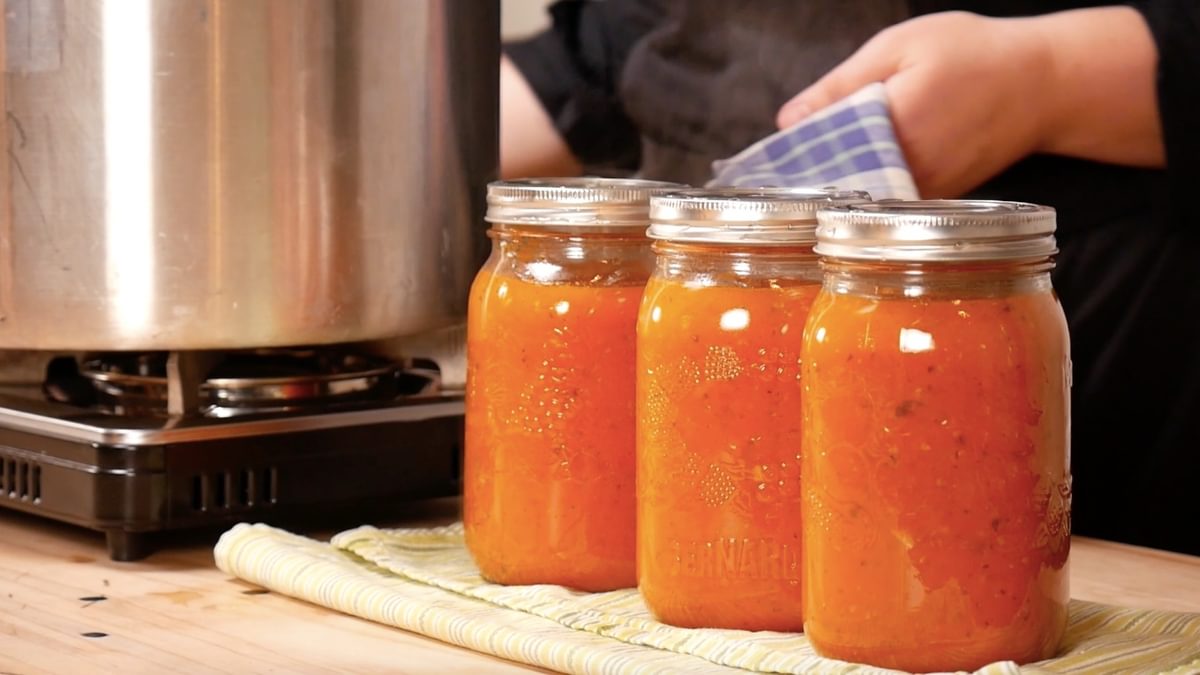 Growing Chefs! Ontario Agri-Food Education Spring 2021 | Tomato Sauce
Agri-Food Education Spring 2021 | Tomato Sauce
Nothing beats tomato sauce made from scratch! Whenever you are canning, be sure to consult reputable resources to keep canned goods safe. It is important to add lemon juice to this canned tomato sauce to be sure the sauce is the proper
PH
for safe canning.
Ingredients
10 pounds
Italian plum tomatoes, blanched, skins removed, and diced
2
arge onions
4
cloves garlic
1/4 cup
olive oil
1
bay leaf
2 tablespoons
sugar
1/4 cup
fresh oregano, chopped (or 2 tablespoons dried)
1/4 cup
fresh basil
salt to taste
lemon juice (2 tablespoons for every 1 litre of sauce, if canning)
Equipment
Large pot
Cutting board
Chef's knife
Paring knife
Measuring cups
Measuring spoons
Slotted spoon
Bowls, various sizes
Wooden spoon
Blender or immersion blender
Tasting spoons
Dish towel
For canning: (optional)
Clean and sanitized mason jars, new sealing lids, and rings
Canning tongs
Stock pot
Funnel
Ladle
Gather all your ingredients and equipment before you get started!
To prepare the tomatoes: Fill a large pot with water and bring to a boil. Remove the stem of the tomato and gently score the bottom of the tomato with an ​"X." Set up a large bowl of ice water. In batches, carefully drop the tomatoes into the boiling water, 5 – 6 at a time until the skin starts to pull away, about 15 – 30 seconds. Remove the tomatoes with a slotted spoon and immediately transfer to the ice water until cold. Remove the tomatoes from the ice water. Repeat this process for the remaining tomatoes.
Remove the skins from the tomatoes. If the skins do not easily slip off, repeat the process. Roughly Food cut into small blocks or squares. Make sure they are all roughly the same size!dice the tomatoes.
Cut the onions in half and remove the skin. Slice off the top end of the onion and make thin cuts from root to tip, keeping the root end in tact. Turn the onion and slice through again to dice.
Smash the garlic to remove the skin, and finely mince.
If using fresh herbs, remove the leaves from the stem and then chop. Discard the stems.
Measure out the olive oil, sugar, and bay leaf.
Heat the olive oil over medium heat in a large pot. Add the diced onion and To cook over low heat in a small amount of fat. You want it to soften but not brown.sweat the onions until they are translucent, about 5 – 10 minutes. Add the garlic and continue to cook for 1 minute more.
Add the diced tomatoes, sugar, bay leaf, chopped herbs, and Adding flavour to a food to enhance its taste. It can be as simple as salt and pepper or herbs, spices vinegars and condimentsseason with salt and pepper.
Cook for about 60 minutes over low heat, until tomatoes have broken down and sauce is slightly thickened.
Using an immersion or stand blender, blend the sauce to your desired consistency. Taste for seasoning and transfer back to the pot. Continue to cook 15 – 20 minutes more until sauce has thickened slightly.
If canning sauce, transfer sauce to clean and sterilized mason jars while hot. Add 2 tablespoons of lemon juice to every 1 litre jar of sauce and stir with a clean spoon. Add the sterilized mason jar lid and water-bath can according to a reputable canning source, like your local health unit. Make sure to label and date each jar.
Alternatively, sauce can be cooled and frozen. Lemon juice does not need to be added for this preservation method.