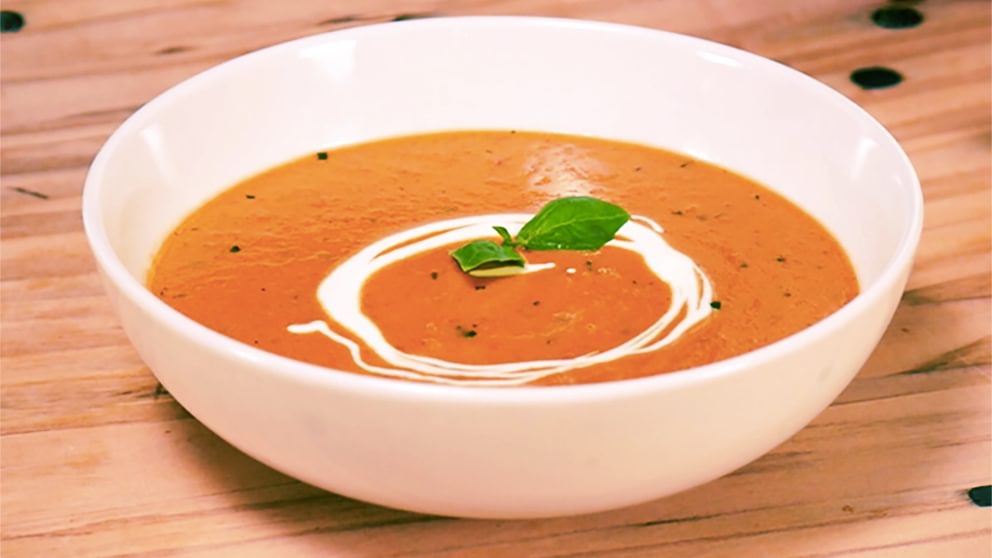 Growing Chefs! Ontario Agri-Food Education Spring 2021 | Roasted Tomato Soup
Agri-Food Education Spring 2021 | Roasted Tomato Soup
Roasting tomatoes helps to concentrate their flavour and brings out their sweetness. This recipe is perfect on a cool summer night.
Ingredients
1 tablespoon
unsalted butter
1 tablespoon
olive oil
2
medium onions, sliced
6
cloves garlic, peeled
3 pounds
tomatoes, quartered
3 tablespoons
tomato paste
2 cups
chicken and vegetable stock
1 cup
heavy cream
1 tablespoon
balsamic vinegar
1
small bunch basil
salt to taste
papper to taste
Equipment
Cutting board
Chef's knife
Baking sheet lined with parchment paper
Large pot
Wooden spoon
Measuring cups
Measuring spoons
Blender or immersion blender
Tongs
Dish towel
Tasting spoons
Gather all your ingredients and equipment before you get started!
Preheat oven to 400ºF.
Measure out the butter, oil, stock, cream, tomato paste, and vinegar.
Cut the onion in half from root to tip, and remove the skin. Cut off the root and the tip of the onion and slice the onion lengthwise very thinly.
Remove the stem from the tomatoes and cut them in half through the core. Cut them into quarters.
Place the tomatoes and garlic onto a parchment lined baking sheet. Smear the tomatoes with the tomato paste.
Place the baking sheet of tomatoes and garlic into the preheated oven and roast for about 45 minutes until the tomatoes have burst and caramelized.
Melt the butter and olive oil together in the pot on medium-low heat and add the sliced onions. Cook the onions until they have caramelized and are deeply golden brown.
Add the tomatoes and garlic to the onions. Stir in the stock and vinegar and bring to a simmer. Simmer for about five minutes.
Add the basil into the soup and blend until smooth.
Return the soup to the pot and add the cream, heat through and taste for seasoning.