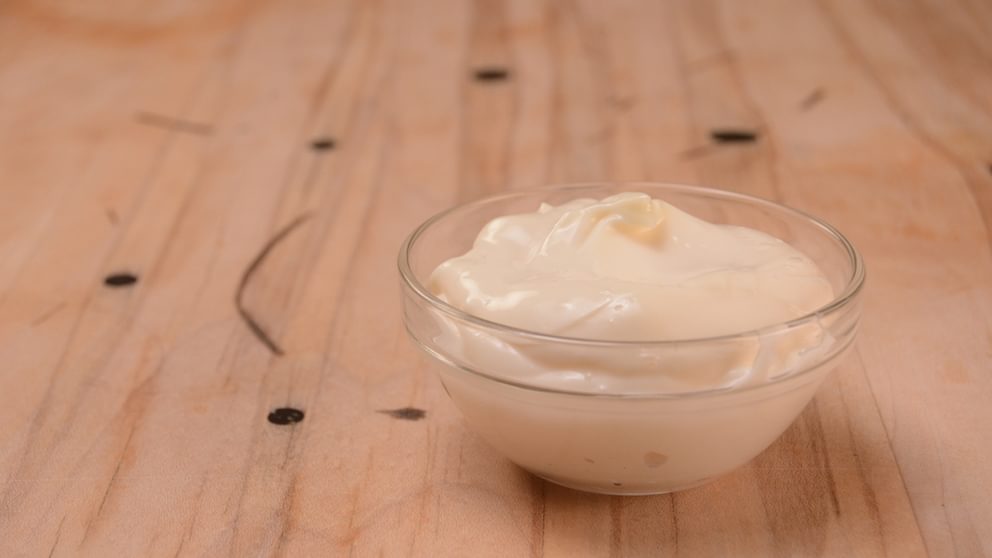 Growing Chefs! Ontario Scratch-made Mayonnaise
Scratch-made Mayonnaise
Oil and water don't mix – or do they? Learn about the emulsification process by making scratch-made mayo, a blend of oil and water (eggs)!
Ingredients
2
egg yolks
1 teaspoon
dijon mustard
2 cups
grapeseed or neutral oil
Juice of 1 lemon
Salt to taste
Equipment
Whisk
Cutting board
Paring knife
Large Bowl with a damp cloth underneath it
Measuring spoons
Liquid measuring cup
Dish towel
Tasting spoons
Gather your mis en place; get together all of the equipment needed for the recipe and gather your ingredients.
Crack the eggs, and separate the yolks from the white. Put the whites away for another use.

Cut lemon in half, juice and discard the seeds.

Measure out grapeseed oil in a liquid measuring cup, and measure dijon.
Whisk the egg yolks in a bowl, then add the mustard and whisk together.

Gradually add about half the oil, very slowly at first, whisking continuously for around 3 to 5 minutes, or until thickened.
If your mayo ​"splits" in the process, don't worry! Take a breath! In a clean bowl, start with a fresh egg yolk and slowly incorporate the split mayonnaise.
Once you've added about half the oil, whisk in lemon juice – this will loosen the mixture slightly and give it a paler colour.

Continue to gradually add the remaining oil, whisking continuously. Season with a pinch of salt and store in a sterilized jar in the fridge for up to one week.