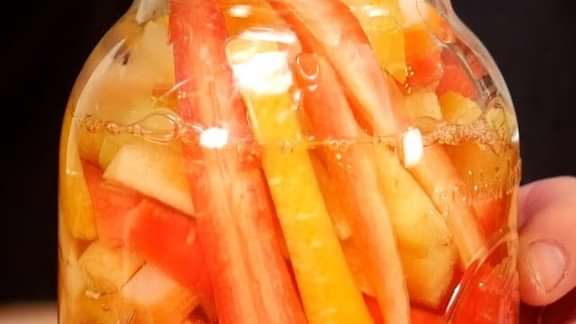 Growing Chefs! Ontario Quick Carrot Pickles
Quick Carrot Pickles
Pickling vegetables is a great way to preserve fresh harvested vegetables from the garden, and make a tasty snack or a beautiful addition to a charcuterie board.
Ingredients
1 pound
carrots (or other vegetable), peeled and cut into spears
1 1/3 teaspoons
white or apple cider vinegar
1 1/3 cups
water
1 teaspoon
non iodized salt
1 tablespoon
sugar
1 tablespoon
optional spices and herbs for flavouring, such as garlic, peppercorns, bay leaves, coriander seeds, dill, etc.
Equipment
Clean 1 quart mason jar, or other heatproof container with a lid
Peeler
Medium pot
Cutting board
Chef's knife or paring knife
Bowls for ingredients
Measuring cups
Measuring spoons
Funnel (optional)
Gather your mis en place; get together all of the equipment needed for the recipe and gather your ingredients.
Peel carrots. Cut carrots into finger sized pieces, and then into spears.

Measure out your vinegar, water, sugar, salt, and any additional spices you would like to add and place them in a medium sized pot.
Bring vinegar mixture to a boil.

Pack the carrots and any spices you are using into a clean sterilized mason jar or other heatproof container with a lid. Once the vinegar mixture has come to a boil, pour it into the container over the carrots.

Let the pickles sit on the counter until the liquid has come to room temperature. Put a lid on the pickles and keep refrigerated. Pickles can be eaten once cooled, but are best if let to sit at least 24 hour for flavours to fully develop. These pickles will keep in the fridge for 1 week.