Growing Chefs! Ontario Puttanesca Sauce
Puttanesca Sauce
This tomato based sauce comes with a bit of heat!
Ingredients
1/4 cup
olive oil
1
red pepper, diced
3
garlic cloves, chopped
26 ozs
diced tomatoes
1 teaspoon
red chili flakes
1/2 teaspoon
dried basil
1/2 teaspoon
dried oregano
1/2 teaspoon
dried thyme
6
fresh basil leaves, chopped
1/4 cup
capers
Salt to taste
1 cup
green olives, sliced into rounds
1 pound
pasta
1/4 cup
Italian parsley, chopped
Equipment
Measuring cups
Measuring spoons
Large pot
Wooden spoon
Bowls, various sizes
Cutting board
Knife
Can opener
Clean dish towel
Tasting spoons
Gather your mise en place; get together all of the equipment needed for the recipe and gather your ingredients.
Measure out the olive oil, chili flakes, basil, oregano, thyme, and capers.

Chop the garlic and parsley. Slice the olives and open the tomatoes.
In a large skillet over medium-high heat, add the olive oil and heat until the oil starts to shimmer. Add the red pepper and saute until it begins to soften.

Add the chopped garlic and cook, stirring, until fragrant, 1 to 2 minutes.

Add the chopped tomatoes, red chile flakes, basil, oregano, thyme and salt and pepper to taste. Bring to a boil and cook for 10 minutes. Remove from the heat and add the chopped basil.

Add the capers and olives and cook for one minutes

Toss with cooked noodles and Add a little flare to your food with a decorative final touch that is edible, like chopped herbs or a sprinkle of parmesan cheese.garnish with fresh parsley.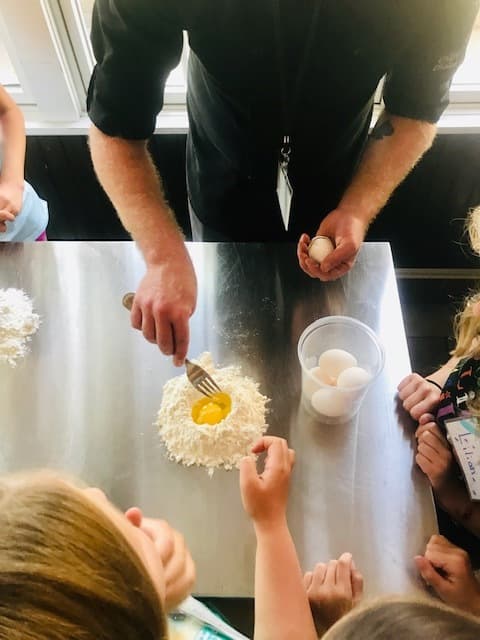 Basic Pasta Dough
Making pasta dough at home is super easy, fun, and best of all: you can make almost any shape you want! Lasagne, spaghetti, penne, the list goes on and on.
Cook now!
Read more about Basic Pasta Dough