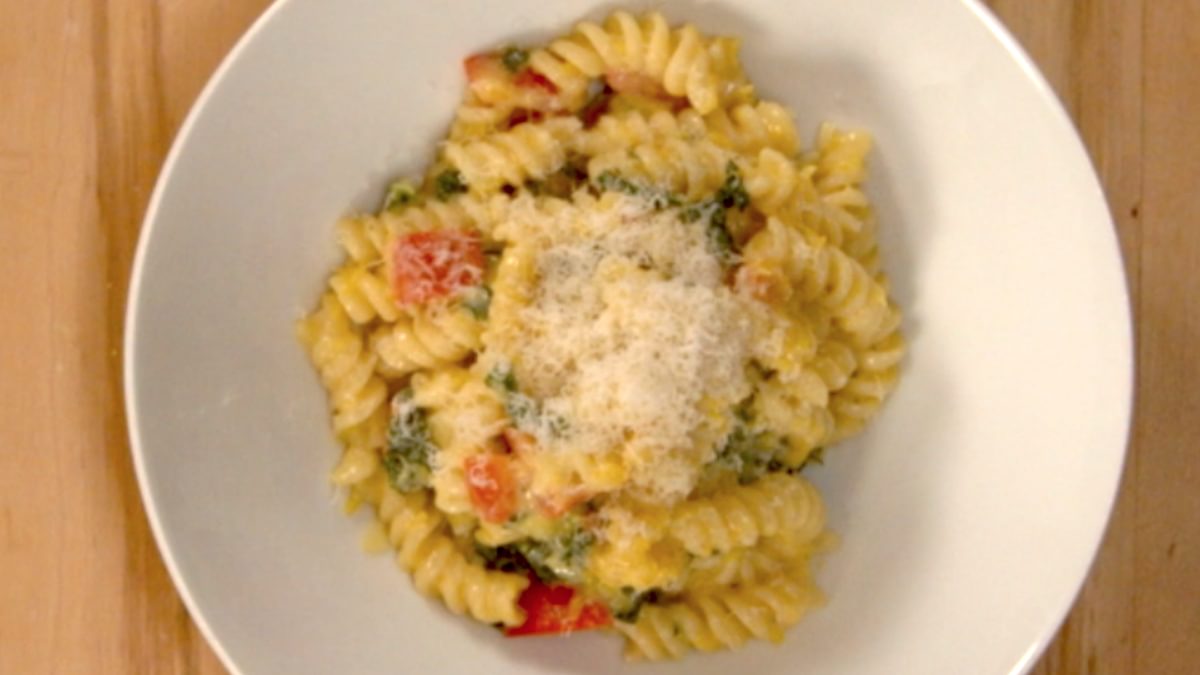 Growing Chefs! Ontario Pumpkin Fusilli Pasta
Pumpkin Fusilli Pasta
Sweet, creamy pumpkin sauce brings this easy weeknight dinner to life!
Ingredients
4 cups
(350 grams) fusilli pasta
2 tablespoons
olive oil
2 tablespoons
butter
2
cloves garlic, chopped or grated
1 tablespoon
fresh rosemary or sage
4 cups
pumpkin, small diced
2 cups
chicken or vegetable stock
1/4 cup
chicken or vegetable stock
1/4 cup
35% cream
1
red pepper, diced
1/4
bunch of kale, chopped
Red pepper flakes
Zest of 1 lemon
Salt to taste
Pepper to taste
Parmesan cheese for topping
Equipment
Large pot
Medium pot
Fine mesh strainer
Wooden spoon
Measuring cups
Measuring spoons
Rasp
Scissors
Dish towel
Gather your mis en place; get together all of the equipment needed for the recipe and gather your ingredients.
Measure out olive oil, butter, stock and cream.

Chop the pumpkin, rosemary, red pepper, kale and garlic.

Zest the lemon and grate cheese.
Bring a large pot of water to a boil and salt well. When boiling, add pasta, stir, and cook at a low boil for about 7 minutes or according to package directions. Reserve 1⁄2 cup of the pasta water and strain pasta. The pasta should be just cooked, but not mushy.

In a medium pot add 1 tablespoon of oil and one of butter and heat to a medium heat. Add the diced pumpkin and begin to sauté. Add the garlic and rosemary and cook for about 30 seconds – until you can smell it!

Add the stock to help soften the pumpkin and make the sauce. Once the pumpkin has begun to soften, add the red peppers.

Once half of the stock has evaporated add a pinch of red pepper flakes the rest of the butter and olive and lemon zest. Add the kale and bring to a simmer, and cook for about 10 minutes, being careful that it doesn't stick to the bottom. Add the cream, Adding flavour to a food to enhance its taste. It can be as simple as salt and pepper or herbs, spices vinegars and condimentsseason with salt and pepper and bring to a boil.

Stir in the pasta, with a bit of the reserved pasta water to help it cling and slightly thin out the sauce. When the texture is where you want it, plate and top with parmesan cheese.