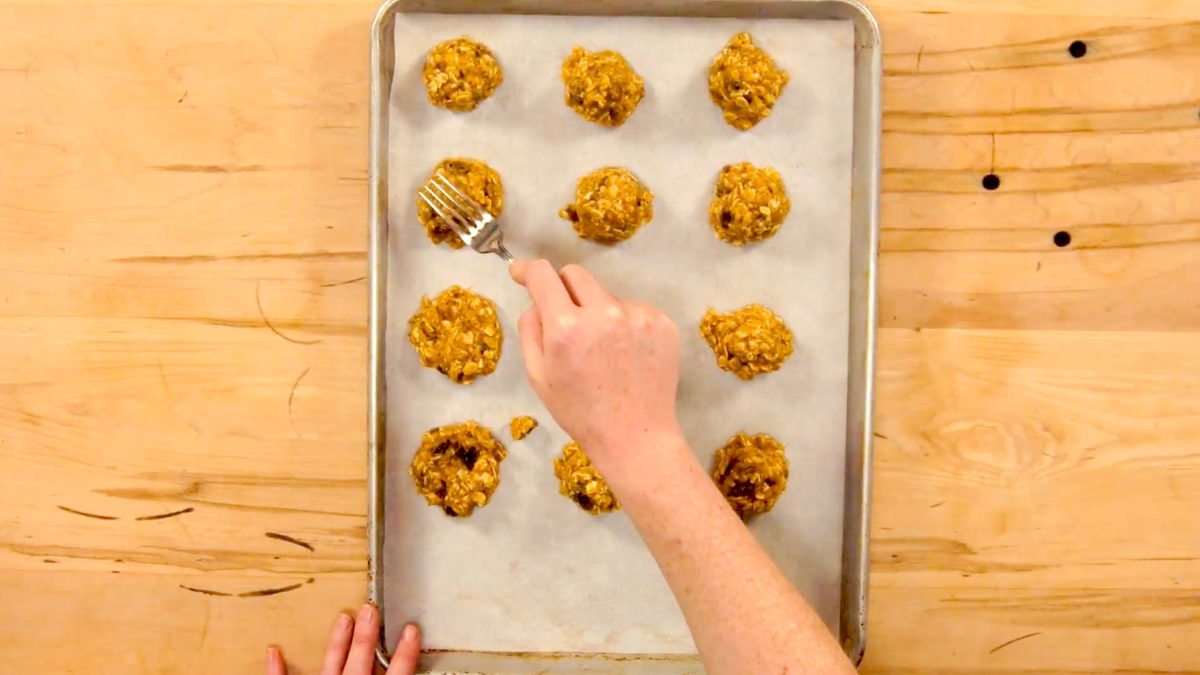 Growing Chefs! Ontario Flourless Pumpkin Spice Oatmeal Cookies
Flourless Pumpkin Spice Oatmeal Cookies
We just
LOVE
pumpkin and squash season! Try these flourless cookies, they are pumpkin spice and a whole lotta nice!
Ingredients
2 cups
oats
1 teaspoon
cinnamon
1/4 teaspoon
nutmeg, ground
1/4 teaspoon
ginger, ground
1/8 teaspoon
cloves, ground
2 teaspoons
baking powder
2 cups
pumpkin puree
2
eggs
3/4 cup
brown sugar
1 cup
raisins
1/4 cup
coconut oil or neutral oil
Equipment
Baking sheet
Parchment paper
Spatula
Wooden spoon
Bowls
Cookie scoop (optional)
Measuring cups
Measuring spoons
Fork
Dish towel
Gather your mis en place; get together all of the equipment needed for the recipe and gather your ingredients.
Preheat oven to 350°F.

Measure out the oats, spices, pumpkin, baking powder, raisins, oil and sugar.
In a bowl, mix oats, baking powder and spices together and set aside.

In another bowl, mix the pumpkin, eggs, oil, raisins and the sugar.

Combine the two bowls and mix well.

Scoop dough (about 2 tablespoons each) onto a cookie sheet and press the dough down with a fork. Bake the cookies for 20 – 25 minutes, or until the bottom of the cookies are brown and crisp. Allow to cool before eating.