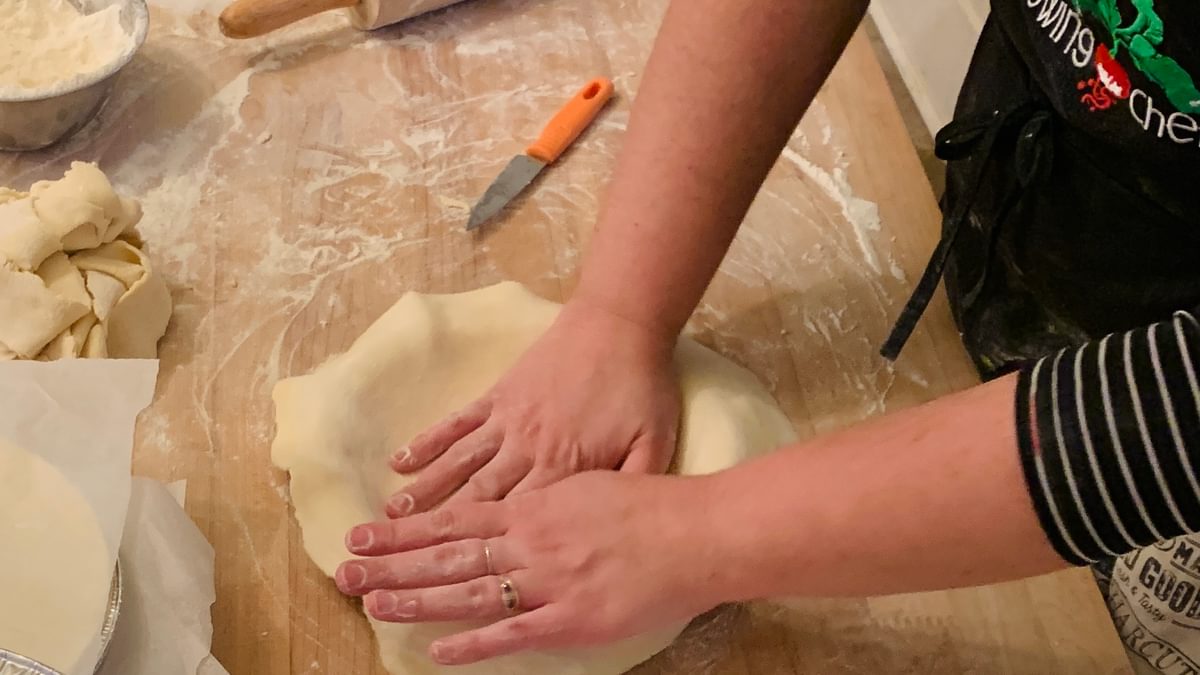 Growing Chefs! Ontario Pie Dough
Pie Dough
Join Chef Katherine from Growing Chefs! Ontario as she teaches you how to make a perfect pie dough. Her favourite recipe uses an all butter crust, which is very flaky and has good flavour, and can be used for both sweet or savoury pies.
Ingredients
1 1/4 cups
unsalted butter, chilled
2 1/2 cups
(12 1/2 ounces) pastry flour, or all purpose flour
1 teaspoon
salt
2 tablespoons
sugar (optional)
1/2 cup
ice water
Equipment
Bowls various sizes
Measuring cups
Measuring spoons
Wooden spoon
Cutting board
Pastry cutter, or knife
Plastic Wrap
Dish towel
Gather your mis en place; get together all of the equipment needed for the recipe and gather your ingredients.
Cut cold butter with a pastry cutter or knife into small pieces, less than 1 cm, put into a bowl.

Measure the rest of your ingredients, water, flour, and salt, plus sugar if you are using it for a sweet dough.
In a large bowl, combine flour, salt, and sugar if using for a sweet pie dough.

Put the butter into the bowl of your and using the tips of your fingers, being to break down the butter into smaller pieces. The butter should be in pieces after breaking it up approximately the size of peas.

When the butter no longer has any large chunks, pour approximately ⅓ cup of ice water into the flour, and stir with a wooden spoon a few times to bring the dough together. If it feels to dry, you can add a bit more water a teaspoon at a time until you can bring it all together.

When most of the flour has come together to form a shaggy dough, bring the dough out of the bowl onto a clean surface, and A technique used to gently mix two ingredients together to create a light fluffy consistency. Start by scooping around the outside of the bowl and cutting through the centre. Turn the bowl and repeat the process.fold the dough upon itself 1 – 2 times to make a smoother dough. Be careful not to overwork the dough, we want it to still have very nice big chunks of butter throughout it which will create a flaky crust, and very little gluten development which would make the crust chewy.

Once the dough is relatively smooth, split it into two even pieces, and round and flatten them to create a disk. Wrap the dough tightly with saran wrap and place in the fridge to rest and chill for about 30 minutes. This will allow your dough time to hydrate fully and for the butter to become very cold again.

If making a pie with the dough, roll out dough disc in a circle approximately 2 – 3 inches larger than the pie plate, about 4 mm thick. Lightly flour your pie tin, and lift your dough into the tin, pressing it down into the pan with the edges overhanging. Lift up the pan and using a butter knife, trim the edges of the pie directly against the pie plate. Dock the bottom of the pie crust by poking it with a fork a few times. Transfer back to the fridge to chill for another 20 minutes before baking.

To blind bake the pie shell, put a piece of parchment paper in the pie crust and fill with dried beans or another pie weight. Cook at 350°F for approximately 25 minutes. Remove from the oven, and take out the beans and parchment paper. Cook for another 15 – 20 minutes until golden brown.