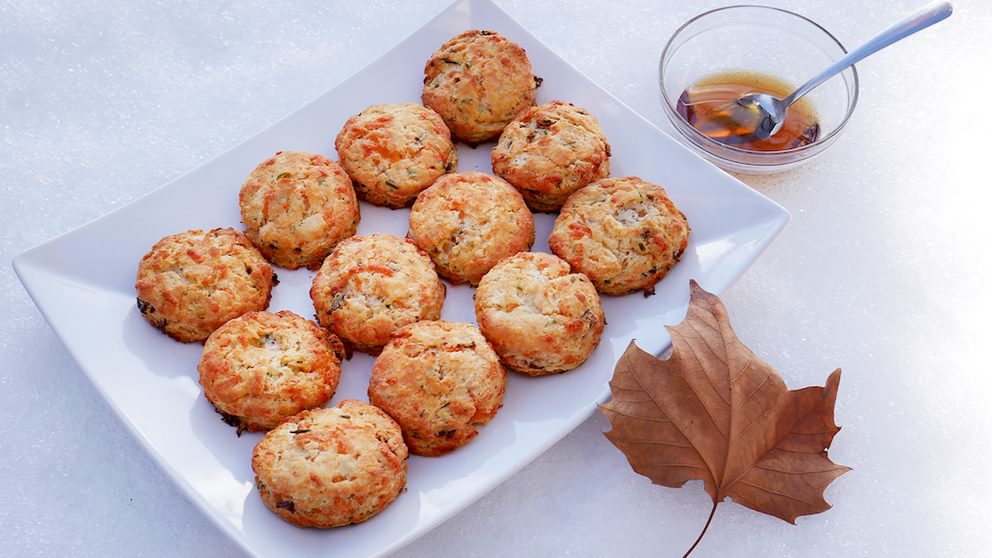 Growing Chefs! Ontario Maple Bacon Cheddar Scones
Maple Bacon Cheddar Scones
Sweet, savoury and oh so flaky; these biscuits are sure to be a breakfast hit!
Ingredients
3
slices of bacon, diced
1 1/2 cups
all-purpose flour
2 teaspoons
baking powder
1/4 cup
unsalted butter, cubed and chilled
1/2 cup
extra sharp cheddar cheese, grated
1 teaspoon
salt
1/2 cup
buttermilk, chilled
7/20
bunch chives, chopped
2 tablespoons
maple syrup
Ingredients
1 tablespoon
maple syrup
2 tablespoons
butter, melted
Equipment
Mixing bowls of various sizes
Measuring cups
Measuring spoons
Cutting board
Cheese grated
Paring knife
Frying pan
Wooden spoon
Spatula
Plate lined with paper towel
Baking sheet with parchment paper
Round cookie cutter
Rolling pin
Small pot
Pastry brush or spoon
Dish towel
Gather your mis en place; get together all of the equipment needed for the recipe and gather your ingredients.
Preheat the oven to 350.

Measure out the flour, baking powder, salt, maple syrup and buttermilk.

Cut up the butter into squares roughly the size of a penny and put into a bowl in the fridge.

Chop chives and grate cheese.

Dice the bacon.
Heat a large pan over medium high heat. Add bacon and cook until brown and crispy, about 6 – 8 minutes. Transfer bacon to a paper towel-lined plate to drain any excess fat and cool.

In a large mixing bowl stir together the flour, salt, baking powder, cheese, cooled bacon and chives, put in the fridge to chill.

In another bowl whisk together the buttermilk and maple syrup.

Working quickly, mix together the chilled butter, with the flour mixture squishing the butter up with your fingers so they are mostly all flat pieces. Try not to warm the butter too much.

Mix in the buttermilk and stir until a shaggy dough forms. You should still be able to see pieces of butter throughout.

Dump the dough onto a well floured surface and begin to roll out so that the dough is 1 ¼ inch thick. Cut out round biscuits and place them on a baking sheet.

Melt together 2 tablespoons of butter with maple syrup and bush the tops of the biscuits and chill them for 15 minutes.

Bake the biscuits for about 10 – 15 minutes or until golden brown and flaky.