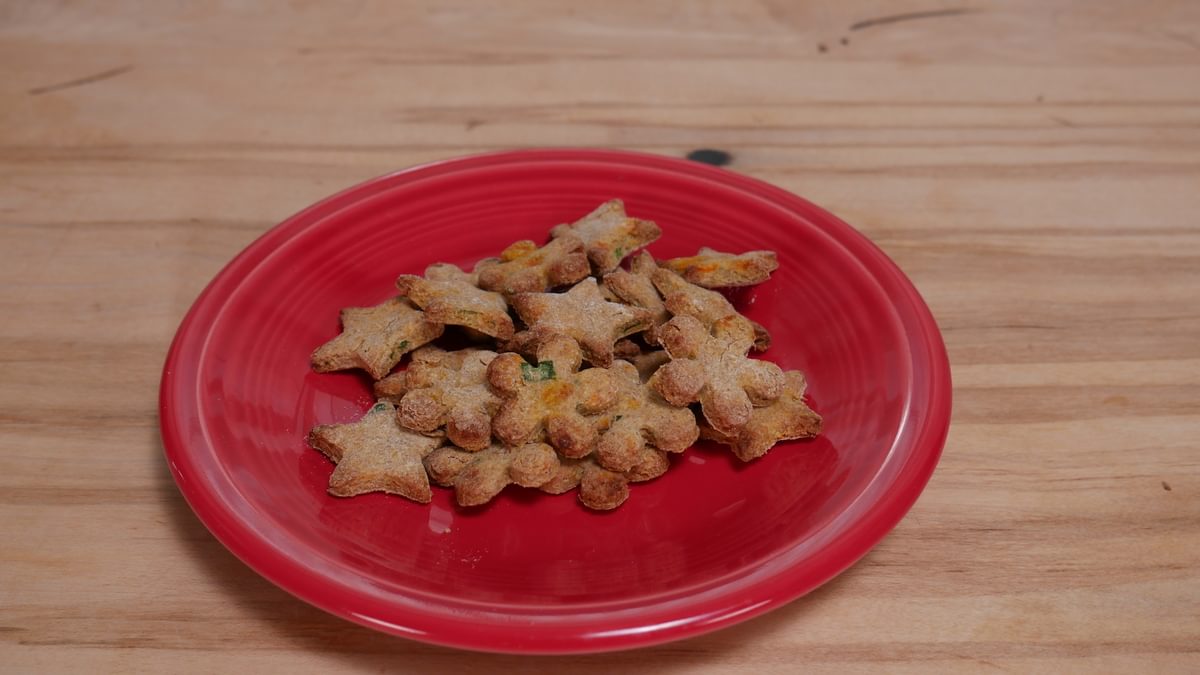 Growing Chefs! Ontario Dog Biscuits
Dog Biscuits
Baking is fun for every member of our family, even the furry ones! These dog biscuits are made with wholesome, healthy ingredients which means even you can eat them (…if you really wanted to)
Ingredients
1 cup
boiled sweet potato, (or substitute pumpkin puree)
2 1/2 cups
whole wheat flour
1/2 cup
nut or seed butter, sugar free
1/4 cup
spinach, chopped
1 tablespoon
pure maple syrup
1
egg
Equipment
Small pot
Potato masher
Cutting board
Paring knife
Measuring cups
Measuring spoons
Mixing bowl
Spatula
Baking sheet with parchment paper or silicone mat
Cookie cutter of choice
Rolling pin
Strainer
Dish towel
Gather your mis en place; get together all of the equipment needed for the recipe and gather your ingredients.
Measure out the flour, nut or seed butter, honey and salt.

Chop the spinach very finely.

Peel and Food cut into small blocks or squares. Make sure they are all roughly the same size!dice the sweet potato.
Place the sweet potato into a pot with cold water. Bring to a boil and simmer until the potato is very tender. Drain and let cool completely and then mash and measure out one cup.

Preheat oven to 350. Mix together the nut or seed butter, spinach egg maple syrup and salt. Stir in the mashed sweet potato.

Fold in the flour and mix until well combined.

Dump the mixture onto a floured surface and roll until it is about ½ inch thick and cut out cookie cutter shapes.

Place the shapes onto a parchment lined baking sheet and bake for 15 minutes or until crispy.