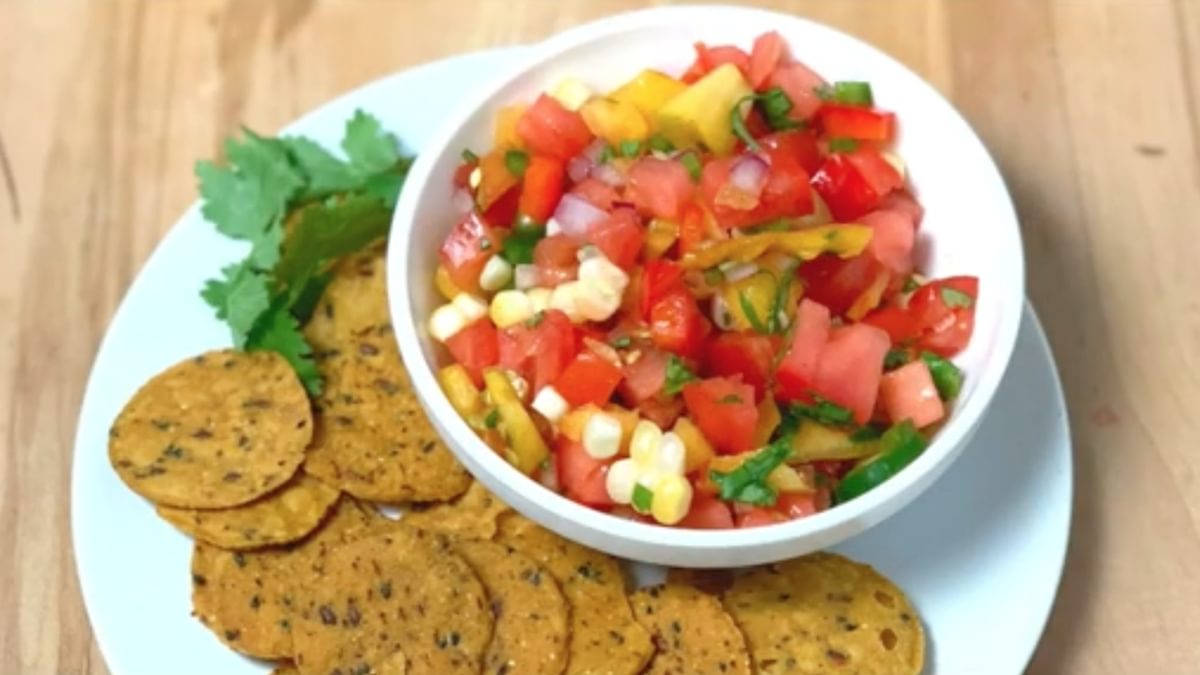 Growing Chefs! Ontario Corn, Peach and Tomato Salsa
Corn, Peach and Tomato Salsa
This salsa makes the perfect snack in late summer when peaches are at their best! Try it with tortilla chips or as a delicious topping on cooked chicken or fish.
Ingredients
3
large ripe peaches, diced
1
(about ½ cup) cob of corn
2
large tomatoes, diced
1
red bell pepper, finely diced
1
jalapeno pepper, finely diced (optional)
1/4 cup
red onion, finely diced
1/2 cup
cilantro, finely chopped
1 tablespoon
olive oil
1 1/2 tablespoons
lime juice
Salt to taste
Equipment
Cutting board
Chef's knife
Large frying pan
Tongs
Measuring cups
Measuring spoons
Bowls various sizes
Spatula
Pastry brush
Tasting spoons
Dish towel
Gather your mis en place; get together all of the equipment needed for the recipe and gather your ingredients.
Cut peaches in half, removing the pit. Dice very finely.

Cut tomato in half, remove hull. Dice very finely.

Cut bell pepper in half, remove the seeds. Dice very finely.

If using, cut jalapeno in half and remove seeds. Dice very finely. Make sure you wash your hands after dicing jalapeno or wear gloves!

Cut red onion in half from root to tip. Cut off the tip of the onion and make small incisions very close together from tip to the root, leaving the root end intact. Cut the strips to Food cut into small blocks or squares. Make sure they are all roughly the same size!dice the onion very finely.

Remove cilantro leaves from stem, and chop leaves very finely.

Measure out olive oil and lime juice.
Heat large frying pan over high heat. Brush cob of corn with about 1 teaspoon olive oil.

Cook corn in the frying pan and cook on all sides, turning with tongs until corn is browned and starting to char.

Let corn cool, and cut it off the cob.

In a large bowl, combine peaches, tomato, bell pepper, red onion, cilantro, corn, and jalapeno if using. Add in olive oil and lime juice, stir well, and Adding flavour to a food to enhance its taste. It can be as simple as salt and pepper or herbs, spices vinegars and condimentsseason to taste with salt and additional lime juice if desired.