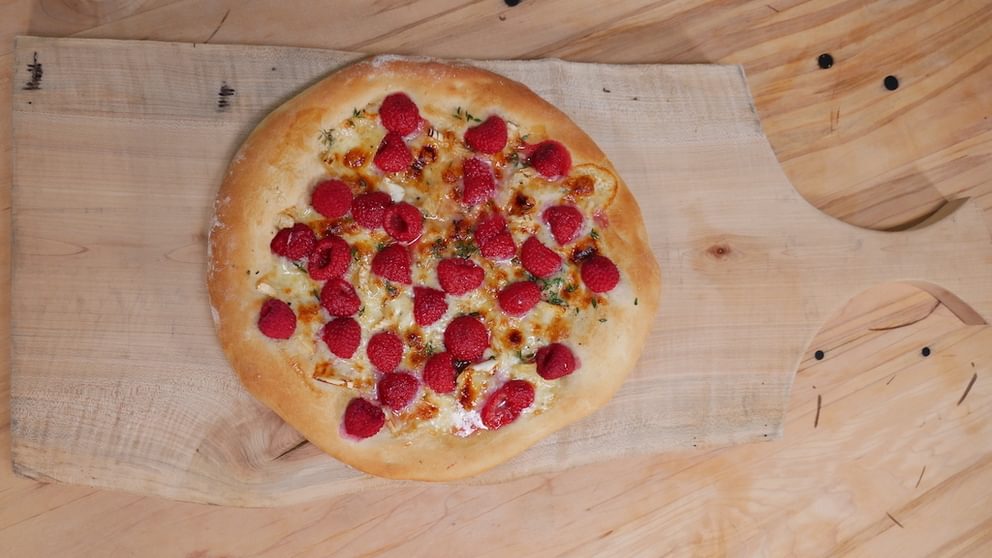 Growing Chefs! Ontario Raspberry Brie Pizza
Raspberry Brie Pizza
Local raspberries paired with creamy brie cheese and fresh thyme make a simple but delicious flavour combination for our August Kids Monthly Cooking Class!
Ingredients
1
ball pizza dough (see recipe at bottom of page)
Extra flour for pizza dough
1 cup
raspberries
4
sprigs thyme
1 tablespoon
butter
3 ozs
brie cheese, sliced
1 tablespoon
honey
Fresh cracked black pepper (optional)
Equipment
Cutting board
Chef's knife or paring knife
Bowls, various sizes
Baking sheet or pizza stone
Parchment paper
Small pan
Pastry brush
Dish towel
Gather all your ingredients and equipment before you get started!
Preheat oven to 450°F.

Liberally dust pizza dough with flour, and stretch to a 10 inch circle (this can be tricky! It is okay if it is not a perfect circle, alternatively you can use a rolling pin to roll out the dough).

Melt the butter over medium heat and brush all over the pizza crust, leaving a 2 cm edge for the pizza crust.

Remove the thyme leaves from the stem, and discard the stems.

Cut the brie into thin pieces, and then cut those pieces into squares approximately 1 cm.

Scatter the brie all over the pizza, and sprinkle with thyme leaves, raspberries, and drizzle honey evenly over the whole pizza. If desire, top with fresh cracked black pepper.
Preheat the oven to 450°F. Bake the pizza for 7 – 8 minutes until crust is golden and crispy and cooked through.

Let pizza cool slightly before cutting, and enjoy!