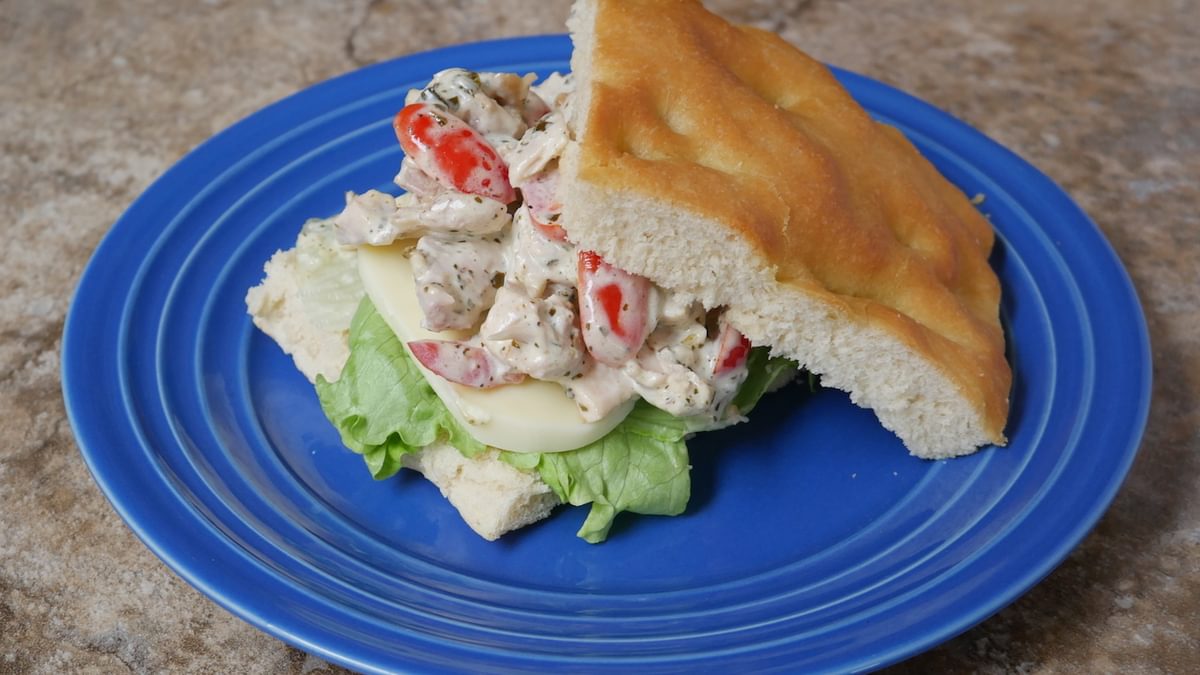 Growing Chefs! Ontario Pesto Chicken Salad Sandwich
Pesto Chicken Salad Sandwich
This recipe is a great way to use up leftover chicken and is perfect to pack for your school or work lunch!
Ingredients
2 cups
cooked, small diced chicken (dark or light meat)
1/4 cup
mayo
3 tablespoons
pesto
A small handful of grape or cherry tomatoes, quartered
4
slices of mozzarella cheese for serving
Greens of your choice to taste
4
squares of focaccia or 8 pieces of bread
Salt to taste
Pepper to taste
Butter to taste
Equipment
Cutting board
Paring knife
Bread knife
Spatula or wooden spoon
Measuring cups
Measuring spoons
Bowls
Butter knife
Tasting spoons
Gather your mis en place; get together all of the equipment needed for the recipe and gather your ingredients.
Dice the chicken into small cubes and quarter the cherry tomatoes.

Measure out the mayo and pesto.

Slice the cheese and cut the bread.
Gently mix together the chicken, mayo, cherry tomatoes and pesto. Season

Butter the inside of each sandwich and lay down a piece of cheese and lettuce. Divide the chicken mixture and return the lid of the sandwich. Enjoy!