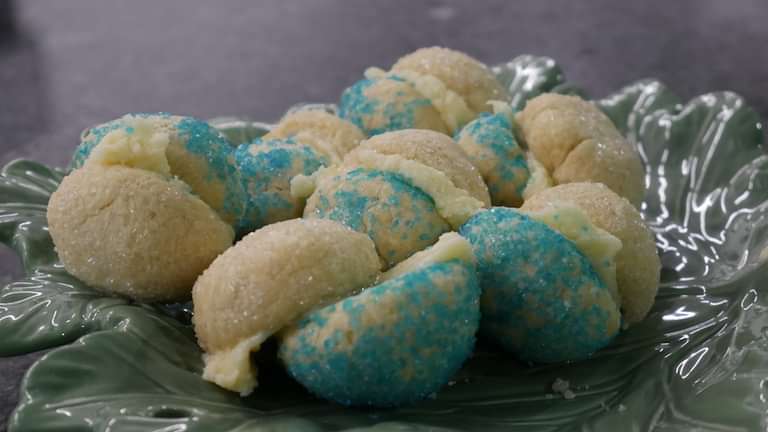 Growing Chefs! Ontario Glitter Ball Cookies
Glitter Ball Cookies
These cookies are a delicious combination of disco balls and sandwich cookies!
Ingredients
1 cup
unsalted butter, softened
1/2 cup
icing sugar, sifted
1/4 teaspoon
salt
1 teaspoon
pure vanilla extract
2 cups
plus 2 tbsp flour
sanding sugar, in assorted colours
Creamy Ginger Filling
Ingredients
4 tablespoons
unsalted butter, softened
2 teaspoons
finely grated peeled fresh ginger
1 cup
icing sugar
1 tablespoon
honey
Equipment
Bowls, various sizes
Measuring spoons
Measuring cups
Wooden spoon
Baking sheet
Parchment paper
Spatula
Rasp
Hand mixer
Gather all of your ingredients and equipment before you get started!
Preheat the oven to 350°F.
Put sanding sugar into bowls.
Measure out the butter, confectioners' sugar and salt into a bowl. Beat with an electric mixer on medium high-speed until pale and fluffy, about 3 to 4 minutes. Scrape down the sides of the bowl.
Beat in vanilla. Reduce speed to low; add flour, and mix just until combined.
Shape dough into 2 centimetre balls. If dough is too sticky, chill it for about 15 minutes. Roll each ball in sanding sugar, and place on parchment-lined baking sheets, spacing 1 inch apart.

For the icing, measure out the butter and sugar into a bowl. Peel the ginger using a spoon, and grate finely using a rasp. Add to the bowl with the honey.
Bake, rotating sheets halfway through, until edges are lightly golden, 15 to 18 minutes. Let cookies cool completely on a wire rack.
While the cookies cool, make the icing. Beat all the ingredients together until smooth. Store in an airtight container in the fridge for up to 3 days.
Spread 2 cookies with just enough filling to allow them to stick together. Cookies can be stored in an airtight container at room temperature up to 3 days.