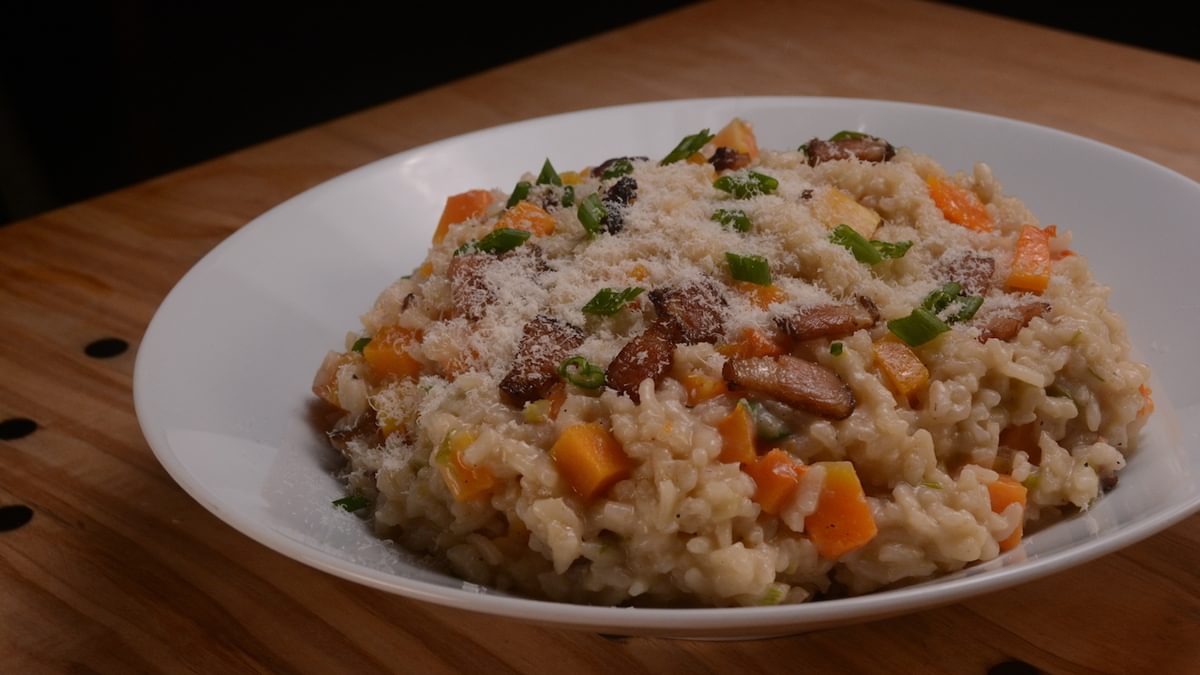 Growing Chefs! Ontario Creamy Squash and Bacon Risotto
Creamy Squash and Bacon Risotto
You need to pay a lot of attention to the pan while cooking risotto, but once you have mastered the method you can make any other risotto you can dream of using other ingredients. Squash and bacon pair especially well together!
Ingredients
1/2 cup
butter, cubed
1/2
bunch green onions, chopped with green and white separated
1 cup
squash, small dice
1/4 pound
bacon, diced
2 cups
arborio rice
2 litres
vegetable stock
1/2 cup
parmesan cheese, grated
6
sage leaves, minced
1
sprig thyme, minced
1/2
lemon, juiced
Pepper to taste
Salt to taste
Olive oil
Equipment
Large frying pan, or shallow pot
Medium pot
Wooden spoon
Measuring cups
Measuring spoons
Ladle
Slotted spoon
Bowls
Cutting board
Chef's knife
Scissors
Peeler
Dish towel
Tasting spoons
Gather your mis en place; get together all of the equipment needed for the recipe and gather your ingredients.
Dice butter into 1 cm cubes.

Cut green onions very finely, keeping the root end (white parts) and the greens of the onion separate.

Peel squash, and Food cut into small blocks or squares. Make sure they are all roughly the same size!dice into 1 cm cubes.

Grate parmesan cheese.

Remove sage leaves from stem and chop finely.

Remove thyme leaves from stem and chop finely.

Cut lemon in half and juice lemon, making sure you do not leave any seeds.

Cut bacon into small pieces.

Measure vegetable stock into pot and heat over medium heat until simmering.
Add the squash to your simmering vegetable stock, and let cook until tender, about 15 – 20 minutes.

Turn the heat to medium and cook bacon in frying pan until crisp. Remove bacon from pan and set aside.

Check to see if the squash is cooked. If just starting to soften, remove from the stock.

In the remaining bacon fat, To cook over low heat in a small amount of fat. You want it to soften but not brown.sweat down the white part of green onions and herbs until softened.

Add in the risotto rice and stir until coated in fat and translucent.

Add a ladle of stock to the pan, and when bubbling, scrape the bottom of the pan to lift the fond. Add a second ladle of stock, and make sure all the rice is under the liquid. Bring to a low simmer.

As the stock is absorbed, continue adding about a ladleful of hot stock at a time, stirring once each time.

Keep adding stock until rice is Pasta that is just perfectly cooked. Not hard, not mushy- perfetto!al dente (just about cooked). Add one more addition of stock and cook until absorbed.

When stock is almost absorbed, stir through the butter, parmesan cheese, lemon juice and squash. Season to taste and add the bacon. Add more stock if necessary. Top with green onion, parmesan cheese and a drizzle of olive oil.