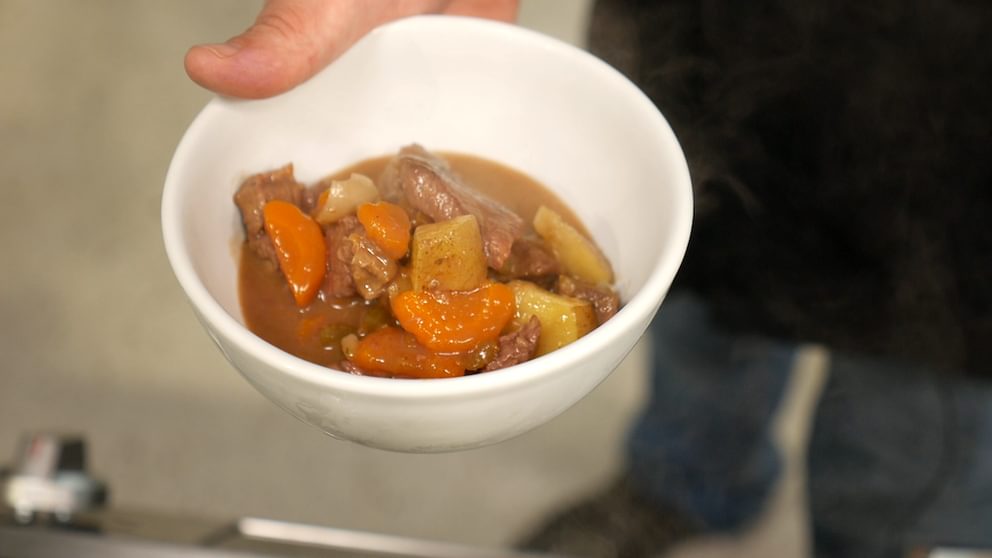 Growing Chefs! Ontario Beef Stew
Beef Stew
This stew is packed with flavour and is perfect for warming up on a chilly day!
Ingredients
500 grams
stewing beef
2
carrots, sliced
200 grams
pearl onions, peeled
2
stalks celery, sliced
500 grams
potatoes, diced
1 litre
unsalted beef stock
1
bay leaf
3
sprigs fresh thyme
2
sprigs fresh rosemary
1/2 cup
flour
2 tablespoons
grapeseed oil
Salt to taste
Pepper to taste
Equipment
Large pot
Measuring cups
Measuring spoons
Wooden spoon
Chef knife
Cutting board
Peeler
Bowls of various sizes
Tasting spoons
Kitchen twine
Dish towel
Gather your mis en place; get together all of the equipment needed for the recipe and gather your ingredients.
In a bowl, toss the stewing beef with the flour to evenly coat the beef.

Peel the carrots and cut off the very top and bottom. Cut in half lengthwise and then slice into half moon shapes.

Cut the root and tip off of the pearl onions, then carefully peel off the outer skin. Dipping them in very hot or boiling water for a minute will make the skin come off easier.

Cut the celery into slices.

Wash the potatoes thoroughly, and cut into 3 centimetre cubes.

Use the kitchen twine to tie the thyme, rosemary, and bay leaf into a small bundle.
Place the pot on medium high heat and add the oil. Once the oil is hot, add half the beef. Cook the beef on each side for about 2 minutes, or until browned. Remove from the pot and set aside, then repeat the process with the second half.

Once the beef is nicely browned, add about half of the beef stock. As it hits the pan there will be a sizzle, when this happens use the wooden spoon to scrape and browned bits on the bottom of the pot off, they will add amazing flavour to the stew!

Return the beef to the pot and add the carrots, onions, celery, a generous pinch of salt and pepper, and herbs. Turn the heat down to low and allow the stew to simmer for 45 minutes.

After the stew has simmered, remove the herb bundle and discard. Add the potatoes and allow them to cook until just tender, about 15 minutes.

Taste, and adjust seasoning as necessary. Serve with some fresh bread and enjoy!