Growing Chefs! Ontario: June In-Person Pizza Party
June In-Person Pizza Party
29 June, 2023, 5:30 PM
In-Person Pizza Parties at Growing Chefs! HQ are back! Join us for all you can eat wood-fired pizza!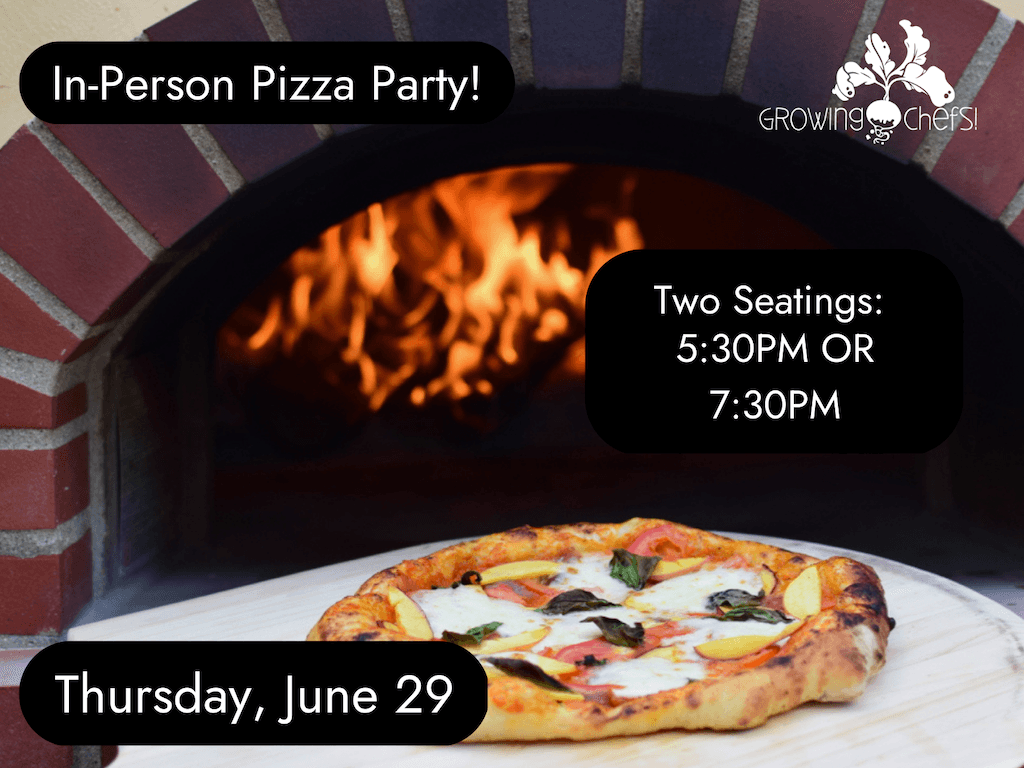 What to Expect: This year to celebrate all things summer, we are bringing back our beloved in-person Pizza Nights at HQ! For two-nights only our Growing Chefs! HQ will turn into an all-you-can eat pizzeria featuring our delicious wood-fired oven pizza, seasonal salads and delicious desserts!
Growing Chefs! HQ is fully licensed and we will have local wine and beer available for purchase during the evening.
Pricing: Adults: $35pp for all you can eat pizza, salads, desserts
Children 12 and under: $15pp for all you can eat pizza, salads, desserts
Date & Time: Thursday, June 29th
There will be two seating options available for the evening, each seating will be a hour and a half, giving you lots of time to enjoy your pizza!
First Seating: 5:30 PM
Second Seating: 7:30 PM
Location: In-Person Pizza Parties will take place at Growing Chefs! Ontario historic HQ at 460 King St.
Food Allergies: All pizzas will be nut-free and we will have a selection of vegetarian pizzas available. If you have further dietary concerns, please contact our Executive Chef, Chef Katherine at chef@​growingchefsontario.​ca, and we will do our best to make the appropriate accommodations.
Masking and Vaccination: Growing Chefs! continues to work closely with Public Health as we continue to transition away from COVID-19 related health and safety protocols for our programming and events. We strongly recommend vaccinations and masking as tools to minimize the spread of COVID-19, but will not be continuing to require masks be worn in our facilities.

Cancellations: Refund or cancellation requests must be communicated directly to Emily at [email protected].ca a minimum of 7 days prior to the event.